The Life & Career of Leonard Rossiter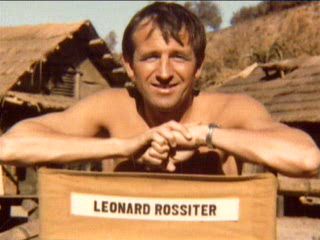 A Biography

---
On October 21st 1926, in the bustling port of Liverpool, North West England, a second son was born, at home, to John and Elizabeth Rossiter, and a baby brother for John junior. Leonard was raised in the family home above his father's barber shop in Cretan Road, Wavertree, a suburb of the city of Liverpool. After primary school in Granby St., Toxteth, he attended the city's Collegiate Grammar School from 1939 to 1945. He excelled at languages and sport, both of which would come in useful in later life. A cheerful, modest, punctual and scholarly pupil, Leonard was made vice captain of the school, and captains of both the football and cricket teams, where he was " a slow, left-arm bowler - in true Lancashire style". In one match the school football team beat their opponents 11-0, and it was Leonard who scored all eleven goals. He was also a member of the school's drama society. Naturally shy, Leonard remembers his adolescence with embarrassment: "I remember all those dances at The Rialto, Liverpool, where I spent every Saturday night between 10.30 and 11. Well, I hated it. The whole evening was geared to that last half-hour. The last waltz, or whatever. Mostly the whatever." When he started to mix with people from different social classes, he would always hold back if he wasn't sure how to conduct himself: "I remember getting very hot under the collar at dinner tables... I was always afraid of being laughed at."
World War Two began shortly before Leonard's thirteenth birthday, but he still had hopes of studying a French and German degree course at university. His father was now a volunteer ambulance man, helping to ferry the wounded to Liverpool's hospitals. Tragically, in 1942, John Rossiter was killed performing this duty during an air raid. Leonard now had to re-think his future, especially with regards to supporting his mother. Before then, however, he would reach conscription age, and have to 'do his bit' for the war effort. He joined the Education Corps. based at Bielefelt in Germany. By now the Germans had surrendered but the Japanese were still fighting. To give him an authority as instructor, he was instantly made a sergeant. Leonard would spend his time there teaching soldiers their ABC, and often had to write their letters home. Many men were less than keen to learn: "Lots of chaps resented it", Leonard recalls. "Most of them were totally hardened to the idea of never needing to read or write and didn't see why they should start."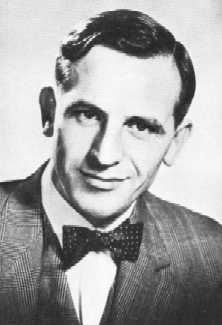 Sergeant Rossiter was demobbed in 1948 and, despite being offered his dream place at Liverpool University to study languages, turned it down to become the breadwinner for the Rossiter household. Through a school friend he got himself a job with Commercial Union, one of the country's largest insurance companies. He was a clerk in the claims and accidents department, earning £210 per year. Although frustrated at being tied to a desk all day, he stayed with the firm for six and a half years. Many years later he would joke about his time at the CU: "It really is amazing how many entertainers started life in insurance", he quipped, "and most of them will still try to sell you some, given half a chance." One of his colleagues in the same office was the late actor Michael Williams, husband of Dame Judi Dench. Michael remembers: "Len was the most competitive man ever. We used to play football for the office team. Once, he passed me the ball by an open goal. I missed it. Len wouldn't speak to me for a week. And we sat at opposite desks!"
Leonard had a girlfriend during this time who was an amateur actress with a local drama group. Rehearsals were over-running one night when he went to pick her up, and Leonard got to see their performances. He was not very impressed by any of them, including his girlfriend's! She challenged him to do better, and so he did. His daughter Camilla remembers: "He always told the story that his girlfriend was an amateur actress and he went along and saw her once and said 'I can do better than that'". Leonard himself recalls: "Really, it was only to see more of the girl. Then I got more interested in the stage than I did in the girl". When he'd made the decision to become an actor, he decided to move away from Liverpool, but "he always had a fondness for [the city]. He was always proud of where he came from." He became a member of The Adastra Players, and later also joined The Centre Players drama group, based at the Wavertree Community Centre in Penny Lane (long before The Beatles made it a far more famous street). With an annual subscription of two shillings - ten pence - Leonard was in his element, despite a stage measuring just 16 feet by 10 feet. Before long, Leonard was acting with five drama societies, and his acting talents were so in demand that he was often rehearsing for two roles while acting in another. His first public performance was with The Adastras in a Terence Rattigan play called Flare Path, in which he played the role of Flight Lieutenant Graham. Criticism was positive, although one critic faulted him on his rapid rate of delivery, something which Leonard, wisely, never rectified.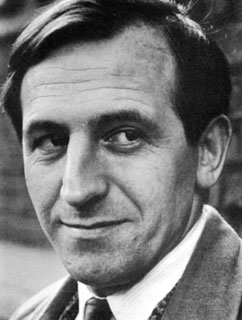 Between 1949 and 1954 Leonard acted in nearly forty plays, and soon found his day job getting in the way. Although now earning £10 a week at the CU, and barely £6 on stage, it was acting that Leonard desperately wanted to concentrate on - so much so that he started to have elocution lessons to lose his Liverpudlian accent. He took the decision to leave the insurance business and become a full-time actor. As Leonard himself said years later, when discussing his apparently brave decision to quit: "It would have been far more courageous to have stayed in the insurance business, knowing I'd be bored out of my mind for the rest of my life."
And so it was, in August of 1954, that Leonard Rossiter, now a top amateur actor in the North West of England, auditioned for Preston Repertory Company, based in the town's now-defunct Royal Hippodrome: "I think it's C&A's now", Leonard said in an interview. The production manager, Reginald Salberg, was casting a part in a production of Joseph Colton's The Gay Dog, and Leonard tried for the part. He read the part badly, however, and the play's director Alan Foss had dismissed him when Salberg, sensing a talent, asked him to read the part again. This Leonard did, equally badly - but differently, and Leonard got the part. It was September 6th, 1954, then, that Leonard Rossiter first performed as a professional actor, in the role of Bert Gay, for £2.50 a fortnight. Co-star Frederick Jaeger recalls: "Len was dedicated and a perfectionist even in those days. He was so intense about his work which meant he wasn't the most relaxed of people... He expected everyone to work as hard as he did". So pleased were Reggie Salberg and Alan Foss with Leonard's performances that he was engaged as ASM - assistant stage manager. In all, he performed fourteen plays at Preston Rep., until the theatre closed in the spring of 1955.
Wolverhampton Repertory Company at The Grand Theatre was Leonard's next stop where, from April 1955 until the end of 1958, Leonard honed his natural talent and skill with over fifty roles in productions of plays by such authors as Agatha Christie, Graham Greene and Moliere. Many productions were directed by John Barron, who became a lifelong friend, introduced Leonard to the world of fine wines, and later formed one of television's most fondly-remembered worker-boss duos: Reggie Perrin and C.J. His passion for football still as active as ever, Leonard used to see half of Wolverhampton Wanderers' matches at the Molyneux (then skippered by the late, great Billy Wright), before racing back to The Grand to prepare for his role (an Evertonian by tradition, Tommy Lawton was Leonard's footballing hero). It was at this point in his life - during rep. - that Leonard learned one of his most amazing skills: the ability to learn vast amounts of dialogue. Looking back on this time Leonard recalls: "There was no time to discuss the finer points of interpretation. You studied your part, you did it and then you studied the next part. I developed a frightening capacity for learning lines. The plays became like elastoplast, which you just stuck on and then tore off." During this time, television became Leonard's second media format in 1956 when he landed a bit part in a BBC play entitled Story Conference, broadcast in March of that year.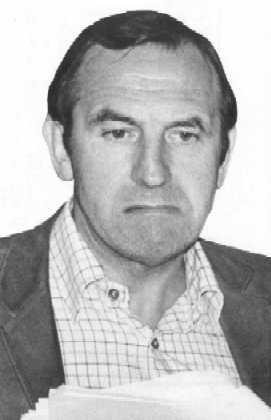 Even so early in his career, those who worked with Leonard found him to be an absolute perfectionist, and totally committed to everything he did. John Graham, Leonard's co-star in She Would And She Would Not at Salisbury R

ep. (based at The Playhouse, where Leonard spent the first half of 1959) remembers him as: "a quiet, thinking man who observed and absorbed. He was a perfectionist and expected not only 100% dedication to the job in hand from himself but also from others." A comment that echoes down the years, from theatre to film to television. John Bowen recalls Leonard reminiscing about how great his training was in rep.: "During his first two years, he said, everything which could happen, did happen. Doors stuck, lights wouldn't come on or go off, scenery fell down, rain dripped through holes in the roof, fellow actors dried or missed their entrances - and so did he - the curtain fell when it shouldn't, or refused to rise, the ASM tried to prompt from the text of a different play. By the end of two years nothing could surprise him - he already knew that he could cope with it, and had the confidence of that knowledge". It was while at Salisbury Rep. that Leonard met a young actress called Josephine Tewson. They acted together in The Food Of Love, A Cuckoo In The Nest and Book Of The Month, amongst others. Gradually, they became good friends, and then lovers, and were soon married. (Josephine has since become a familiar face on British TV screens, for her portrayal as Hywel Bennett's landlady in Shelley, as Ronnie Barker's wife in Clarence, and more recently as Liz, Hyacinth Bucket's (pronounced 'Bouquet'!) long-suffering neighbour in Keeping Up Appearances).
Leonard was based at the Theatre Royal, Bristol until the summer of 1961, with the Old Vic Company, by which time he had had his first taste of performing in major Shakespearean productions, including The Comedy Of Errors, Richard II, The Tempest and Romeo and Juliet, which he performed at the famous Baalbek festival. Although still only playing minor roles, it was still a firm foundation for his acting skills - "Our repertory system is the best theatrical training in the world. When my London 'break' came eventually I felt ready for it", Leonard said. That 'break' came in June 1957, performing in front of his first London audience, with Josephine, when he appeared in Free As Air at The Savoy Theatre. And another television appearance, in 1959 in a play called The Constable's Move, ensured his talents would never be exclusively theatre-based. By now, Leonard was the leading man at The Old Vic, and his name was being uttered up and down the country, as a force to be reckoned with. The commitment, energy and drive he gave to each role was now more concentrated than ever, and he was often described as being like 'a coiled spring'. More television followed, and his first feature film. In A Kind Of Loving, Leonard had just one scene, as a draughtsman in an office with Alan Bates and James Bolam. Leonard recalls the film: "It was about the time that the so-called 'kitchen sink' era was well established. I felt much more at home in those types of plays and films. I would never have made it at all as an actor if there had not been that sort of revolution in English theatre..." Personally, however, Leonard's marriage to Josephine Tewson was in trouble, and they had separated. "We greatly admired each other, in our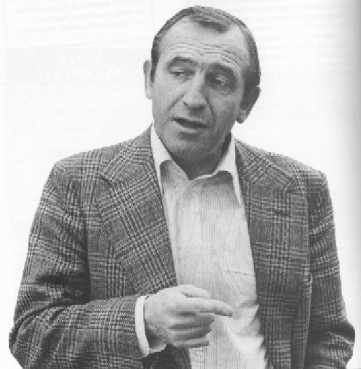 work", she recalls, "But we mistook that for love".
1962 was to be a better year for Leonard Rossiter. At the Belgrade Theatre, Coventry, Leonard starred in a play about a greedy, manipulative insurance agent by the name of Fred Midway. The play was called Semi-Detached, and opened on June 9th. Leonard made the part his own, and critics raved about his role. One of his co-stars was the actress Gillian Raine, and by the time the play was chosen to be part of a 'British season' on Broadway, New York, in 1963, their working relationship had developed into a personal one, and the couple were in love. Gillian remembers his role as Fred with great feeling: "I think one sensed when one first saw him that he was exceptional and different, in that he had a sort of manic, farcical talent." Sadly, the British humour of Semi-Detached was lost on American audiences, and the play soon closed. Leonard said: "When I worked over there I came to a firm conclusion - we are separated by a mutual language." Just to add insult to Leonard's injury, when the play transferred to London, it was Laurence Olivier who was cast as Fred Midway. It would be another six years before Leonard would get the West End breakthrough he deserved. In the meantime, he was becoming a familiar face in people's living rooms when he landed the regular role as Detective Inspector Bamber in the popular police drama series Z Cars. More plays kept Leonard busy during 1963, and even an appearance as a fancy-dress Robin Hood in an episode of The Avengers. On the big screen, he appeared alongside Richard Harris in This Sporting Life, and played a very memorable Mr. Shadrack, the undertaker boss of Tom Courtenay's Billy Fisher in Billy Liar.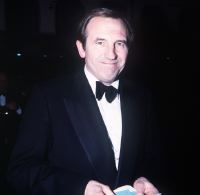 By 1964, Leonard was, for the first time in his life, having to sacrifice theatre roles for those in other media. Theatre was always Leonard's favourite medium and he would always return to it whenever the opportunity presented itself: "You get a much greater sense of doing the job more successfully working in the theatre", he once said, and later "...[T]heatre is my favourite [medium] I suppose - audiences are very important to me." But of course, his biggest audiences were on nationwide television: "Many people remember Leonard solely for his TV work", says Gillian, "but he did more stage work than anything else. He got slightly annoyed whenever he was referred to as a 'small-screen' actor". But the roles that made Leonard a household name were still a decade or more away. In 1964, while still busy with Z Cars, he could be seen in a supporting role in the Steptoe And Son episode 'The Lead Man Cometh', in which he played the type of character he was by now often getting cast as - namely, shady criminal types in raincoats. He also recorded his only war film at this time, King Rat - filmed in Hollywood - in which he played a British Colonel in a Japanese prisoner-of-war camp, with fellow prisoners including George Segal, James Fox and John Mills. His comedic talents were now being recognised, and in 1965 he became a regular on the late-night satirical review show BBC-3, and in 1968 another satire show At The Eleventh Hour. Plays For Today and similar dramas continued to occupy Leonard throughout the mid-sixties (including a BBC version of one of his favourite theatre productions Semi-Detached), and no less than five films were released in 1966 in which he played at least a minor role, opposite stars such as Michael Caine, Edith Evans and Joan Fontaine.
Although always priding himself on getting just right the characterisations of every role he played, Leonard did surprisingly little research of the background events of his performances, especially historical detail. He expected the play or drama itself to set the scene and explain things for him and his audience: "I was dreadful at history", he wrote in his 1981 book The Lowest Form Of Wit, adding: "Partly because of my lack of interest in history and partly because of an in-built conviction that too much research leads to cranky performances, I never dug too deeply into the private lives of any historical characters I've attempted - Voltaire, Hitler, Giordano Bruno or Richard III. If the author doesn't achieve his aim between pages 1 and 80 no amount of research by an actor will do it". But one of the greatest aspects of Leonard's art that most people who worked with him remember, was his fantastic ability to adapt to any situation. As John Wells commented: "Serious actors can't do comedy, but comics as good as Len can do anything - he showed the whole range. He was a very, very, very good actor. I think, if you can do comedy as well as Len did, you can do anything."
Leonard's capability as an all-round, versatile actor found him being cast in much more substantial, and often controvertial roles. For example, in the BBC drama Drums Along The Avon, Leonard played Mr. Marcus, a crackpot who, in an ef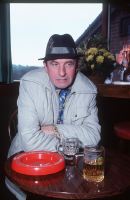 fort to cement good relationships with the local ethnic communities, blacks himself up as a Muslim and a Sikh, complete with towel for turban. It was these kind of powerful, socially-aware dramas that were being made at this time, and Leonard was one of the few really powerful character actors who could pull off a role such as this. Indeed, his theatre portrayal of Adolf Hitler as a gangster-type racketeer-turned-dictator in The Resistible Rise Of Arturo Ui was seen by many as one of the great virtuoso performances of our time. The play, by Bertolt Brecht, premiered in Glasgow in September 1967, but it was its West End debut in July 1969 at the Saville Theatre that made people really sit up and take notice of the devastating brilliance of the man in the lead role. Until that time, Brecht's plays were never performed in London's theatre land - all the more amazing then that this show, with Leonard at its helm, should become such a phenomenal success. This became, and was to remain, Leonard's favourite contribution to British theatre, and few have forgotten its impact. Leonard himself found the role had all the elements that he could play really well, and it was a personal triumph for him. He won three awards for his outstanding performance as Ui, but his modesty came through, even then: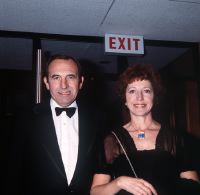 "Prizegiving in acting is very pleasant and it's nice to win, but it's all a bit ridiculous", he said in a 1978 interview. "How can you compare two actors' performances in quite different plays? I'm not saying prizes shouldn't exist, because I've had a few myself, but they're not to be taken seriously". Meanwhile, between the premiere of Ui in 1967 and its storming of the box office in 1969, Leonard was as busy as ever. He played the undertaker Mr. Sowerberry in the film version of Lionel Bart's Oliver! ("...I don't like Dickens being 'prettied up' ", said Leonard, "David Lean's 'Oliver Twist' is more to my liking, but it was a pleasant experience."), and was back playing a criminal - this time an assassin for hire - in Clement and La Frenais' Otley. Science fiction featured prominently for Leonard in 1968, first in the TV play The Year Of The Sex Olympics, and then in a cameo role on the big-screen in Stanley Kubrick's masterpiece 2001: A Space Odyssey.
More acclaimed theatre roles followed in the early 1970s, notably as Richard III and Davies the tramp in Harold Pinter's The Caretaker. He was determined that "acting shouldn't become a nine to five job", and was keen to avoid a 'long run' of a play: "They're a bore", he said. In 1972, Leonard returned to the sitcom Steptoe And Son to play an escaped convict who took the two scrap dealers hostage. One person who saw that episode, and was struck by Leonard's powerful performance, was playwright Eric Chappell: "To come onto that show and almost overpower Wilfrid Brambell and Harry H. Corbett shows how strong he was." Eric had found the actor he needed for his play The Banana Box.
On a personal level, Leonard and Gillian Raine were married, and in 1972 Gillian gave birth to a daughter, Camilla. They lived in London, off the Fulham Road, close to Chelsea football stadium. Their house, which they shared with their two Abyssinian cats Honey and Vicky, backed onto Brompton cemetery, a 38-acre sprawling Victorian graveyard, and final resting place of such dignitaries as the suffragette Emmeline Pankhurst, singer Richard Tauber and Brandon Thomas, author of Charley's Aunt. He once quipped on the cemetary's residents: "They're good neighbours - very little noise and no late-night parties!" Leonard would often unwind by strolling through the cemetery, and reading the epitaphs. Leonard's love of fine wines, generated by his former director, and later Reginald Perrin co-star John Barron way back in the 1950s, resulted in him adding another floor to his house: "Only a man who could so closely match Reggie would put his cellar in the attic!", remembers John. Leonard the connoisseur amassed several hundred bottles of vintage wines and, not surprisingly, spent quite some time on his newly-added floor: "It's got glass doors along the front" he beamed, "where I sit sunning myself and learning my lines. Just a hand-stretch away is the attic...!" He was quick to admit, though, that he and Gillian were not 'social animals': "We prefer small dinner parties to large gatherings and seldom go out except to the theatre (which we do regularly). Otherwise, I read a lot and drink wine a lot!".
Leonard would play squash once,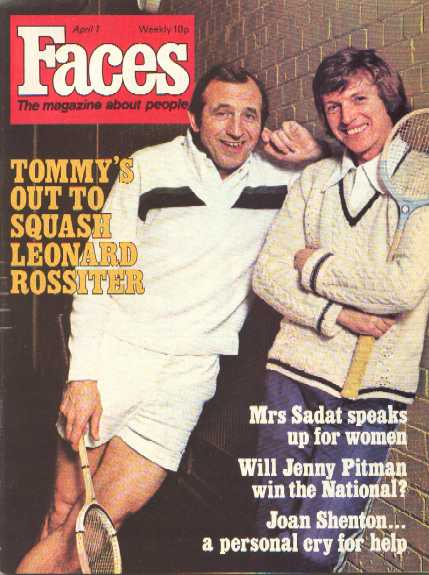 sometimes twice a day, despite only taking up the sport at the age of 36. "I suppose fitness is important, living at my pace", he once said, adding "I like to win. I think fooling around in sport is very tedious. It needs a fairly good player to outclass me now". He was often to be seen as a member of charity cricket, tennis, squash or football teams, and usually a prominent member of those teams, even in his fifties. On his passion for cricket Leonard says: "I almost took up cricket as a career before the War. I was a Lancashire Colt...I enjoy these sorts of fundraising activities provided we can field a good side in both games - it's only fair to the spectators. Just to pay good money to see a few celebrities knocking a ball about is not very worthwhile, is it?" His favourite charity was the Malcolm Sargent Cancer Fund For Children, for which he helped raise thousands of pounds over the years, in many sporting tournaments. Away from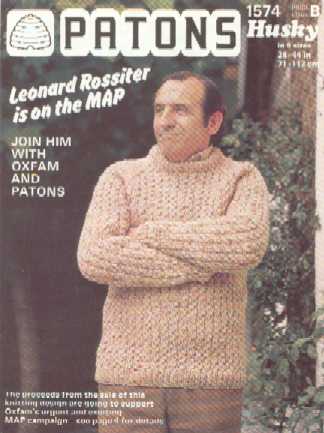 the sports grounds, Leonard was also in demand for many other charity events, which he gladly participated in, including being a male model, as exemplified by the knitting pattern (pictured, right), proceeds from the sale of which went to Oxfam's Move Against Poverty campaign.
In the spring of 1973 Leonard, who was by now one of the country's most in-demand actors, starred in Eric Chappell's play The Banana Box, about a miserly landlord called Rooksby who, unashamedly bigoted and racist, finds himself landlord to a black man, and an African prince to boot. The play had success written all over it and Yorkshire Television were keen to turn it into a series. And so, as 1974 came to a close, a new situation comedy hit viewers' screens. Entitled Rising Damp, it followed the same storyline as the play and was written by the play's author Eric Chappell. The part of Rigsby did for Leonard on television what Arturo Ui did for him on stage. Leonard was now a massive star, and any other performance (he was still recording plays and occasional films) were watched religiously. This was Leonard's first series, something he'd always tried to avoid: "I never wanted to do a series", he said in 1978, "Normally you make up your mind on the basis of the script for the first episode. By the time you get to the third, the standard has gone down, and by the time you get to the fifth, you wish you'd never done it". It was only his faith in Eric Chappell and the strength of the story that Leonard decided he would do the first series. Three more series of Rising Damp were made, securing the programme as ITV's biggest ever hit, and one of the greatest sitcoms of all time. "People ask me regularly if I have based the character on a particular landlord. Happily, I only knew landladies - and very nice they were, too !" Earlier in 1974, Leonard was offered the role of Sergeant Major Williams in a new sitcom for the BBC called It Ain't Half Hot, Mum, written by Dad's Army and Hi-De-Hi! creator Jimmy Perry. However, when the two men met, Leonard psychoanalysed the character in his usual meticulous manner, and gave Jimmy advice on changes to the script, much to the annoyance of Jimmy Perry. Some writers took this analysis by Leonard as a sign of genius, others took it as 'interfering'. Jimmy Perry was of the latter persuasion, and the role went instead to Welsh actor Windsor Davies.
After the runaway success of Rising Damp on ITV, the BBC were eager to grab Leonard for a show of their own. They had already accepted the novel The Death Of Reginald Perrin by David Nobbs as potential for a series, and Jimmy Gilbert, then head of comedy at the BBC, saw his opportunity at last. Leonard played the frustrated, middle-aged sales executive the way only Leonard could - powerfully and brilliantly, and The Fall And Rise Of Reginald Perrin quickly followed Rising Damp into the realms of 'classic comedy'. But as with Rising Damp, Leonard was wary of committing himself to a series: "I only did it because it had been a novel first, and the author had adapted it for television". Two more series followed, all three wonderfully written and staggeringly performed. But amongst all this, Leonard continued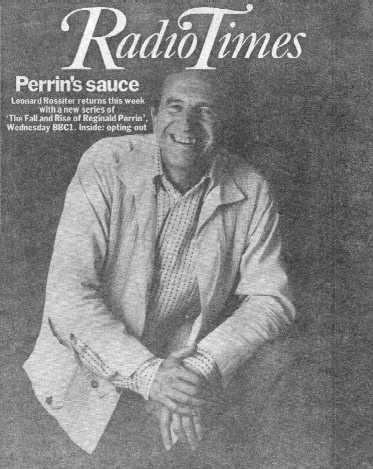 to return to his theatrical roots, most notably as the eccentric painter Benjamin Haydon in John Wells' play The Immortal Haydon. And still

the successes came. Leonard entered the world of commercials in 1977 as a traffic warden in an ad for Parker Pens. But it was his teaming-up with Joan Collins in the classic Cinzano commercials that will be remembered for ever as masterpieces of 30-second comedies. Leonard even entered children's television, reading storybooks on Jackanory and becoming the voice of Boot, in the animated version of Maurice Dodd's cartoon strip The Perishers. Voice-overs for commercials also provided work for Leonard, one of the few things he did purely for the money: "It doesn't require a great deal of acting brightness or intelligence. And the rewards are inordinately high for 'going through the motions'". He returned to his role of Rigsby for a feature-length version of the Rising Damp series, and could also be seen as Joseph Pujol, aka Le Petomane, who's elastic anus had the Moulin Rouge in stitches in the late 19th Century. For Leonard, the 1970s was, without doubt, his most successful - and busiest - decade in his thirty year career.
Leonard is sometimes remembered as having had a reputation for being difficult to work with: "It's not that I can't tolerate fools," he once said, "I can, providing that I don't have to put up with them for too long. But if you find yourself sitting next to someone who continues to call you 'Mr. Perrin, sorry I mean Rigsby', and then falls about laughing at this wonderful turn of phrase, there's nothing much you can do except shut him up or leave. I usually leave." However, many people were quick to defend his abrasiveness: "He was a tetchy perfectionist, impatient of laziness and circumstances in which he could not do his best work", recalls director Patrick Dromgoole. "But he was also generous, very generous, and sharply aware of the strains on those around him". Reginald Perrin co-star Bruce Bould sums it up by saying: "Occasionally, before a recording, Len would blow up at somebody. Usually there was a very good reason and if sometimes there wasn't you could understand that all that nervous energy and tension had to go somewhere, and it was a small price to pay for the superb performances he gave." Nevertheless, Leonard received an unusual accolade from members of the public, as Leonard told an interviewer on ITV's Sunday Sunday programme in 1984: "During the '70s, a Women's group, up in the North [of England], had voted me "Person You'd Least Like To Be Left Alone In A Room With" ! I wasn't quite sure what to make of that!"
In the summer of 1979, Leonard Rossiter went into the studios of BBC Radio 4 for a live radio interview in the slot known as Guest Of The Week. The interview was conducted by one of radio's most experienced broadcasters, Sue MacGregor. The interview was to become the start of an adulterous affair for Leonard. The day after the interview, Leonard rang Sue at the studios and they went for a drink, at the end of which Leonard asked for Sue's home phone number. So began a clandestine liaison lasting at least two years which saw Leonard paying visits once a week to Sue's flat in Primrose Hill, London, sometimes hiding behind a handkerchief to preserve anonymity. Sue had never been married, but Leonard was married to Gillian Raine at this time. Details of the affair only emerged in Spring 2002 when Sue MacGregor published her autobiography 'Woman Of Today'. She wrote to Gillian and Camilla before the book was published and told her about the affair.
In an interview to publicise her book, she said: "I suppose I regret the affair and the unhappiness it caused both me and more importantly his family. But there we are, it happened and I have written about it as honestly as I could." In another interview for the Daily Mail, she described the affair in detail: "I'm not proud of my relationship with Leonard. I don't regret it because I loved him, but it was probably very foolish of me to have got involved. I do think very much about his wife, actually, and his daughter. I feel that they must have been horribly shocked when they heard about it. I don't think they knew anything at all about it." Their discreet liaisons were conducted almost entirely at Miss MacGregor's London flat. They rarely spent more than two hours in each others' company before he returned to his family. They never spent a whole night together and he did not introduce her to his friends. Sue remembered how the actor, a wine enthusiast, would frequently arrive with a bottle of fine vintage. "We'd have a drink and talk and, yes, if you put it so bluntly, then go to bed. He made it quite clear from the beginning that he would never leave his wife," she told the Daily Mail. Miss MacGregor said: "I was astonished because I was bedazzled by him. I'd been very enthusiastic about his acting and I thought he just wanted to have another chat. It was rather naive of me because it was perfectly plain that he wanted more than that. He took my home telephone number and started coming to my flat. In the beginning I was just rather excited by the fact that he was interested in me, but then I fell in love with him. It was a strange match in many ways, but we were both quite serious people."
Leonard was always direct and honest about what he expected from the relationship and never gave her the impression of being unhappy in his marriage. On her part, Sue never suggested that he should leave his wife. "I knew he never would and he made that plain. It might sound naive, but I had no intention of breaking up his marriage," Sue said. "I'm sure he loved his wife. He didn't string me along with any line about 'my wife doesn't understand me'. And he was extremely fond of his daughter, so I don't feel good about that at all." The strain of keeping the relationship secret began to tell and Sue eventually demanded more. She said: "One day in the flat I just said: 'I know that I went into this with my eyes open, but I do find not being seen with you in public at all very difficult. We have our relationship entirely within these four walls. "He said rather coldly: 'Well, you knew what you were entering into.' And I agreed with him. So there was really nothing more to say and that particular day we parted not very amicably. He'd only spoken the truth, but I felt miserable."
Sue MacGregor learnt of Leonard's sudden death backstage in the West End in October 1984 from an 8am radio bulletin. "I was having a lie in, which was unlike me, and I heard the newsreader say: 'The actor Leonard Rossiter died last night.' I felt stunned," she recalled. "I often wonder whether he'd tried to ring me the night he died and got no reply." Unable to grieve publicly, she suffered panic attacks for six months after his death. When Miss MacGregor decided to write her book, colleagues asked if she would include details of the affair. Persuaded by publishers to include the relationship in the book, she wrote to Gillian to warn her. "Understandably, she didn't reply and I didn't expect her to. It wasn't an easy letter to write, but it must have been more difficult for her to read."
With theatre, TV and film roles under his belt, Leonard tapped a new medium in 1980: literature. His Devil's Bedside Book - A Cynic's Survival Guide found him revisiting Ambrose Bierce's cynical definitions for everyday terms and phrases, and adding quite a few maxims of his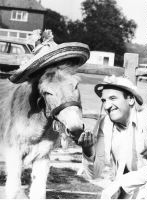 own. It also contained a very useful compendium of Laws and Rules, such as Murphy's Law and The Peter Principle. This was followed in 1981 by his second book, The Lowest Form Of Wit, a collection of some of the greatest sarcastic put-downs from across the centuries, and from Leonard's own long and varied career. In 1981, he was busy filming Britannia Hospital, a film which reflected British society of the time, where most people were on strike, and the only funding for new projects came from overseas. Leonard continued to return to the theatre as often as possible, and gave some dynamic performances in The Rules Of The Game, Make And Break, and Tartuffe. 1984 brought a new sitcom for Leonard - Tripper's Day. He had turned down numerous scripts for pilots because they were merely "Perrin-cum-Rigsby clones", as he put it: "You have to avoid playing a carbon copy of someone you've done before - a very easy thing to do if you aren't careful." In an interview for TVTimes he said: "When I was offered Tripper, it was pointed out that it wasn't terribly deep stuff, just smash-bang basic comedy in short, sharp scenes. I said I wasn't averse to doing anything if I liked it", he added, "and this is fast and funny, and very well written by Brian Cooke." In the same interview he joked about the moustache he wears while playing Norman Tripper. He grew it for his portrayal of King John in a Shakespeare TV play, and kept it for Loot and the movie Water, in which he starred with Michael Caine. He said: "Because of different jobs overlapping I was forced to make the moustache become a fixture. But it definitely comes off at Christmas, and I'll be glad to see the back of it." Sadly, Leonard never saw that Christmas. In October that year, he played the role of Inspector Truscott in Joe Orton's Loot.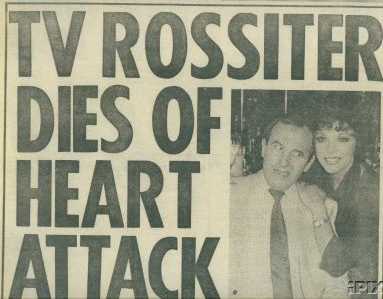 It was to be the final curtain for Leonard Rossiter. In his 1980 book The Devil's Bedside Book, Leonard had written "I love life and I don't look forward to death at all." It came far sooner than anyone had expected, least of all himself.
The play had opened at London's Ambassador Theatre in March to favourable reviews. Directed by Jonathan Lynn, it was the comic-horror tale of a bank robbery stash hidden in the robber's late mother's coffin, with the body disposed of elsewhere. Truscott, a corrupt police officer, investigates, and ends up sharing in the proceeds. In September, the production transferred to The Lyric Theatre, on Shaftesbury Avenue. It was here, on October 5th, that Leonard suffered a massive heart attack and died. Very rarely ill, he had been suffering some discomfort in his chest, but the doctors at the Brompton Hospital who ran a number of tests found him to be healthy, and far fitter than other men of his age, 57. Leonard's co-star Neil Pearson remembers the events on that fateful Friday: "He'd come in, and wandered about in the wings before the show. He wasn't on first, but he always did that, just to get the 'feel of the house'. [That night, the house was full, and people were even standing at the back of the auditorium]. The show started. We did the first scene. Leonard came on for the second scene, off he went." A short while later, tannoy calls for Leonard were being repeated, something which his fellow actors knew he never needed. They all knew something was wrong. The actors on stage had run out of lines and had started to improvise, after Leonard had missed his cue. David John, another actor in the play, rushed to Leonard's dressing room, but found the door locked. The curtain was temporarily lowered on stage, and Leonard's door was forced open. He was found sitting, slumped in an armchair. The call for a doctor went out, and heart massage was applied while everyone waited for the ambulance to arrive. By the time Gillian arrived at the theatre, Leonard had been rushed to the Middlesex Hospital, but he was already dead. The cause of his death was hypertrophic cardiomyopathy, a congenital disease of the heart muscles. (See the special page on Loot for a more detailed description of the events at the theatre that day).
There are many words that describe Leonard Rossiter, professionally and privately, and many of them appear constantly throughout the tributes and remembrances on the pages of this web site. Professionally, he was committed, concentrated, meticulous, exacting, focused, driven, inventive, fastidious, hilarious, and above all: brilliant and unique. Personally, he was shy, introspective, competitive, ambitious, eccentric, witty, honest and generous. It is easy to say "There'll never be another..." about anybody whose talents are sadly missed, but in the case of Leonard no-one put so much energy and concentration into his roles, and got so much out of his audiences; or could play the entire spectrum of human emotions with such believability; or be respected and revered by everyone he came into contact with, from the school playing field to his final performance; and yet remain an ordinary family man, his fame never changing him. That is rare. There really was no-one like Leonard Rossiter.
Click here to read a page of co-stars' personal, non-performance-related tributes to Leonard Rossiter.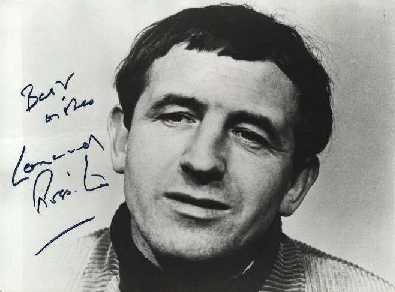 Text (c) Paul Fisher
Pictures (c) their respective owners.