| | | | | |
| --- | --- | --- | --- | --- |
| Leonard Rossiter.com | ~ | Three official web sites in one | ~ | |
The Life & Career of Leonard Rossiter
Television Performances: 1980s
A complete guide to the television performances of Leonard Rossiter in the 1980s.
All dates are original broadcast/Leonard's first appearance dates.
---
---
Clapperboard
18th February 1980
Directed by Mike Becker
Produced by Muriel Young
Broadcast by Granada Television
The movie review series presented by Chris Kelly has reviews of the Rising Damp movie and Black Jack.
Leonard was an interviewee discussing the Rising Damp movie.
---
30th May 1980, 5.55pm – BBC1 London Only
The regional news magazine programme. Leonard is interviewed by Frank Bough about his current appearance in 'Make Or Break' at the Haymarket Theatre with co-star Prunella Scales
---
A Good Job With Prospects (Episode: The Entertainers)
19th January 1981, 9am – BBC1
A programme for schools and colleges looking at careers. In an episode on actors and stage management, Leonard is interviewed about how he started in the acting profession.
---
An Actor's Life For Me
31st March 1981, 10.45pm - BBC1
Directed and Produced by Tony Staveacre
Broadcast by BBC
A distinguished company of British actors recount their most memorable experiences - on stage and off. These stories, tragical, comical, even apocryphal, combine to create a ' collective impression ' of theatrical life. Auditions, first nights, mechanical hazards, dreams and superstitions are evoked by Jane Asher , Eleanor Bron, Ken Campbell , Frances de la Tour Denholm Elliott , Michael Gambon Michael Gough , Sheila Hancock Freddie Jones , Anna Massey, Denis Quilley , Leonard Rossiter Jack Shepherd , Victor Spinetti Robert Stephens , Max Wall.
Shown as part of the BBC Omnibus arts series.
Leonard was an interviewee
---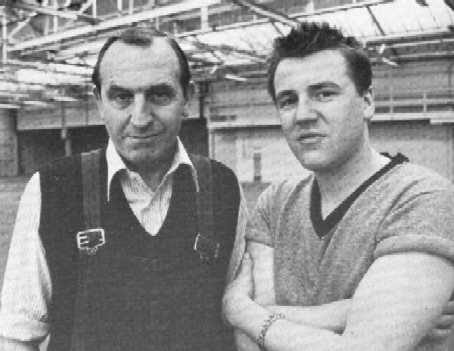 The Factory
Tuesday 22nd December 1981, 9.25pm - BBC1
Written by David Hopkins
Directed by Gerald Blake
Produced by Innes Lloyd
Broadcast by BBC
A 'Play For Today' about a factory and its workers, most of whom had moved out to the country. A manager, foreman and two workers were all that were left. But the them-and-us syndrome of British work relations was still very much in evidence. Co-starred Ray Winstone (pictured), Gwyneth Strong and Benjamin Whitrow.
Leonard played the foreman and trade unionist Harry Meadows.
Leonard's Role Remembered:
"Leonard Rossiter was awkward to work with - he was a perfectionist, which means he was more awkward to himself than anyone else. But he was professional. He knew the lines, didn't alter a word unless he asked; I don't think, also, on take, that I ever saw him dry or be anything other than rock solid." - David Hopkins.
"...For the play it was essential to have an actor with bite, humour, and the air of a marauding predator, the qualities which Leonard Rossiter so perfectly could play." - Innes Lloyd.
"He was extremely friendly and kind, but daunting; he had reached a peak of professionalism that made no allowance for fumbles..." - Benjamin Whitrow.

---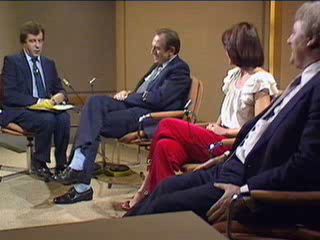 The Russell Harty Show
8th December 1981
Directed by Peter Hamilton
Produced by Tom Gutteridge
Broadcast on BBC
Leonard was a guest on this prime-time chat show for the BBC. Other guests (pictured here) were Tommy Docherty and Isla St. Clair.
Watch a clip

---
Jackanory
23rd December 1981, 9.05am - BBC1


A familiar face from the world of television would sit in a comfortable chair and narrate a story straight-to-camera, in the children's television slot of BBC1. The series ran from 1965 to 1995.
Leonard narrated a story (possibly more) for this programme. Today, he read Part 1 of 'Lord Wolf' by Rosemary Harris.
---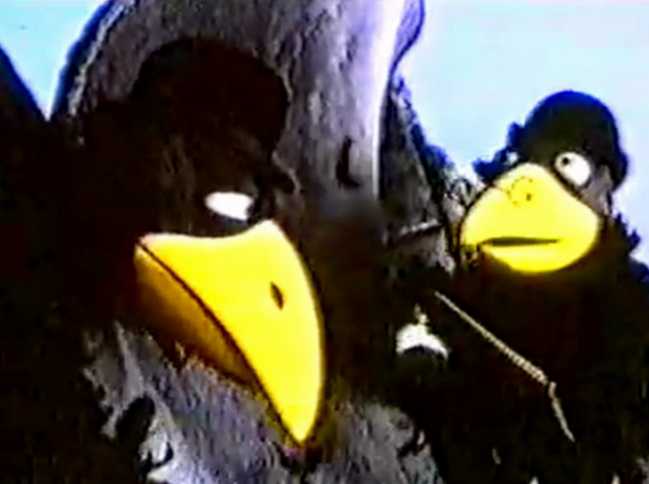 London Docklands Development commercial
1982
Directed by Ken Turner
Broadcast on ITV.
Two puppet crows extol the virtues of the new East London office and commerce developments known as Docklands.
Leonard did the voice-over for one of the puppets.
Watch the ad
Notes: The other puppet crow was voiced by John Barron (who played Reginald Perrin's boss C.J. in The Fall and Rise of Reginald Perrin). The dialogue was based on that prevalent in the series.


---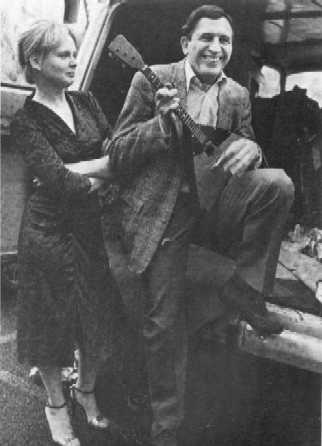 Escape To The West
Sunday 18th July 1982
Written by Dave Martin
Directed by Alex Kirby
Produced by Patrick Dromgoole
Broadcast by HTV
A play within a play, following a team of documentary makers producing a film about life in the Soviet Union. Tenuously linked was the story of an unsuccessful pub entertainer with marriage problems, earning extra pennies by being a film extra. Co-starred Joss Ackland and Patricia Brake (pictured).
Leonard played the pub entertainer, Gerry Gee.

---

Time To Think
1982
Directed by Richard Stroud
Produced by Sue Tramontini for Illustra Communications
Xerox Corporate film - An historical analogy of the Battle of Waterloo is used to emphaxize the importance of fast, efficient communication, in the successful running of a business. Intended for current and potential users of the sponsor's office equipment. Leonard starred with Julian Glover and David Wood.


---

The Funny Side Of Christmas (segment)
Monday, 27th December 1982, 8.05pm
Written by David Nobbs
Broadcast by BBC
This show featured special short sketches of contemporary sitcoms, including Butterflies, Sorry!, Yes, Minister and Only Fools and Horses, with a common theme of Christmas. There was also a segment of The Fall and Rise of Reginald Perrin.
Leonard played Reginald Perrin. See the Reginald Perrin site for more details.
---

Mick's People
1983
Directed by Jonathan Lynn
Produced by Jeanna Polley for Producers Films
25 minute corporate film. Using a storyline about a young couple intending to marry to describe Barclays Bank's 'Getting Married Scheme'. Co-starred Mick Ford and Vivienne Ritchie.
Leonard starred in this commercial for Barclays Bank.
---

Good Morning Britain
5th May 1983
Broadcast by ITV
Leonard was a guest on ITV's breakfast show.


---

The Green Tie On The Little Yellow Dog
10-24 July 1983, Sundays 8.15pm
Written by various writers
Directed by Bryan Izzard
Produced by Bryan Izzard and Neil Anthony
Broadcast by Channel 4.
A tribute to the stars of yesteryear, with contemporary artists (including Maureen Lipman, Julie Walters, Arthur Askey and Barry Cryer) reciting monologues from such favourites as Joyce Grenfell, Gracie Fields, Stanley Holloway, Jack Warner and Chesney Allen.
Leonard was one of the actors reciting the material.
Notes: This series featured the last television performance by Arthur Askey.
---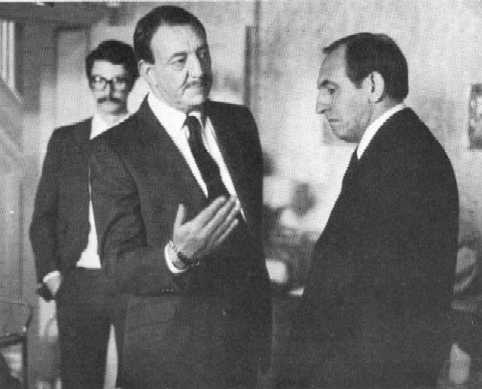 Dog Ends
Tuesday 17th July 1984, 9.25pm - BBC1
Written by Richard Harris
Directed by Carol Wiseman
Produced by Andree Molyneux
Broadcast by BBC
A 'Play For Today' but set in the future, regarding a society in which euthanasia is common. When an elderly relative becomes senile, or just becomes too much of a liability, they are put to sleep as easily as a dog or cat. Co-starred David Threlfall and Bryan Pringle (pictured).
Leonard played Arthur, a guilt-ridden man who had just signed the necessary paperwork to end his father's life.
Leonard's Role Remembered:
"He had the reputation of being difficult to work with - I found him quite the opposite, but if things weren't going as they should, he made no bones about letting his opinions be known. He applied himself totally and expected the commitment from others. He didn't suffer those he considered fools gladly...In rehearsal he was unselfish and very inventive. And -a great pleasure to me - he very much respected the writer's craft. If it deserved his respect." - Richard Harris.
"The depth of his insight into what makes comedy was unerring...He was as painstaking with himself as he was generous to others. Only perfection satisfied him. And once he had achieved this, he was able to retain and recreate it through any number of takes."
- Carol Wiseman.

---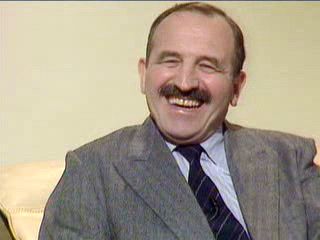 Sunday, Sunday
1984
Broadcast by ITV
Leonard was a guest on this Sunday tea-time chat show.




---
Tripper's Day
Mondays, 8pm 24th September - 29th October 1984
Written by Brian Cook
Directed by Anthony Parker (pilot), Michael Mills
Produced by James Gilbert
Broadcast by Thames Television
A Northern retail manager is relocated to a London supermarket, Supafare. In his charge is a bunch of rude, chain-smoking layabouts, a belligerent shop-steward, and bored, nail-filing checkout girls. Not to mention VAT inspectors, bomb alerts, faulty fire alarms and floods. Co-starred Pat Ashton, Gordon Gostelow, Liz Crowther and Paul Clarkson (pictured far right).
Leonard played the title role of Norman Tripper, the manager of the Supafare supermarket.
Watch clips
Notes: This series, sadly, was to be Leonard Rossiter's epitaph to British comedy. He died between the broadcast of the second and third episodes, on October 5th. Many critics lamented this fact, as much as the tragic death of the actor himself. However, the subject matter was thought to be strong enough for another series two years later, starring Bruce Forsyth as Cecil Slinger in the retitled Slinger's Day.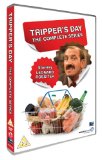 Leonard's Role Remembered:
"Personally, I cannot speak too highly of Leonard. In the short time I knew him I found him to be a marvellously professional and sensitive actor, and a very funny, approachable and down-to-earth person." - Paul Clarkson.
Links:
Buy the series on DVD: Click the image on the right >>>
Internet Movie Database
TV Comedy Index

---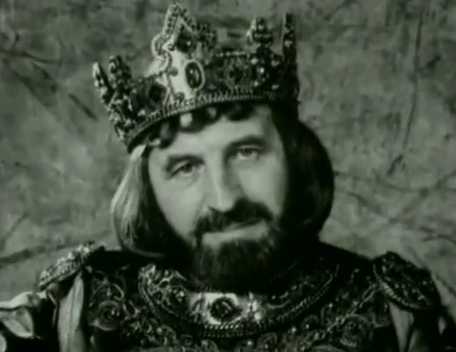 The Life and Death of King John
Saturday 24th November 1984, 8.30pm - BBC2
Written by William Shakespeare
Directed by David Giles
Produced by Saun Sutton
Broadcast by BBC
Part of the BBC Television Shakespeare series, this was the rarely- performed story of King John, famous for signing the Magna Carta, and in particular his battles, his disputes with the Pope and the illegitimacy of his reign. It featured Claire Bloom as Constance, George Costigan as Philip The Bastard, Jonathan Coy as Lewis, John Thaw as Hubert, Mary Morris as Queen Elinor and Janet Maw as Blanch.
Leonard played the title role of King John.
Watch clips or buy the DVD

Leonard's Role Remembered:
"I found Leonard enormously interesting to work with, like a coiled spring, always sniffing about for a way of enlivening every second of the performance..." - David Giles.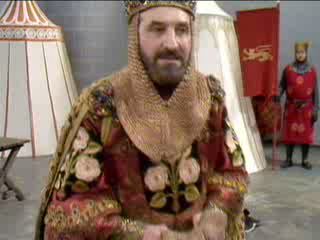 Critical Reviews:
"His fluttering flight into bravado and retreats into a more natural cowardice - characteristics which, in comic vein, can be seen in Rising Damp still running on ITV - were entirely appropriate." - Denis Hackett, The Times.
"He gave a gloriously eccentric and really very human performance making a funny, pitiful fellow creature out of a cypher." - Nancy Banks-Smith, The Guardian.
Links:
Internet Movie Database
King John dialogue

---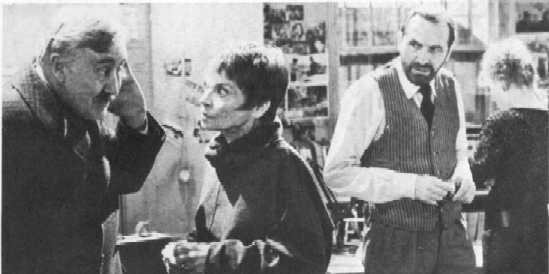 Moon Over Soho
Sunday 18th August 1985, 9.20pm - BBC1
Written by Peter Ansorge
Directed by Stuart Burge
Produced by Michael Wearing
Broadcast by BBC
The tale of a German Jew, publisher of a film magazine featuring the woman he loved. After her death, the magazine folded, and while trying to keep the bank manager at bay, decided to write himself threatening letters, in the hope his mother will meet the 'demands' and give him the money he required. Co-starred Ivor Roberts and Mary Morris (pictured).
Leonard played the lead role of Max von Konisberg, the German Jew.
Leonard's Role Remembered:
"One of Leonard's outstanding talents was an apparent manifestation of anarchy which was in fact a meticulously organised and controlled interpretation of the character the author intended...I'm glad some of his work is recorded on film or tape - he should remain a compelling study for actors of the future." - Stuart Burge.
"The dedication he brought to his acting is well known, as is the enormous energy with which his creations came to life. Less familiar (at least to me) was the apparent ease by which he could convey stillness, calm, directly, with no hint of sentiment, usually in just one take." - Peter Ansorge.

---

Alice In Wonderland
16th & 23rd April 1985
Written by Lewis Carroll
Directed & Produced by Harry Aldous
Broadcast by ITV (Anglia Television)
A 5-part puppet-animation version of the classic children's tale, voiced by an all-star cast including Paul Eddington, Joan Sanderson and Eric Sykes. Leonard's episodes were 4 of 5: 'A Mad Tea Party and the Queen's Croquet Ground' and 5 of 5: 'The Mock Turtle's Story, the Lobster Quadrille and Who Stole the Tarts?'.
Leonard voiced The King Of Hearts in episodes 4 and 5.
---
Text (c) Paul Fisher
Pictures (c) their respective owners.