The Life & Career of Leonard Rossiter
Loot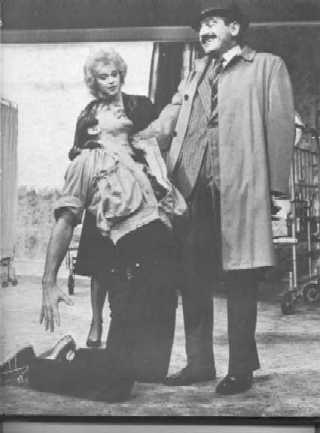 Written by Joe Orton
Directed by Jonathan Lynn (both productions)
March 8th - May 5th 1984
Ambassador's Theatre, London
September 1984 - January 1985
Lyric Theatre, London
Leonard Rossiter as Inspector Truscott (pictured)
Gemma Craven as Nurse Fay (pictured)
Patrick O'Connell as McLeavy
Neil Pearson as Hal (pictured)
Paul McGann as Dennis (Ambassador production)
David John as Dennis (Lyric production)
John Channell Mills as Meadows
"In a world run by fools, the writer can only chronicle the doings of fools or their victims. And because the world is a cruel and heartless place, he will be accused of not taking his subject seriously... But laughter is a serious business, and comedy a weapon more dangerous than tragedy. Which is why tyrants treat it with caution...."
- Joe Orton
---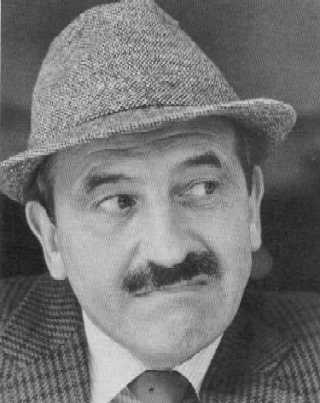 "Reading isn't an occupation we encourage among police officers. We try to keep the paperwork down to a minimum." - Inspector Truscott, Loot (Act II).
Fay: The British police force used to be run by men of integrity.
Truscott: That is a mistake that has been rectified.

On March 8th, 1984, Leonard Rossiter embarked on the first of two runs of Joe Orton's play Loot, the first at the Ambassador's Theatre in London, and later moving to the city's Lyric Theatre. He had just finished recording a sitcom for ITV, Tripper's Day, and a TV play, The Life and Death of King John, for the BBC. He was looking forward to 'treading the boards' again in this, his favourite medium, theatre. It was to be another leading role, and another success for Leonard Rossiter in the West End. With less than a month to his fifty-eighth birthday, no-one would have thought it would be his last ever performance.
Loot is a black comedy and a satire on arbitrary authority. It turns public institutions (notably the police) and social taboos (death and religion) into ironic farce, and with blistering effect. Premiered on February 1st 1965 at the Arts Theatre, Cambridge, the play's desire was to shock - and it did so successfully, albeit at the expense of the critics, who reviled "Mr. Orton's repetitive and nasty sense of humour". Re-written and revived at the University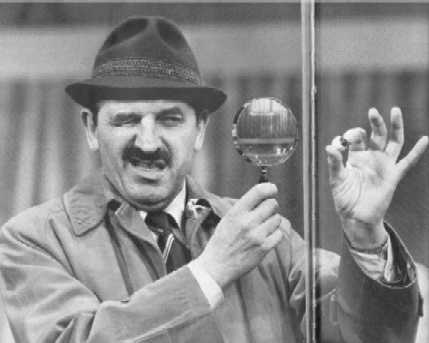 Theatre, Manchester in April 1966, and starring Kenneth Williams as Truscott, the play became a critical success, even winning the Evening Standard's Best Play of 1966 award after its transfer to the West End at the Jeanetta Cochrane Theatre in September of that year. In today's society, however, with stories of death, greed and irreverance to religion in every newspaper and TV drama, the play has less of a social impact, but remains a masterpiece of irony, paradox, sharp one-liners, confused morals and scathing satire.
In a semi-detached house in suburban London, a death has occurred in the McLeavy household. Mrs. McLeavy lies embalmed in her coffin, lying in state in her Women's Voluntary Service uniform. While her widow, Mr. McLeavy, mourns for his late wife, their son Hal is out robbing the local bank - ironically located next to the funeral parlour - with his friend Dennis, who also happens to be the undertaker of said parlour. With the police in hot pursuit, they decide to hide their ill-gotten gains in the old lady's coffin. A problem arises, however, when they discover there is not enough room for both contents. The corpse is shamelessly removed to various parts of the house, and finally to the living-room cupboard. A representative from the Metropolitan Water Board - really Inspector Truscott in disguise - enters the house, but is as corrupt as he is wily. Meanwhile, the McLeavy's private Irish nurse, Fay, is comforting the widower, while secretly planning on turning him into husband number eight. She is a serial killer, who murders the wives of wealthy men, marries the widows, then murders them to inherit their money. It is she who has poisoned Mrs. McLeavy. It is the gradual emergence of the body, limb by limb, from the wardrobe (not to mention the corpse's glass eye rolling about the floor), and the portrayal of police brutality and hypocrisy that turns the play into a compelling and yet wickedly disturbing depiction of the blatant power of greed over morals.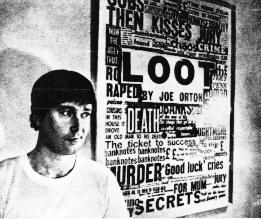 Loot was one of several black farces written by Joe Orton in his tragically short career. Born in Leicester on New Year's Day 1933, John Kingsley Orton became interested in acting and joined several amateur dramatic societies. He gained entry to RADA (Royal Academy of Dramatic Arts), much to the annoyance of his teacher, who thought he was awful, "She had no taste", said Joe in a 1967 interview. He found himself stagnating at RADA, however, and left after two years. After joining repertory theatre, and embarking on a short-lived, unhappy, marriage, Joe took up writing plays. At the age of 18, Joe had met Kenneth Halliwell at RADA, and they became lovers, living together in Islington, North London. Joe Orton quickly made a name for himself in playwriting circles, and his works Entertaining Mr. Sloane, The Ruffian On The Stair, and Loot became a huge success, and were even made into radio and TV productions. His lover, however, remained a struggling, unpublished writer. On August 9th 1967, Kenneth Halliwell murdered Joe Orton by repeated hammer blows to the head, and then killed himself with an overdose of tablets. (The life story of Joe Orton was made into a film in 1987 entitled Prick Up Your Ears. It was written by Alan Bennett, based on the biography by John Lahr, and featured Gary Oldman as Joe and Alfred Molina as Kenneth Halliwell).
In November 1983, the small, compact Ambassadors Theatre in West St., London, SW2, became home to The Little Theatre Of Comedy, with founder members inclding such actors as John Alderton, Richard Briers, Judi Dench, Eric Sykes, and Leonard Rossiter. It was here, on March 8th 1984 that the theatre's production of Joe Orton's Loot opened, starring Leonard, Gemma Craven, Paul McGann and Neil Pearson. But director Jonathan Lynn admits that Leonard wasn't the frist choice to play Truscott: "He wanted to play it originally, but Charles Marowitz, the original director, declined. Leonard was very angry about that. He was determind to prove that he was the best person on the planet to play the role - which he was."
As if to put the audience in the mood for what was to come, the theatre was draped in black, and there were wreaths and messages of condolence in the foyer. Despite the opening night horror of the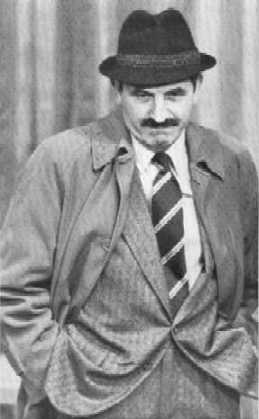 corpse accidentally being dropped off the front of the stage by Paul McGann (to which Leonard nonchalantly ad-libbed "Well, go on boy, ask for it back!"), the play received very favourable reviews, and audiences were packed for every performance until it closed on May 5th. The production then transferred to the Lyric Theatre where it stayed until the play closed in the January of 1985. The cast remained the same, with the exception of Paul McGann, who was replaced by David John. Leonard's perfect portrayal of the psychopathic, unpredictable Inspector Truscott earned him a nomination for Comedy Performance of the Year in the 1984 Laurence Olivier Awards (see the link at the foot of the page), presented by The Society of West End Theatre. But it was to be the performance of Loot on the evening of October 5th 1984 that its cast will remember for the rest of their lives.
In the previous week, Leonard Rossiter had suffered some mild chest pains, and, despite very rarely being ill, had undergone a series of tests at the Brompton Hospital. When cast member David John enquired about the tests, Leonard replied: "He gave me a check-over and I'm as fit as a fiddle." On the fateful Friday evening, the performance was a sell-out and even the standing-room-only area of the auditorium was full. Co-star Neil Pearson remembers: "He'd come in, and wandered about in the wings before the show. He wasn't on first, but he always did that, just to get the 'feel of the house'. The show started. We did the first scene. Leonard came on for the second scene, then off he went." Leonard and David John exchanged a few words in the wings, then Leonard returned to his dressing room, while David went on stage for his next scene. It was after David had returned to his own dressing room that he realised something was terribly wrong. It was just twenty minutes into the performance when a backstage tannoy call had been made for Leonard's next appearance, something which was never required, for Leonard was famous for his immaculate professionalism. David went and listened to the dialogue on stage - Gemma Craven was improvising after Leonard had missed his cue. Shortly after, Neil Pearson was heard to say: "I'm sorry, ladies and gentlemen, we have a slight problem. We're going to bring the curtain down but we'll be back with you as soon as possible."


Leonard's understudy, John Channell Mills, ran to Leonard's dressing room, but found the door locked. He forced it open and found Leonard slumped in an armchair, unconscious and with a pallid, grey, complexion. The rest of the cast arrived soon after, and Gemma Craven felt his pulse, but replied: "He's dead." David John tried heart massage and artificial respiration, but to no avail: "I actually thought I had got Leonard breathing", David recalls. "The air was going in and out as though he was alive. There was hope. I just kept going, looking at his face, thinking 'Come on, Leonard, pull through, you can do it.'" A call for a doctor was made on-stage and two doctors rushed to Leonard's dressing room. A third member of the audience also rushed backstage - it was the actress Frances de la Tour, his co-star in Rising Damp. "I was there at the theatre, quite by chance, on the night he died.", Frances recalls. "I was going to go backstage at the end of the show to congratulate him - instead I went backstage after only twenty minutes into the show - to see him die."
An ambulance soon arrived and rushed Leonard to the Middlesex Hospital, but it was clear he was already dead. Gillian Raine, Leonard's wife, arrived at the theatre, then followed the ambulance to the hospital. A flurry of journalists and photographers had by now descended on the Lyric Theatre, but the cast had had to resume their roles and finish the evening's performance. David John remembers the rest of the dreadful evening: "All I could think of was Leonard. Even though I knew he was gone, somehow there was a faint glimmer of hope. Meanwhile, I was having to perform a black comedy about death, coffins and funerals which had a total disrespect for the dead. I shall never know, to this day, how I, or the others, got through the performance. As the curtain came down, we were told Leonard was dead." Leonard Rossiter had died of hypertrophic cardiomyopathy, a congenital disease of the heart muscles. He was fifty-seven years old.
See also: Biography and Personal Remembrances.

Leonard's Role Remembered:
"Leonard... with a mad gleam in his eye and shark-like affability... had the Inspector's unpredictable and psychopathic measure perfectly." - Robert Tanitch.
"Before I met Leonard I heard that he was keen to cast me in Loot by Joe Orton. Leonard was very, very scary, for two reasons: First, because he was, by temperament, very snappy, a perfectionist, and second because he was brilliant." "Leonard was a great mechanic of comedy. He knew the nuts and bolts of it. He knew how it worked. He knew scientifically how to elicit a laugh from the audience." - Neil Pearson, co-star.
"As an exponent of black humour, there was none better. I always thought what a wonderful Truscott he'd make in 'Loot', but it wasn't until recently that I realised it was 'Loot' he was doing when he died. But he must have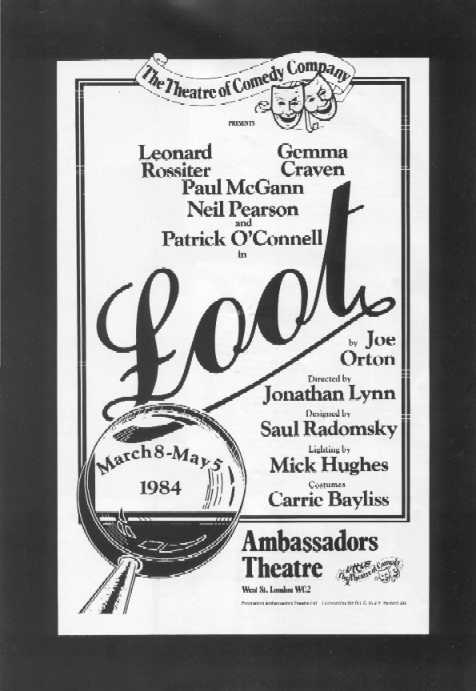 done it brilliantly. It was right up his street." - Alan Simpson, writer.
"The irony of the whole thing is that the play was about moving a dead body about on stage, form the cupboard back into the coffin, while the two boys had done a bank robbery and are hiding the money in the coffin." "This particular night, we started the show and Leonard made his first entrance. He went off and Neil Pearson and myself were left onstage to carry on with the scene. We get to the end of the scene where Truscott bursts in from the garden and interrupts our conversation. But there was no sign of Leonard, so they brought the curtain down. They said 'We can't find Leonard!' I went round to his dressing room, because ours were next door to each other, and I went straight in. Leonard was just sitting there, very calmly in his armchair, holding his Truscott pipe. And we realised that he had died. It was an amazing way for him to go - in his beloved theatre, and doing what must have been one of his favourite plays. Playing, I think, a character which seemed to have been written for him. He was very, very sadly missed." - Gemma Craven, co-star.
"His performance had to be perfect, down to the tiniest of details. He was ruthless with himself. There was no room for a laugh that didn't deliver, or a mis-timed moment. As a result, I think he had a right to expect the best from everybody else. When he got it he was wonderful. When he didn't he was intolerant." - Jonathan Lynn, director.
"It was a perfect match. The awful thing is that Leonard died during a performance. It had the most fantastic reviews. He was brilliant in it. It was the perfect use of his quirkiness." - Ray Cooney, playwright.
"Things that make me laugh are black jokes, which some people find distasteful. I like the story about Arthur Lucan, who was of course 'Old Mother Riley'. He'd been doing pantomime for about ten weeks, with the audience full of kids screaming his name. He goes off to his dressing room. Then there's a call for him, and he doesn't answer. The theatre manager has to go onstage and break the news. And he says 'Please could I have your attention? Kiddies, shush please. I have some very sad news. Old Mother Riley is dead.' And someone from the back shouts 'Oh no, she isn't!' "- Leonard Rossiter, Live From Two, 1980, four years before the same fate befell Leonard himself.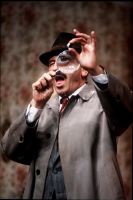 Critical Reviews:
"That sinister seediness in which Leonard Rossiter so excels has seldom been seen to better effect than as the insidious Inspector Truscott."
- Jack Tinker, Daily Mail.
"Rossiter presents us with a character who is both stupid and vicious at the same time; and his superb comic achievement is to show the lurking insanity inside a community-belt normality." - Michael Billington, The Guardian.
"The performance can also be viewed as a brilliant, versatile demonstration of the double-take technique. Mr. Rossiter is gorgeously and inimitably funny from start to finish." - Michael Coveney, Financial Times.
Links:
Joe Orton Web Site (under construction)
Joe Orton interview

Return to Theatre Performances - 1970s/80s
Return To Index PageText (c) Paul Fisher
Pictures (c) their respective owners.