The Life & Career of Leonard Rossiter
The Immortal Haydon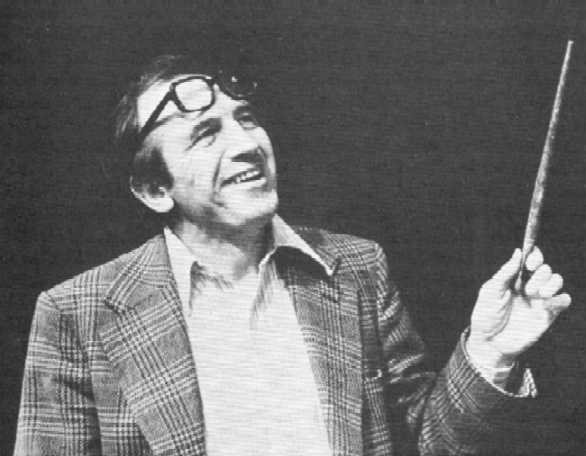 Written by John Wells
Devised by Julius Gellner
Directed by Alan Strachan

November 1977
Mermaid Theatre, London
January 1978
Greenwich Theatre, London


"The great difficulty is first to win a reputation; the next to keep it while you live; and the next to preserve it after you die, when affection and interest are over, and nothing but sterling excellence can preserve your name. Never suffer youth to be an excuse for inadequacy, nor age and fame to be an excuse for indolence."
- Benjamin Haydon.
---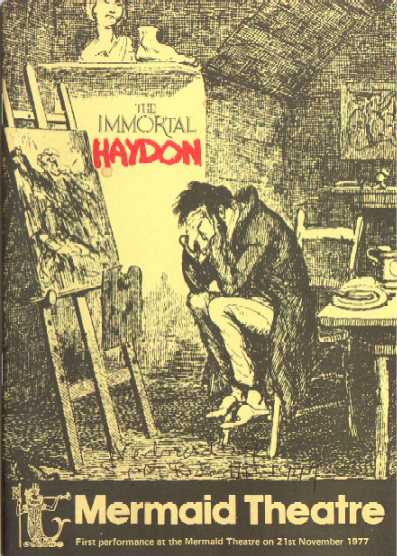 In a year in which he continued to portray his two most famous characters - the landlord Rigsby in Rising Damp, and the eponymous frustrated commuter in The Fall And Rise Of Reginald Perrin - Leonard Rossiter also undertook a role in 1977 in which, despite a career of twenty-five years, he had no previous experience: a one-man show. It was a mammoth undertaking, but one which Leonard relished, and one which the critics adored. The Immortal Haydon was a play about the life and works of the English painter and diarist Benjamin Robert Haydon, friend of some of the most influential artists and poets of our time, yet savaged by critics - a genius only in his own eyes.
It was a radio programme tribute to Haydon's life (A Great Canvas, written and presented by Robert Gittings), that originally moved the Mermaid Theatre in London's Puddle Dock to commission The Immortal Haydon. Based on Haydon's twenty-six volumes of diaries and notebooks, and also his monumental, albeit half-completed autobiography, the play was written by the great satirist and comedian John Wells, a writer who had long been associated with the 1960s satire explosion along with David Frost, John Bird and John Fortune (Wells is probably best remembered for his uncanny portrayal of Denis Thatcher (husband of former Prime Minister Margaret) in the sitcom Anyone For Denis? Wells died from cancer in 1998). John Wells wrote The Immortal Haydon with Leonard Rossiter in mind as the lead role. "I suppose the first time I really went mad about Len was seeing him as Arturo Ui", John remembers. "He had an extraordinary power in that he could actually bring the audience to him. He didn't go out to the audience, he could actually bring them in, by the intensity of his concentration."
Devised for the stage by Julius Gellner, the scripts were honed to perfection by Wells, Gellner and Leonard himself, planning the changes of tempo and variations of pace called for in the presentation of the turbulent life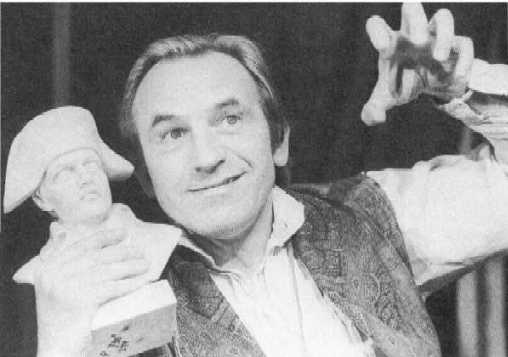 of the struggling artist. The large stage at the Mermaid was transformed into Haydon's studio: a jumble of easels, busts, statues and papers. Leonard, clad in red waistcoat and velvet house slippers, with spectacles hanging around his neck, perfectly brought Haydon to life with his anecdotes and vitriolic railings at the Royal Academy and society in general. With the entire script of the two-hour show learned and memorised in a few days, Leonard gave an outstanding performance, minutely honing his every movement and inflection of speech, and letting his frustrations build and his weariness set in until, in the final scene, the painter ends it all with a revolver to his head, the stage being plunged into darkness and the artist's name splashed across a screen in blood. (Note: The BBC2 arts programme Arena made a documentary following Leonard during his rehearsals for this play in 1977).
The play followed very closely the texts of Haydon's diaries (published in 1960) and autobiography (published in 1847), giving a vivid, sometimes painful, portrayal of a man desperate for wider acclaim in a world that just didn't want to know. Born in Plymouth, Devon, on January 25th 1786, the son of a bookseller, Benjamin Haydon showed a flair for painting at an early age, and became a student of the Royal Academy at the age of 19, exhibiting his first picture two years later. Because of subsequent quarrels within the society, however, most of his later works were only ever shown at private exhibitions, if at all. It was Haydon's ambition to become the greatest historical painter England had ever known, and devoted his life to painting extremely large, yet somewhat dull, canvases, including biblical and classical subjects such as "The Judgement Of Solomon" (1814), "Christ's Entry Into Jerusalem" (1820) and "The Raising Of Lazarus" (1823). In contrast, he also produced paintings with humorous leanings, such as "Mock Election" (1827) and "Punch, or May Day" (1829). Despite his dislike of portraiture, he had the Duke of Wellington sit for him, and his portrait of the poet (and personal friend) William Wordsworth, "Wordsworth Musing On Helvellyn" (1842), was described by the poet himself as the best likeness of him ever made.
Despite his struggle for recognition, Haydon remained a minor figure of the Romantic era. When he opened a private exhibition at the Egyptian Hall in Piccadilly, more people went to see the celebrity American midget 'General Tom Thumb' (Charles Sherwood Stratton), who was appearing next door, than went to see Haydon's paintings. His diary notes the humiliation: "April 21st -Tom Thumb had 12,000 people last week. B. R. Haydon 133 and a half (the half a little girl). Exquisite taste of the English people!" A month later Haydon "marched out before General Tom Thumb, a beaten but not conquered exhibitor." He had lost all £111 8s. 10d, the cost of the exhibition, plunging the painter further into debt. Even a century after his death, the bad luck of Benjamin Haydon was still evident: The Judgement Of Solomon, painted in 1814 and one of Haydon's personal favourites, turned up at a London auction room in 1960, rolled up in a dirty table-cloth, faded and cracked, and labelled as "Italian school, circa 1730". Luckily, a collector realised its true identity and the painting has now been restored.
For all the negative press about Haydon, it has to be said that he had an extensive acquaintance among literary figures of his time, not least John Keats, Charles Lamb, William Wordsworth and Elizabeth Barrett Browning, to whom he entrusted his writings after his death. It was into these diaries that Haydon's perpetual frustrations and anger at society poured, detailed and frank. He recorded his moments of exaltation, reflections on the nature of his 'genius', his social triumphs and expenses. One of the most famous passages was his account of his "Immortal Dinner" on December 28th 1817, attended by many of his famous friends (see link below). His talent for writing, especially his keen eye for character, is usually praised more often than the productions at his easel. He lectured often up and down the country, advocating social concepts of art that anticipated those of Willam Morris and John Ruskin, and was instrumental in the establishment of many public art galleries and in the foundation of numerous Schools of Design. He was even commissioned to write an article on painting for the Encyclopedia Britannica (seventh edition). Haydon's devotion to the education of the people in art resulted in him becoming a Freeman of Plymouth, his native city, but also resulted in deep financial debt. It was his financial incompetence that was to be his ultimate downfall, together with his violent and self-absorbed personality, and the continued failure of his artistic ambitions. Even Haydon's first suicide bid, with a cut-throat razor, was unsuccessful, but a second attempt, this time with revolver, brought the desired effect. His diary notes: "When a man is no longer anxious to do better then, well, he is done for." Benjamin Haydon died on June 22nd, 1846.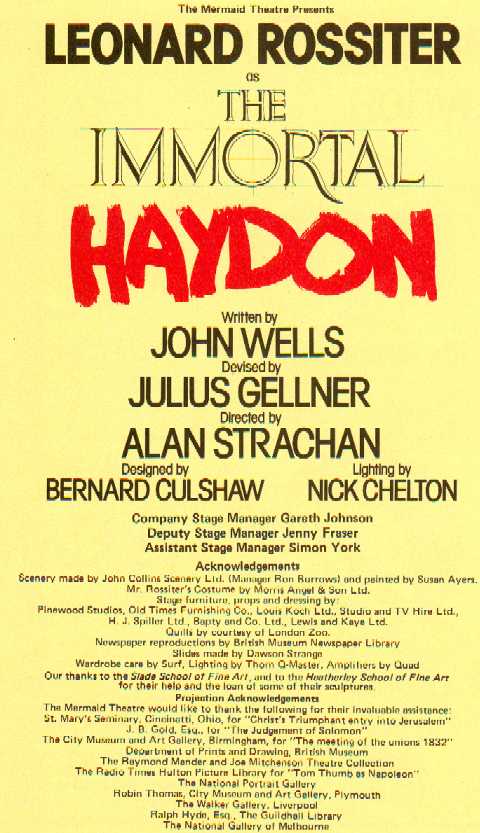 Leonard's Role Remembered:
"He was restlessly perfectionist, dedicated to getting it right...At home or out to dinner with friends, all the energy seemed to go into jokes, telling stories, laughing, talking and enjoying himself with no sense ever of any tension; on stage all the energy was disciplined, directed to achieving minutely precise sensations in himself and the audience...The most 'professional' actor I have ever known." - John Wells, author.

"..It was, in Len's hands, much more than a tour-de-force and a prodigious feat of memory. He captured not just the absurdity of the man but also something of a tragic grandeur in a spirit whose sense of reality gradually dissolved into terrifyingly isolated madness" - Alan Strachan, director.

"I will remember Len, not for his commercials, not for Reggie Perrin, not for Rising Damp, not even for Arturo Ui, but for his performance at The Mermaid in the one-man show written by John Wells about the painter Benjamin Haydon...I felt that all the human comedy, all the human tragedy, all the absurdity of mankind's pretensions were illuminated for us by Leonard... I was certain that night that I was seeing not just a very fine actor, but one of the all-time greats." - David Nobbs, author, the Reginald Perrin novels.

Critical Reviews:
"His performance is witty and impassioned, falling sometimes into inarticulate sounds that lead nowhere, but generally fresh and spontaneous." - Ned Chaillet, The Times.

"Mr. Rossiter's masterful performance catches that inane sense of mission possessed by reforming fanatics at full belt."
- Michael Coveney, Financial Times.

"There's no doubt Mr. Rossiter has scored a personal triumph with his one-man show, for it is a mammoth undertaking, requiring subtle nuances of timing... The real interest of the performance is in watching Mr. Rossiter extending his range as an actor. B.R. Haydon was fascinating enough, but I was more impressed by Mr. Rossiter, who moves into the Theatrical First Division with this piece of work." - Douglas Blake, The Stage & Television Today.

"...[H]e cajoles and roars and jokes his way thorugh it with a brilliant series of cameos...Rossiter's performance is more than a demonstration of the talents of a superb character actor. He gets convincingly inside the sometimes cheerful, sometimes despairing hopelessness..." - Christopher Dodd, The Guardian.




Links:
"The Immortal Dinner"
Selected Poetry and Writings

<>Return to Theatre Performances - 1970s/80s
Return To Index Page




Text (c) Paul Fisher
Pictures (c) their respective owners.