The Life & Career of Leonard Rossiter
The Resistible Rise Of Arturo Ui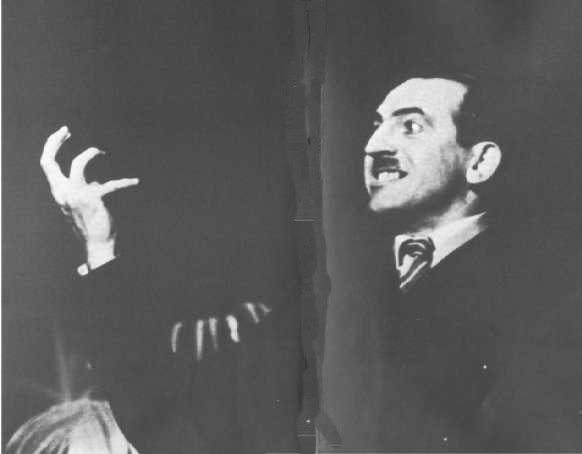 Written by Bertolt Brecht, adapted by George Tabori
All productions directed by Michael Blakemore
September 1967
Performed at Citizens' Theatre, Glasgow
August 1968
Performed at The Lyceum, Edinburgh
(as part of the Edinburgh Festival)
April 1969
Performed at The Playhouse, Nottingham
July 1969
Performed at the Saville Theatre, London


---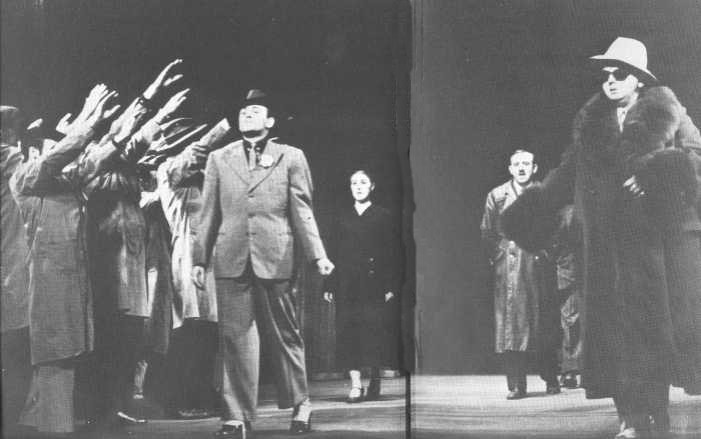 "Ui is a parable play, written with the aim of destroying a dangerous respect commonly felt for great killers... Plain everyday logic must never let itself be overawed once it goes strolling among the centuries; whatever applies to small situations must be made to apply to big ones too. The petty rogue whom the rulers permit to become a rogue on the grand scale can occupy a special position in roguery, but not in our attitude to history... If the collapse of Hitler's enterprises is no evidence that he was a half-wit, neither is their scope any guarantee that he was a great man."
- Bertolt Brecht, author, 'The Resistible Rise of Arturo Ui'.
It was in 1967, after nearly one hundred theatre performances, that Leonard Rossiter's portrayal of Arturo Ui rocketed him to stardom, the West End, and into our homes in his memorable television roles. Leonard's Ui was virtuoso - perfect, stunning and inimitable. It was a performance still ranked today with the finest of those of Olivier and Gielgud. It was as if his whole theatrical life had been a rehearsal for this role. And yet it almost never happened. Director Michael Blakemore wanted desperately to bring the play to the British stage, after the world famous production by the Berliner Ensemble, the East German theatre company set up by Brecht himself in 1949. Blakemore knew he wanted Leonard for the role, but Leonard was apprehensive.
Set amidst the economic turmoil of gangster- controlled Chicago in the 1930s, the play is a direct and thinly veiled attack on German apathy towards the threat of Hitler's rise to power, and a warning to future generations (Brecht was vehemently anti-Nazi, he fled to Finland where he wrote the play. He had decided to leave for America, and thought the equation of Hitler with Al Capone would give him a foothold on the American stage). Two years before Hitler's programmes of extermination, the dangers of his expansionist tendencies and his ruthless political ambition were already apparent to Brecht as he transposes Hitler's manipulation of the German and Austrian governments onto a gangster's attempts, via the running of a protection racket, to take over the cauliflower trade in the American cities of Chicago and nearby Cicero during the Depression (Brecht turned to his son for research into American gangsterism; he was a big gangster film buff). Initially dismissed as an uncouth upstart, the gangster Ui, like Hitler and Al Capone, uses a mixture of violence, incendiary speech and mesmerizing rhetoric to further his mafia-like promotion of brotherhood and blood ties. Ui and his group of maniacal followers force their way into power, ruthlessly exterminating dissenters and critics and finally achieving support and recognition from the vegetable traders of Chicago and Cicero.
Leonard was unsure that he could pull off a Chicago Al Capone-like accent, but after a reading in the flat of Michael Blakemore, the director reassured him that his rendition was most convincing: "...I had no anxieties about him", recalls Blakemore. "Once he had agreed to be in it... he saw the part as an opportunity to deploy the full range of his gifts and, swooping between the comic and the grotesquely sinister, he went for the throat."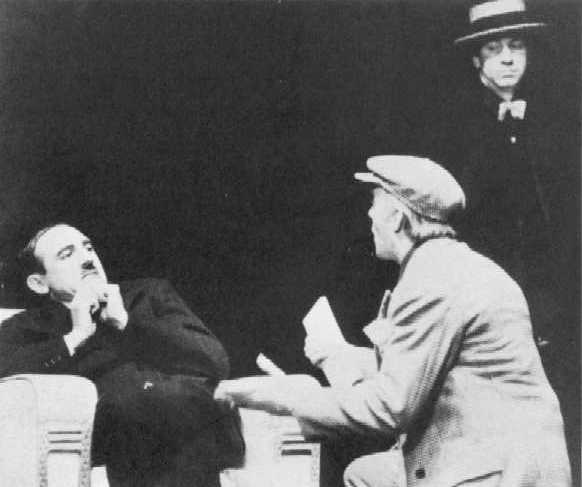 The premiere was set for September 1967 at the Citizens' Theatre in Glasgow, but with only a week for rehearsals, compared to the Berliner's six months, things had to move at an incredible pace. Of course for Leonard, with his ability to digest vast amounts of dialogue at the same time as working out his moves and gestures, this posed no problem, but for the costume and set designers, it was a different story. Even on the opening night, the final scene - one of the most memorable of the whole play - had not been properly dress rehearsed and the cradle in which Arturo glides towards the audience during his climactic speech, had still not been fully tested. However, luck was on their side, and the play had no problems. Leonard captivated the audience with his horrific, sinister, and yet sometimes maniacally comic,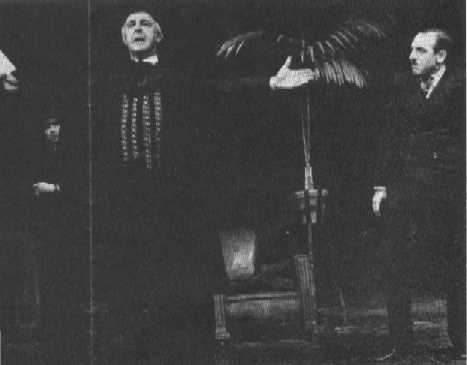 performance. From seedy, small-time gangster to the controller of the Chicago grocery trade, Leonard brilliantly showed how one man - metaphorically Hitler - could instil such hysteria and power amongst his racketeers and his victims. The play was given even more potential by the use of all dialogue being in verse, and with a constant dull ack-ack of machine-gun fire in the background.
The play returned for a second run the following year, still in Scotland. It was performed as part of the annual Edinburgh Festival at The Lyceum in Edinburgh, to packed houses and excellent reviews. It transferred to The Playhouse in Nottingham in April of 1969, where the play - and its actors, particularly Leonard - gained stature as a production and an actor not to be missed. Finally, the performance reached the London audiences in July of the same year. Staged at the Saville Theatre in the West End, the production played to the country's top - and fiercest - critics. But the verdict on the play, and on the actor playing the lead role, was unanimous: "stunning", "perfect", "a virtuoso performance", "electrifying", "astonishing". Leonard was the toast of the town but, as ever, never let his new-found stardom go to his head. Nevertheless, he was quick to promote his talents: "You could say I'm at my best at strong characters with a manic streak", he told Bryon Rogers in an interview with TVTimes, "I like roles such as Hitler where you can go from outraged hysteria to assumed calm in seconds. I think I am better equipped to do that than most."

Everybody who was anybody came to see the play, and seeds were sown for many of Leonard's subsequent performances, not least as the manic painter Benjamin Haydon in John Wells' play, specially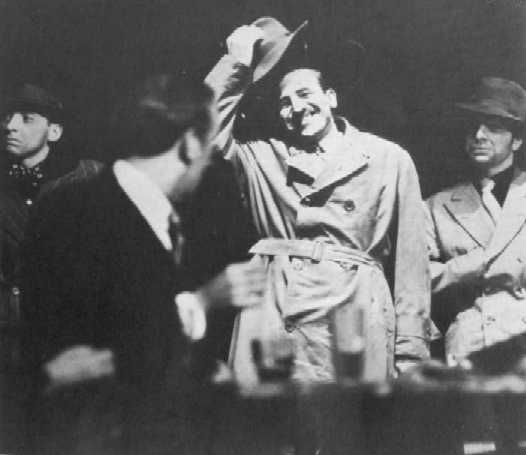 written for Leonard, The Immortal Haydon. John fondly recalls Leonard's overpowering presence on stage as Ui: "[It was] the first time I really went mad about Len... he took the play and you could see the underpinning of his comedy because it was absolutely real . He had an extraordinary power... in that he could actually bring the audience to him. He didn't go out to the audience, he could actually bring them in, by the intensity of his concentration." His unforgettable performance won him three awards: The Variety Club of Great Britain Award, the Scottish Television Theatre Award and, voted for by theatre audiences, the 'Plays & Players' Award. Leonard himself claimed his role of Arturo Ui as a personal triumph. Years later, in a rare interview with Russell Harty, he was asked which of the many parts he had played over the years held an affinity for him. He replied: "...Very, very rarely, on about two occasions, I suppose, in 28 years, have I thought 'Ah, this gives me all the things I can do really well'. One of them was Rising Damp, the other was a play about Hitler!" He ended by joking "So clearly, I am a dictator manqué!"
Leonard's Role Remembered:
"...He made the role his own. It was brilliant caricature... Highly stylised and grotesquely funny (though never any the less frightening for that), he was a cartoon figure, constantly being galvanized into convulsive movement and snarling fury... an unforgettable experience." - Robert Tanitch.
"...As an actor he had much in common with the great performers of an earlier generation, a self-sufficient talent forged out of necessity in the provinces. He was enormously inventive and from the outset had a clear idea of what he wanted to do with a part... It soon became clear that what Leonard was offering was so alive and so charged with comic intelligence that it simply couldn't be denied." - Michael Blakemore, director.

"You had to be on your toes when you acted with Leonard. His speed of thought on stage was like lightning. I never saw him hesitate or fluff during a performance. He blazed with energy and liked you to blaze with him. His Arturo Ui was an unforgettable experience - a great performance, one of great power, dazzling comic invention and marvellous physical dexterity." - David Graham, co-star.
"Certainly his most impressive performance, his most memorable performance as far as I'm concerned, was in Brecht's "...Arturo Ui", which is a play set in Chicago, among gangsters, featuring the Hitler gang... and Leonard playing Hitler was extraordinary. He frightened me. He probably would have frightened Hitler too." - James Grout, producer.

"Out of the handful of really great performances I have been privileged to witness, including two by Olivier, Leonard's Arturo Ui was one of the greatest. His natural talent apart, it was the perfect example of the actor meeting the character head on and fusing it into one, combining concentration and energy into an awesome performance." - Peter McEnery, director Richard III (starring Leonard, after McEnery saw his Arturo Ui).
"He was drawing on his rage against hypocrisy, pomposity and dishonesty...He was a very angry man like most funny people." - Jonathan Lynn, director.
"Leonard Rossiter's performance in the title role of Arturo Ui has to have a place in my list of truly outstanding performances... it was so mesmerizing, a performance of such galvanic power... that I saw it four times more." - Alan Strachan, director, Semi-Detached.

Critical Reviews:
"Leonard Rossiter's virtuoso performance. This is the most vivid, compelling and hilarious acting currently on view on the London stage. It can best be described as volcanic: it alternates between menacing, brooding inertia and eruptions of hysterical violence. The loathsome obsequiousness, the foxy charm, the startled backing into the furniture, the ever-present awareness of himself as an actor calculating effects, make up not only a great performance but a great Brechtian performance." - Frank Marcus, Sunday Telegraph.
"...The part of Arturo Ui gives a wonderful opportunity for a virtuoso performance and this production is fortunate in having discovered just the virtuoso actor for it. Leonard Rossiter is, in my opinion, better than even the Berliner Ensemble's star Ekkehard Schall, in the part; Schall, basically, is a heroic actor and had to work harder to bring out the seedy, middle-aged, born-to-failure aspect of Ui, which Leonard Rossiter, a character man from the start, does to perfection. Rossiter's performance is Chaplinesque in the best sense of the word - it is grotesquely comic and yet displays the control of movement one associates with ballet. And each movement has its own transparency, behind the actual gestures one senses the process of thought or emotion which has led to it..." - Martin Esslin, Plays & Players.
"This is a glorious caricature, beautifully worked out. His Ui grows from a cringing, twitching, indeed almost endearing little bully into a ranting, psychopathic monster." - Barry Norman, Daily Mail.
"Leonard Rossiter gives a terrifying, demonic performance as Ui (Hitler) of a virtuosity to make one gasp with astonishment." - Adrian Brookholding-Jones, Tablet.
"There is a dazzling, grotesquely comic, unforgettable performance by Leonard Rossiter." - Matthew Coady, Sunday Mirror.
"...In this astonishing performance Mr. Rossiter combines the bold lines of caricature with subtle shading." - Felix Barker, Evening News.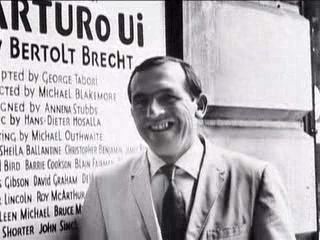 "A tremendous performance, the funniest and technically the most brilliant in the West End at the moment. Eyes popping like eggs, he lopes across the stage, fawning on the eminent, baring his deadly smile, squawking in terror when a chair gooses him." - Jeremy Kingston, Punch.
"Mr. Rossiter is perfect - a trampled paranoid, comically mean minded with the timing of a comedian and, stealthily developing, the arrogance of a madman. Even at his funniest, Mr. Rossiter never lets us forget the gas chambers, the bombs, the slaughter." - Clive Barnes, New York Times.
"It is a magnificent performance which starts in laughter and ends in menace. It should not be missed." - David Nathan, The Sun.
"The star in question (a term that cannot be withheld after this performance) is Leonard Rossiter whose account of Brecht's Chicago hoodlum Hitler is one of the most staggering examples of grotesque comedy I have ever seen." - Irving Wardle, The Times.

Return to Theatre Performances - 1960s
Return To Index Page

Text (c) Paul Fisher
Pictures (c) their respective owners.