The Life & Career of Leonard Rossiter

Britannia Hospital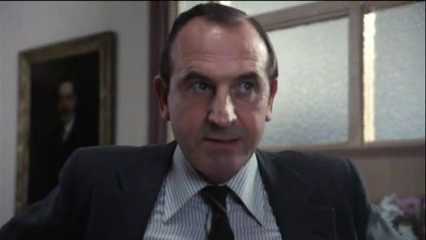 Written by David Sherwin
Screenplay by David Sherwin
Directed by Lindsay Anderson
Released in 1982
Main Cast: (Pictured below, from left to right):
Back row: Peter Jeffrey (Sir Geoffrey), Charmian May (Miss Diamond), Robin Askwith (Ben Keating), Graham Crowden (Professor Millar), Brian Pettifer (Biles), Fulton Mackay (Chief Supt. Johns), Dave Atkins (Sharkey).
Front row: Vivian Pickles (Matron), Leonard Rossiter (Vincent Potter), Joan Plowright (Phyllis Grimshaw), Marcus Powell (Sir Anthony Mount), John Bett (Lady Felicity), John Moffatt (Greville Figg).
Notable Supporting Cast:
Barbara Hicks (Miss Tinker), Malcolm McDowell (Mick Travis), Mark Hamill (Red), Ram John Holder (Aide), Dandy Nichols (Florrie), Robbie Coltrane (Picketman), Richard Griffiths (DJ Cheerful Bernie), Liz Smith (Maisie), John Gordon Sinclair (Gregory), Patsy Byrne (Nurse), Arthur Lowe (Guest Patient), Alan Bates (Macready).

---
"Never! I love this hospital. It's my whole life - it's been wife, mother and child to me. I've given it everything and nothing's going to wreck it. Nothing, no one." - Vincent Potter, administrator, Britannia Hospital.
Britannia Hospital is the blackest of black comedies, a bleak metaphor for British society in the early 1980s, an allegory of Thatcherism. Strikes, police violence, trade union rulings, riots, all present in daily life, and all represented in this social satire from director Lindsay Anderson.
For a film which had so many stars, in more prominent roles, it was Leonard Rossiter who got top billing in Britannia Hospital. In what was to be his penultimate movie he played Vincent Potter, administrator of Britannia, desperately trying to restore order in time for a visit by the Queen Mother to open the Millar Centre for Advanced Surgical Science, in what is the hospital's 500th anniversary year. Professor Millar himself, meanwhile (Graham Crowden), is secretly conducting experiments, Frankenstein-like, on human cadavers, in an effort to produce a supreme being, which he calls Genesis. In a dig at the British government's lack of funding for hospitals at the time, the new Centre has been financed by the Japanese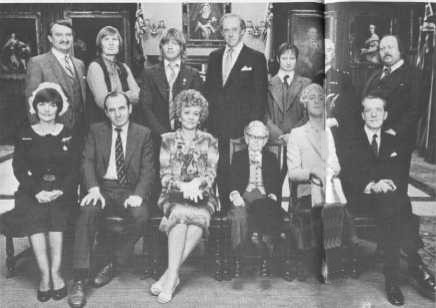 company, Banzai Chemicals, the owners of which are also present for the special day. Intermittent telephone services and a faltering electrical supply add to Potter's frustrations, but they are only the tip of the iceberg. An undercover team of journalists (lead by Malcolm McDowell) are about to stop at nothing to uncover Millar's clandestine project, and there is a growing number of protesters (including many staff) at the main gate demonstrating against the preferential treatment of the hospital's private patients, including an Idi Amin-type African dictator (Val Pringle), who has installed most of his aides and servants in the hospital too (Anderson's original inspiration for the film was the staff of Charing Cross Hospital in the 1970s who refused to treat private patients). The kitchen staff go on strike when they learn that the food for the special guests has been ordered from top London food specialists Fortnum and Mason. Potter wins over their union representative by promising him an OBE in the Queen's New Year's Honours List.
Britannia Hospital is the third in a trilogy of films by director Lindsay Anderson relating contemporary British society. The trilogy actually follows Mick Travis (Malcolm McDowell) from his boarding school days in "If..." (1968) through his transition from salesman to film star in "O Lucky Man" (1972), to his present vocation as investigative reporter, on assignment at Britannia Hospital. This is never made clear, however, and it is easy to watch the film in isolation without this knowledge - particularly as McDowell's part is not that prominent anyway. He tries to sneak into the building at the beginning of the film and ends up sacrificing his head to Professor Millar's Genesis project at the end of the film. It must be noted, however, that McDowell took no fee for Britannia Hospital, as a favour to Anderson, because of such a low budget (£1.6m). Many of the actors who appeared in the first two films returned for the third, or had at least worked under Lindsay Anderson's directorship in the past. Leonard himself had a bit part in Anderson's 1963 film 'This Sporting Life'. In all, over seven hundred cast and crew took part in the film, with five hundred professional actors in the film's closing mass demonstration scenes. An incredible seventy people had speaking parts in the film.
Familiar faces could be seen outside in the streets, such as Robbie Coltrane (of Cracker fame), Kevin Lloyd (The Bill) and Ram John Holder (star of barber shop sitcom Desmonds). Inside the hospital there were TV personalities at every turn. Brian Glover played a painter, Patsy Byrne (Blackadder II) was a nurse, Dandy Nichols (Alf Garnett's long-suffering wife) played a cook, as did Liz Smith (Vicar of Dibley, Royle Family). Surprisingly, big names had only small parts in this hectic, rollercoaster of a film. Arthur Lowe played one of the private patients (this was Lowe's last film - he died a month before its release). Joan Plowright could be seen as the Health Service union official, Fulton Mackay (star of Porridge) was a conceited police superintendent who had covered the building with snipers, Alan Bates became another of Millar's unsuspecting victims for his secret project, Robin Askwith was the Public Service Employees union representative, and Richard Griffiths was the hospital radio DJ. Mark Hamill, Star Wars' Luke Skywalker, even made an appearance as McDowell's sound technician (Hamill accompanied McDowell, a good friend, to London purely for a leisure trip and ended up being cast). Peter Jeffrey, who played Sir Geoffrey in the film, had previously worked with Leonard Rossiter in the Rising Damp series four episode 'Under The Influence', and Charmian May, Britannia's secretary, had starred with Leonard as Miss Pershore opposite his Reggie in 'The Fall & Rise of Reginald Perrin'. On the big screen, McDowell had previously appeared with Leonard in Voyage Of The Damned.

Vincent Potter tries to hold the hospital together while it falls apart around him, and Leonard Rossiter, as Potter, brilliantly holds the film itself together. No one could portray the panic of the approaching royal visit, the desperate attempts to keep the demonstrators at bay, the attempts to get the painters to finish the corridors, to keep the staff from walking out on strike, as well as maintaining the day-to-day running of the hospital, with such tangible tension and anxiety as Leonard. A master at revealing the thoughts in his head simply by the looks on his face, he comes close to being overwhelmed by the day's events, and does, in fact, murder one of the staff - a striking electrician who refuses to switch the power supply back on - by hitting him over the head with a shovel. However, the calm returns when the Queen Mother eventually arrives, oblivious to the problems within, and outside of, the hospital (another of Anderson's satirical attacks, this time on the 'unreality' of British monarchy). The denouement of the film was Professor Millar's revealing of Genesis. Unable to fulfil his goal of a superhuman being, he instead reveals to the assembled dignitaries and pressmen a brain, an ordinary human brain, representing the future of humanity. The brain, he says, will be combined into a silicon chip, and will provide the antidote to man's increasing stupidity since the evolution of intelligence - his continual extermination of himself in combat ("230 different wars since the end of World War Two", Millar tells his audience), his greed and lust for power.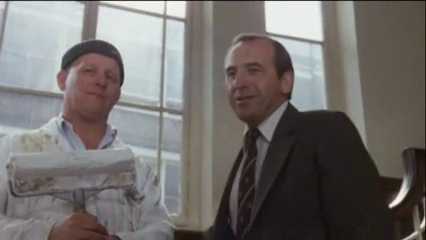 Although the film's interior scenes were filmed at studios in Wembley, London, the exterior shots - of which there were many - were filmed at Barnet Frier Hospital, New Southgate, north of London. The hospital continued to operate normally throughout the filming in September 1981, although some disruption was inevitable. The hospital's green fields were covered with marquees, providing dressing rooms, toilets and wardrobe facilities, and a kitchen to feed the five hundred cast and two hundred crew was installed in the grounds. Near the entrance, a pair of gatehouses and two tall wrought-iron gates were erected, to be knocked down by the stampede of protesters at the end of the film. The hospital itself was chosen because of its impressive Victorian architecture - albeit not quite Britannia's five hundred years old - and it received a payment of £5,000 for its involvement. The then Friern Hospital administrator Geoffrey Smith commented to local reporters: "They've certainly brightened the place up, and we've had no trouble at all". (Mr. Smith is pictured, below, in a very rare photograph of Leonard Rossiter actually researching his role of Britannia administrator Vincent Potter. Another photograph, below, shows Leonard visiting the Arts Therapy unit of the hospital, inspecting patients' own creations during a public exhibition).
On the film's release in the summer of 1982, Britannia Hospital was initially slated by movie critics. But then, so are most of Lindsay Anderson's films. The reason for this is that his movies are a statement, an outlet for his opinions, rather than a gripping plot. As the film's location manager Bill Lang said at the time: "...Unlike a lot of directors he doesn't make films just for money but because he has something to say." Nevertheless, time is a great healer and Britannia Hospital is now regarded as a minor classic. It really doesn't matter if you have no prior knowledge of Anderson's earlier films, or know what messages he is trying to get across in certain scenes, Britannia Hospital can be viewed in isolation as a well-written, beautifully-directed and wonderfully-acted film.

Leonard's Role Remembered: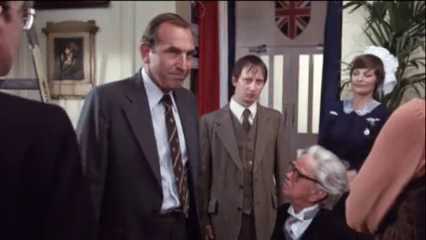 "Leonard always acted with his own, absolutely special dynamic - a high tension artist to whom audiences were drawn as compellingly and fixedly as moths to an incandescent bulb. He never asked for sympathy - he would have scorned that. He guarded his secret. Only what he wanted to show, he showed. Only what he wanted to say, he said. When he wanted to make you laugh, he did it with a technique so impeccable that there was no denying him. He was shrewd, very intelligent and had no time for idiots...Under the comedy there was a kind of desperation. He was essentially a serious actor, ploughing his own furrow." - Lindsay Anderson, director.
"Leonard's role was, amongst other things, a satire on the cynical expediency of government... The obsession [that the day should run smoothly] was played with the sort of clockwork precision which made you wonder when the spring was going to snap; the surprising thing was that it never did. The panic remained tightly controlled throughout." - Robert Tanitch.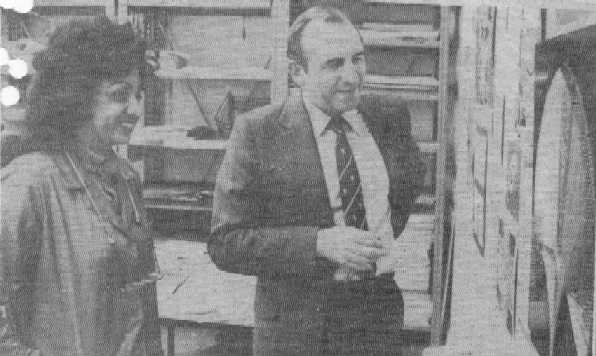 tttt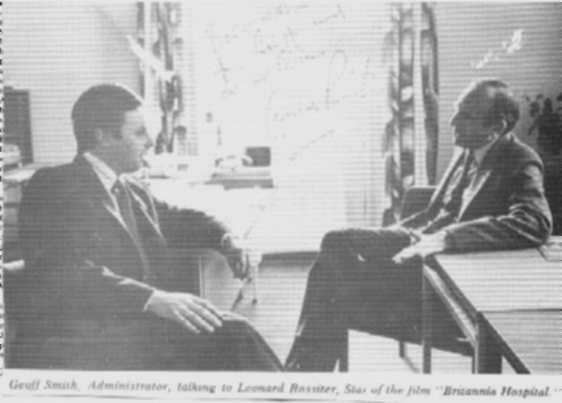 The Film Remembered:
"Some of it is very funny, but it is a long way off being a comedy set in a hospital. The hospital is a metaphor for civilisation... It's quite the best thing Lindsay has made... Some films you feel are a bit of a mess but this is the opposite. It's like watching a man painting a picture." - Clive Parsons, producer.
Links:
Internet Movie Database
Detailed Synopsis
Buy this film

Return To Films Page
Return To Index Page

Text (c) Paul Fisher
Pictures (c) their respective owners.