The Life & Career of Leonard Rossiter
Semi-Detached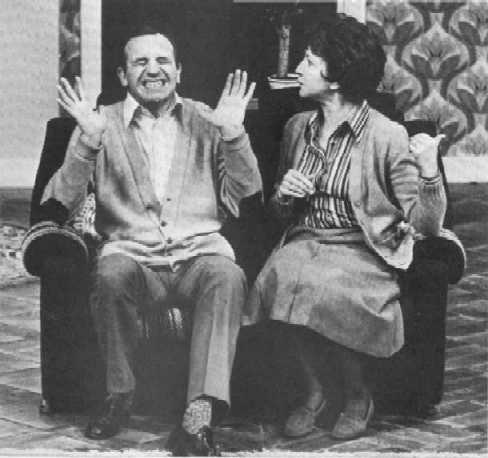 June 1962, then September 1963
Written by David Turner
Directed by Anthony Richardson
Performed at the Belgrade Theatre, Coventry.
September 1963
Written by David Turner
Radio Performance
October 1963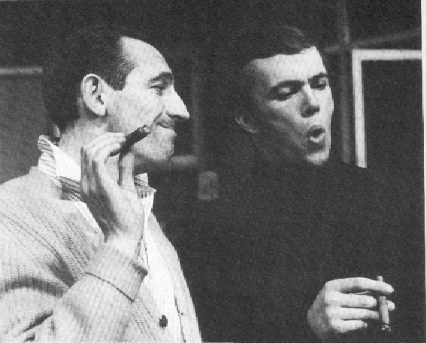 Written by David Turner
Directed by Anthony Richardson
Performed at the Music Box Theatre, New York.
1st May 1966 (TV play, part of 'Theatre 625' series)
Written by David Turner
Directed by Gilchrist Calder
Produced by Cedric Messina
Broadcast by BBC Television
February 1979
Written by David Turner
Directed by Leonard Rossiter and Alan Strachan
Performed at Greenwich Theatre and on tour.

---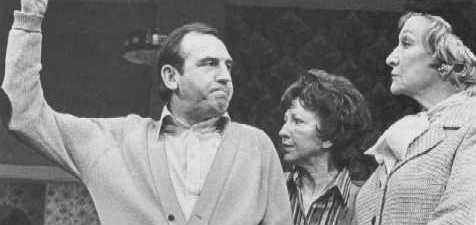 Semi-Detached was a play for the 'you've never had it so good' society that existed in 1960s Britain. It was a tale of morals - or lack thereof - and in particular the scheming and driving ambition of a Midland insurance agent by the name of Fred Midway. Rapidly climbing the business and social ladders, Fred is self-educated, via correspondence courses, in dynamic and positive thinking. Not content to merely 'keep up with the Joneses', he stops at nothing to overtake them, even down to manipulating his own family and friends. This was one of Leonard's favourite roles in the theatre but, despite rave reviews, it never gave him the national exposure he deserved.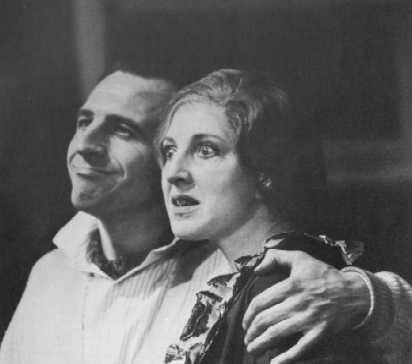 In the Spring of 1962, playwright David Turner was scouting for an actor to play Fred Midway, the lead role in a new production called 'Semi-Detached'. He went to see a play called 'The Recruiting Officer' at The Playhouse in Nottingham, where the actor playing the character of Sergeant Kite stood out from the rest of the cast, as David remembers: "...a dynamic, galvanised, manic figure that caught the eye. It was Len Rossiter. We knew we needed to look no further." Semi-Detached was directed by Tony Richardson, and rehearsals began during May of 1962, with Leonard helping to shape the play by using his instinctive judgement to tighten scenes in an effort to refine the comedy potential. As co-star - and later his wife - Gillian Raine (pictured above and below) remembers: "The play was well-written and very funny, but being a new production we had the chance to shape it the way we felt best and Leonard's influence was crucial to this process." The play opened on Friday June 8th 1962 at the Belgrade Theatre in Coventry, and ran for a week. It co-starred Gillian Raine as Hilda Midway, Ian McKellern, Bridget Turner and Fiona Duncan.
At this time in his life, Leonard was married to Josephine Tewson, an actress he had worked with many times in Rep. in the 1950s - but their marriage was about to break up. During the play's second run at the Belgrade, in September 1963, Leonard and Gillian Raine (pictured above) fell in love and started to live together, although they were not to marry until 1972. Things were going well for Leonard, with another successful play under his belt, and talk of the production going to London - his big break. But it was not to be. Semi-Detached did transfer to London, in a production again directed by Tony Richardson at the Saville Theatre, but it was Laurence Olivier who played Fred Midway. The performance with Leonard and Gillian did make it to radio, however, and was broadcast in September 1963.
Even so, an even bigger prize lay over the horizon - Broadway. To celebrate the 'British on Broadway' season, American producer David Clark decided the play would work well, and with its original cast. So, in October of 1963, the play transferred to the Music Box Theatre in New York. After a week of previews in front of enthusiastic audiences, the play opened to an almost deafening silence. Most critics panned the production, although Leonard's performance was praised. But theatre-goers stayed away in droves. The play was desperately rewritten, removing British references that had little meaning to Americans. But, after struggling through another week, the play closed. So disheartened were the cast that they returned to the UK by boat instead of plane: "We had traded in our air tickets for a five or six day voyage", recalls Bridget Turner, "It was a break we all needed. Leonard, above all, must have been deeply disappointed but we had a lot of fun on board and I remember him joking, teasing and laughing".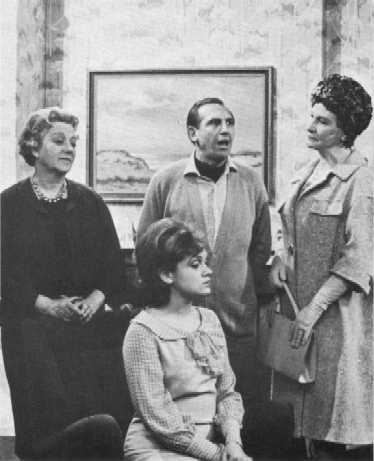 On his return to England, Leonard continued to mix theatre performances with an increasing presence on television, including an episode of The Avengers. The BBC decided to turn Semi-Detached into a play, directed by Gilchrist Calder: "He was a superb artist," Calder remembers, "very inventive, and a joy to work with. The sort of actor that, as a director, if you put in a cupful of ideas, you got a bucketful back! He was wonderful to have in the cast, not only because of his warmth as a man and his talent as an actor, but also because of his generosity to his colleagues." The play, co-starring Joan Sanderson, Alison Leggatt and Bridget Turner (pictured, right), was broadcast by the BBC in May 1966 as part of their 'Theatre 625' series of dramas.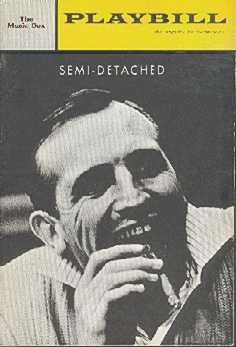 There was one more revival of Semi-Detached starring Leonard - and this time co-directed by him and Alan Strachan. It played at Greenwich Theatre in February 1979 and then went on a short tour. This version co-starred Bruce Bould and Theresa Watson who had played David and Prue Harris-Jones in The Fall and Rise of Reginald Perrin, and were married in real life. By this time, however, Leonard had the classic roles of both Rigsby and Reginald Perrin in his repertoire, and his return to the role of Fred Midway was received, perhaps in comparison to them, somewhat disappointingly. Leonard was accused of over-acting, and the play itself no longer seemed relevant to the late-1970s.



---

Leonard's Role Remembered:
"Semi-Detached was a major breakthrough for Leonard and if there had been any theatrical justice, his brilliantly funny performance should have made him a West End star." - Robert Tanitch.

"The writer always said it had to be a Jonsonian character, played in a broad way. They were an up-and-coming Midland couple, trying to improve their social standing, and he was prepared, literally to do anything."
"He was a great 'company' man and a great leader of a company. He always expected them to put in as much work as he did, and because he was a good leader, they did." - Gillian Raine, co-star, and later wife.

"His Fred Midway, scheming Machiavelli of suburbia, a latter-day Jonsonian figure plotting and manipulating his way up the social ladder, was another performance marked by a quality of high-octane energy which approached that of a dancer. It was always a particular pleasure to watch him work on a character's body language in rehearsal, cutting through stage space like a whiplash; his body, his very fingertips seemed to dance with a kind of gleeful grace as another of his sequence of audacious stratagems began to form and shape itself before the hapless victims were even aware of his tactics." - Alan Strachan, director.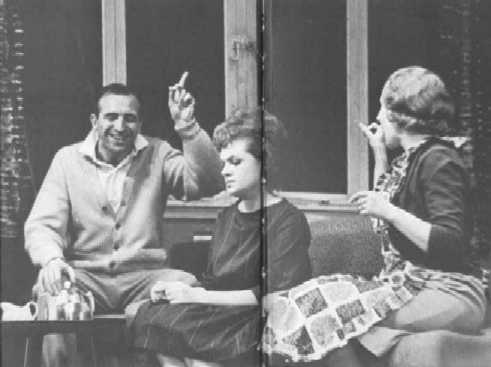 "One of the very first things he did was at Coventry [Belgrade] Theatre, a play called Semi-Detached, and he made a tremendous success of this. But the London management put it on without Leonard because he was unknown then, he was not a star. They wanted a big star... and my word they got a big star - they got Laurence Olivier. And I saw the author [David Turner] one day while I was working at Coventry, and he came in looking rather sad and sat down. So I asked 'How's it going, David?' And he said 'Well, you see Jimmy, Laurence isn't as good as Leonard.' It didn't require what Laurence Olivier did - which was to play it on instinct, and a certain amount of charm. Leonard was never concerned with charm. He was the least charming person you could imagine on stage." - James Grout, producer.


Critical Reviews:
British Theatre Production, 1962/63:
"...I will content myself with praising the pace, energy and comic bravura of Leonard Rossiter's performance as Dad, a Midland Mosca devoutly battening on the Volpone of local capitalism." - Kenneth Tynan, The Observer.
American Theatre Production, 1963:
"...But just keep your eye on Leonard Rossiter. As the monarch of this realm he is the whole story and if you watch him you can't go wrong. For a virtuoso performance is being turned in by Mr. Rossiter, who has the leering grin of a Halloween pumpkin and a rubber band of a body. His is a sensational performance." - Martin Gottfried, Women's Wear Daily, New York.
"Father, Leonard Rossiter, never enters the hideous living room without doing two turns about the track... Between laps, he jams a cigar in his mouth, rips it out, flexes the muscles of his mouth until we know each of his molars intimately, and then claps his hands wildly at what I take to be butterflies." - Walter Kerr, New York Herald Tribune.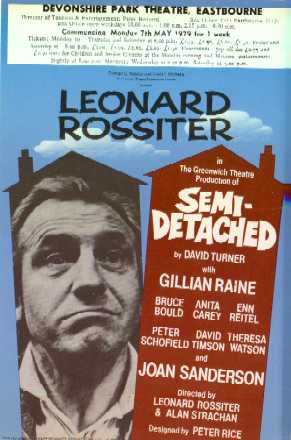 "Leonard Rossiter, the father, has a perfectly man-eating role and he plays it with enormous vigour, running through a gamut of facial contortions unequalled since the days of Harry Langdon. He has the ideal, elastic features for a British caricaturist and he employs them tirelessly and magnificently throughout." - John McClain, Journal American.
"Fred Midway, played with amazing energy and an evil gusto by Leonard Rossiter, is continually exercising both his lanky body and his foxy little mind... thrusting a cigar into his toothy and perpetually grinning mouth." - Richard P. Cooke, Wall Street Journal.
British Television Production, 1966:
"Leonard Rossiter made Fred bounce and jerk in a St. Vitus' Dance of activity." - Sylvia Clayton, Daily Telegraph.
"It might not have seemed so funny without Mr. Rossiter, a comic actor of demonic power and persuasiveness." - Maurice Wiggin, Sunday Times.
"That brilliant actor had a fine time with the suburban Machiavelli of a hero..." - T.C. Worsley, Financial Times

---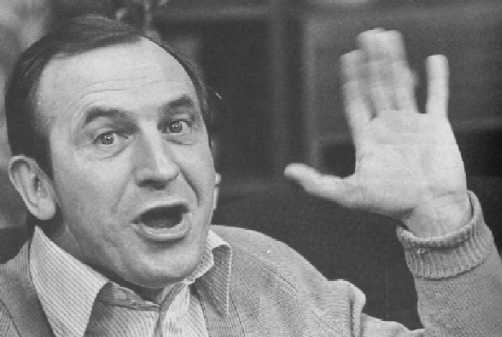 Links:
A playbill for the first performance of Semi-Detached
Sir Ian McKellen talks about Leonard's role
Return to Theatre Performances - 1960s
Return to Theatre Performances - 1970s/80s
Return To Index Page

Text (c) Paul Fisher
Pictures (c) their respective owners.