| | | | | |
| --- | --- | --- | --- | --- |
| Leonard Rossiter.com | ~ | Three official web sites in one | ~ | |
The Life & Career of Leonard Rossiter
Radio Performances & Other Media
A complete guide to all radio performances of Leonard Rossiter. Also on this page are the audio cassettes
narrated by Leonard, the books that he wrote and compiled, and the record on which he was credited.
---
Radio:
Mr. Travers' Nightmare
27th November 1957, 3pm – BBC Home Service Basic

Written by H A Wrenn
Presented as 'Wednesday Matinee presents the Alexandra Repertory Company la ' MR. TRAVERS' NIGHTMARE'"
Leonard played the role of Inspector Raven.
Co-starred James Grout, Michael Barrington, Rex Garner

---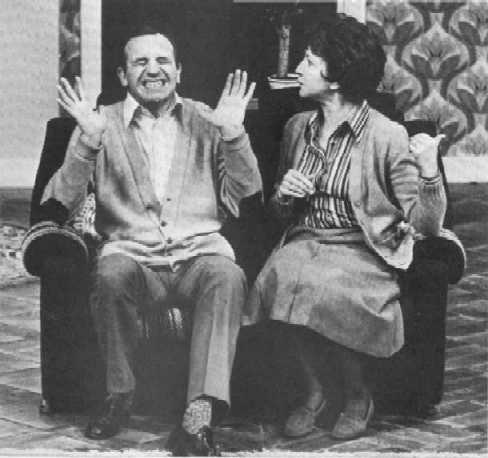 Semi-Detached
24th February 1964, 8.30pm
Written by David Turner
Broadcast on BBC Home Service Basic
One of Leonard's great theatre performances, Semi-Detached has a special section on this web site. Presented in the series 'Repertory In Britain'.

---
Paths Of Glory
18th January 1965, 8.30pm
Adapted by Barry Bermange, from the novel by Humphrey Cobb
Broadcast on BBC Home Service Basic
Stanley Kubrick had earlier made Paths Of Glory into a successful film starring Kirk Douglas in 1957, and Leonard starred in this radio adaptation. The anti-war story tells of the insanity of war and the politics of privilege. Leonard went on to work with Kubrick himself in 1968's 2001: A Space Odyssey and 1975's Barry Lyndon.
Co-starred Henry Woolf, Malcolm Tierney, Russell Napier, Ronald Baddiley.
Leonard played the role of Colonel Dax
See also: 2001: A Space Odyssey; Barry Lyndon.
Links: Paths Of Glory
---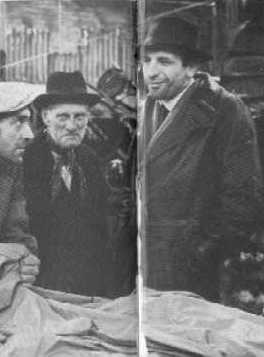 Steptoe And Son: The Lead Man Cometh
11th September 1966, 7pm – BBC Light Programme
Written by Ray Galton and Alan Simpson
Leonard repeated his role of Welsh Hughie in this radio adaptation of the hugely successful TV series Steptoe And Son. This episode had been broadcast on TV in January 1964.
See also: Steptoe And Son: The Lead Man Cometh (TV).
Links:
Buy this episode from the BBC Radio Collection
Steptoe And Son Appreciation Society

---



th November 1969, 8.15pm – BBC Radio 3
Written by Wilfrid Carter

Leonard provides a monologue from the journals of Benjamin Robert Haydon. Narrated by Eric Ewens.

Notes: Eight years later in 1977 Leonard played Haydon in a theatre adaptation of his life, written by John Wells. One of Leonard's great theatre performances, The Immortal Haydon has a special section on this web site.



---
A Little Music At Night

6
th
December 1972, 3pm – BBC Radio 4

Written By Stanley Middleton


Leonard played the role of George.
Details unknown. Co-starred Peter Biddle, Stanley Bates, Linda Polan.

---
No Exit
April 1973
No details available.
---



Two In A Room: The Chairman And The Window Cleaner

30th December 1977, 8.10pm – BBC Radio 4

Written by Leslie Randall

Produced by Bobby Jaye

<>Leonard starred with his good friend and Reginald Perrin co-star John Barron in a short radio play. Storyline unknown.



---
18th July 1979, 2pm – BBC Radio 4
Leonard was a guest on today's edition of this long-running radio programme. See also Biography.
---
22nd December 1979, 9.05am – BBC Radio 4
Produced by Jenny Marshall
Edited by Roger Macdonald
Leonard talks about his passion for squash, in an interview during this programme on suggestions for how to spend your leisure hours. Presented by Barry Norman.
---
Desert Island Discs
Saturday 18th April 1980, 9.05am – BBC Radio 4
Hosted by Roy Plumley
Leonard was a celebrity guest on this long-running Radio 4 show. Guests talk about their lives and works and are asked to select eight records, a book, and a luxury item they would take with them if they were to be stranded on a desert island.
Leonard's choices are listed below. Listen to the programme in full at the BBC Archive page here - a download option is also available on that page.

1. Benny Goodman and His Orchestra
Bach Goes To Town

2. Wolfgang Amadeus Mozart
Serenade No. 13 in G major 'Eine kleine Nachtmusik'
Orchestra: Berlin Philharmonic Orchestra Conductor: Herbert von Karajan

3. Franz Schubert
Suleika I (Was bedeutet die Bewegung), D720
Soloist: Elisabeth Schwarzkopf, Geoffrey Parsons

4. Johann Sebastian Bach
Sheep may safely graze (from Cantata No. 208)
Soloist: Cyril Smith & Phyllis Sellick

5. Max Miller
Max At The Met

6. Robert Preston
Ya Got Trouble from The Music Man

7. Ludwig van Beethoven
Symphony No. 5 In C Minor
Orchestra: Berlin Philharmonic Orchestra Conductor: Hans Schmidt-Isserstedt

8. Rex Harrison
I've Grown Accustomed to Her Face from My Fair Lady


Favourite track: Max At The Met by Max Miller
Book: Three early novels by P G Wodehouse
Luxury: Moselle wine
---
Leonard read a series of author Barry Pilton's mercurial musings:
Power Struggles - A breakthrough in 'ecological physics' is scandalously ignored.
An Instant Option - Musings on the effect of slogans on badges, T-shirts, etc.
Dear Mother Of God - If the Son of Man returned, how would Christianity celebrate.
Double Cross Benchers - Musings on the shock of disloyalty in politics.
Einstein Watchmaker - Technological advances in society as seen in the humble wristwatch.
The Back Page - A disastrous foray into journalism is recounted in embarrassment.
New York New York - A snapshot of the unique city.
---
29th August 1981, 1.10pm – BBC Radio 4
Produced by Brian Patten for BBC BRistol
Another long-running Radio 4 celebrity interview show. Leonard was asked to divulge his favourite prose and poetry, with his wife Gillian Raine and good friend and actor James Grout.
---
Close Encounters Of The Worst Kind
1st August 1983, 8.43pm – BBC Radio 4
Leonard reads this short science fiction story, written by Tim Stout.
---

Audio Books: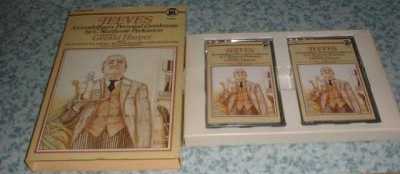 Jeeves: A Gentleman's Personal Gentleman
1980
Written by C. Northcote Parkinson
A star-studded recording of one of Northcote-Parkinson's 'Jeeves', narrated by Gerald Harper with Frank Duncan as Jeeves and Keith Alexander as Bertie Wooster. Andrew Sachs, Kenny Lynch, Norris McWhirter, Wilfrid Brambell, Leonard Rossiter, Annie Haslam and others make guest appearances.
---
A Christmas Carol
1981
Written by Charles Dickens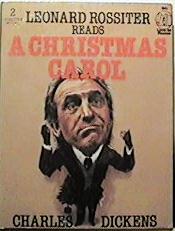 Leonard narrated an abridged version of Dickens' classic tale. It was released as a two-box set.



---
Records:
'Rising Damp'
January 1980
Released on the Chips label. Catalogue No. CHI101
'Rising Damp' b/w 'Damp Disco'.
Credited as Leonard Rossiter & The Rigsbyettes
Music by Brian Wade
Lyrics by Eric Chappell
This was the theme song accompanying the closing credits of Rising Damp: The Movie in 1980.
Listen to the song now!

---

Free As Air
June 1957
Released on Oriole Records label. Catalogue No. MG20016
This was the Original Cast Recording on LP of the play Free As Air at the Savoy Theatre.
This play was Leonard's London stage debut, in which he appeared with his first wife, Josephine Tewson.

---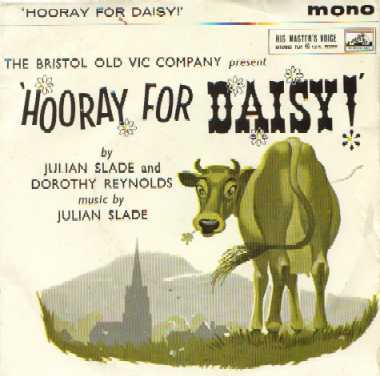 Hooray For Daisy!
December 1959
Released on His Master's Voice label. Catalogue No. 7EG 8569
An EP of twelve songs from the Bristol Old Vic performance, released in 1960, featuring Leonard on most tracks, and also Anette Crosbie, Peter Gilmore and Angus Mackay.
Music by Julian Slade, lyrics by Dorothy Reynolds and Julian Slade.




---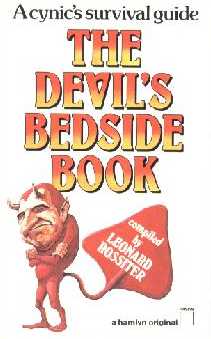 Books:

The Devil's Bedside Book: A Cynic's Survival Guide
1980
Compiled by Leonard Rossiter
Published by Hamlyn
A resume of Ambrose Bierce's definitions from his Devils' Dictionary is followed by Leonard's own definitions for everyday phrases and situations, for example: abundance - enough for me; business - organised cheating; and tourist - a foreigner who is not where he belongs. The book also contains a brilliant guide to laws such as Murphy's law, The Peter Principle and many lesser-known ones such as Bucy's Law: Nothing is ever accomplished by being reasonable. Leonard then lists his own laws, based on experience, including Rossiter's Law Of Darkness: "Lights only ever fail at night", and Rossiter's Social Law: "Guests always ask for the alcoholic drink that you have least, or none, of".


---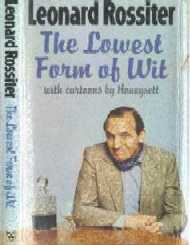 The Lowest Form Of Wit
1981
Written by Leonard Rossiter
Published by Michael Joseph
From the jacket cover: "A treasury of biting bon mots and stinging retorts collected by Leonard Rossiter, a prime exponent of the art both on and off stage. By means of anecdote, illustration (by Honeysett) and quotation, this is the definitive guide to the kind of wit that may be the lowest, but also the most satisfying. This is a book that explores the lowest kind of wit in the highest kind of style." It includes such treasures as "I find television very educational. Whenever someone turns it on, I go into the library and read a good book." - Groucho Marx; and "I have never hated a man enough to give his diamonds back." - Zsa Zsa Gabor.
Text (c) Paul Fisher
Pictures (c) their respective owners.