Rigsby Online: The Authorised Rising Damp web site
Biographies - Main Cast
Click on a thumbnail image to view full size
Related Pages: Supporting Biographies
Leonard Rossiter ~ Richard Beckinsale ~ Frances de la Tour ~ Don Warrington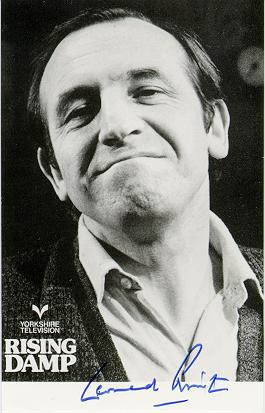 Leonard Rossiter played boarding house landlord Rooksby in the original play The Banana Box and Rupert Rigsby in all 28 episodes of the TV series and The Movie.
Leonard Rossiter was born on October 21st, 1926 in Liverpool. Unable to afford to go to university, he worked in an insurance office until he was 27, when he joined Preston repertory company and made his professional stage debut in The Gay Dog. After Preston, he starred in productions at Wolverhampton, Salisbury and The Old Vic Company at Bristol's Theatre Royal. In 1962 he made his first big-screen appearance in A Kind of Loving, followed by other films throughout the 1960s, including Billy Liar, King Rat and 2001: A Space Odyssey, and TV appearances such as Z Cars, The Avengers and Steptoe and Son. His portrayal of Adolf Hitler in the 1969 play The Resistible Rise of Arturo Ui made him a West End star. His roles as Rigsby in Rising Damp and the title role in The Fall and Rise of Reginald Perrin made him a household name, and his Cinzano commercials with Joan Collins were comic masterpieces. A keen sportsman, he excelled in squash, tennis and football. He was also a connoisseur of fine wines. His busy career came to a tragically premature end on October 5th 1984, just sixteen days short of his 58th birthday. During a performance of Joe Orton's play Loot, Leonard suffered a heart attack in his dressing room. He was married to actress Gillian Raine and had a daughter, Camilla. See Leonard Rossiter.com for a vastly-expanded biography and a complete, illustrated career guide.
Remembering Rising Damp:
- "...Very, very rarely - only on about two occasions - have I thought 'Ah, this gives me all the things that I can do really well'. One of them was Rising Damp..."
- "I recognised a lot of things Eric [Chappell] wrote, coming from the North - I come from Liverpool. Of being very jealous about the young people of today regarding sex and so on. That's very Rigsby, but I recognise it from when I grew up."
- "Of course, the difficulty with comedy series, as I think most people realise, is that the first two are often quite good and then they begin to tail off afterwards. And I reckon that Eric was capable of writing at least six good scripts, so I did the first series without any qualms. The difficulty came afterwards in doing the second series, as to whether Eric could keep up the standard he had set himself, and I asked him before we did them if he would be able to write them, and he said "I didn't know I could write the first six!"."
- "I knew people like this [Rigsby]. I've sat in pubs with them."
- (On The Movie) "I was approached and was delighted to play Rigsby again. It is the funniest character I have everplayed. Eric Chappell is a marvellous writer. Anyhow, as we will never make another series, generations will be able to enjoy it. It's not the sot of film to date."
Notable Credits:
Theatre - Semi-Detached (Fred Midway), The Banana Box (Rupert Rigsby), The Resistible Rise of Arturo Ui (Arturo Ui), The Immortal Haydon (Haydon), The Strange Case of Martin Richter (Martin Richter), The Rules of the Game (Leone Gala). TV - Rising Damp (Rupert Rigsby), The Fall And Rise Of Reginald Perrin (Reginald Iolanthe Perrin), BBC3, I Tell You It's Burt Reynolds (Leonard), The Losers (Sydney Foskett), Z Cars (Det. Insp. Bamber), Tripper's Day (Norman Tripper), Play For Today, Pygmalion Smith (Smithy). Film - A Kind Of Loving (Whymper), Billy Liar (Mr. Shadrack), This Sporting Life (Phillips), Oliver! (Mr. Sowerberry), King Rat (Col. McCoy), 2001:A Space Odyssey (Andre Smyslov), Water (Sir Malcolm Leveridge), Barry Lyndon (Capt. Quin), Le Petomane (Monsieur Pujol).
Links: Leonard Rossiter: His Life and Career - IMDB - TV Comedy Index
---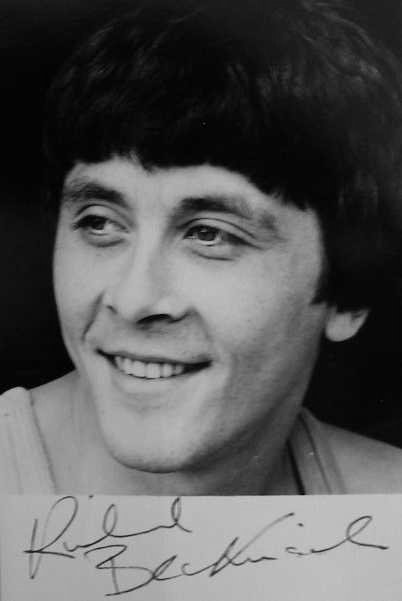 Richard Beckinsale played medical student Alan Moore in 22 of the 28 TV series episodes (none of Series Four, due to theatre commitments).

Richard Beckinsale was born in Carlton, Nottingham on 6th July 1947. By the time he left school at sixteen he had committed himself to becoming an actor. Before attending a drama course at Clarendon college, and eventually RADA, Richard was variously an upholsterer, an inspector of spun iron pipes in a factory and a clerk at a gas board. At the age of 18, Richard married Margaret Bradley, a Nottingham secretary. They had a daughter, Samantha, (who also became an actress, starring in the series London's Burning and Jake's Progress, among others). Sadly, the marriage ended in divorce. Meanwhile, Richard turned professional at Crewe Rep., including the title role in Hamlet, and was first seen on television in 1969 in the long-running British soap Coronation Street, where he played a policeman. Failing his audition for a part in A Family At War, he instead won the role of Geoffrey Scrimshaw in a new sitcom called The Lovers (created by the one-time writer and producer of Coronation Street, Jack Rosenthal). In it he played opposite Paula Wilcox as Beryl Battersby, and their on-off romancing and his continued attempts to have his wicked way with her (and her incessant rebuttals of such 'Percy Filth') made the two stars household names and allowed Richard to give up Rep. for television. Richard's role won him the award as Best TV Newcomer for 1971. His first foray into movies (Rentadick, 1972) was followed with a big-screen spin-off of The Lovers in 1973. The following year he recorded a bit part in a play by Alf Garnett-creator Johnny Speight about racial issues in society, called If There Weren't Any Blacks You'd Have To Invent Them. He starred as a transvestite alongside Bob Hoskins and Leonard Rossiter. By the end of the same year, Leonard and Richard had cemented themselves into the hearts of the viewing public in another new sitcom for ITV, Rising Damp. 1974 was to be a golden year for Richard Beckinsale for, as well as Rising Damp, he also started recording Porridge for the BBC, about the inmates of Slade prison (as a convict, Richard's character Lenny Godber had to have shorn hair, forcing him to wear a wig for Alan's scenes when recording Rising Damp). An unlikely situation for a comedy, it was an immediate hit, and starred Ronnie Barker, Fulton Mackay and Brian Wilde, with the brilliant scripts of Likely Lads-creators Dick Clement and Ian La Frenais. A sequel, Going Straight, set after release from prison, was almost as popular as the original and a movie of Porridge was released in 1979. Such was Richard Beckinsale's immense popularity - owed not least to his boy-next-door innocence and his pin-up good looks - that the BBC's celebrity biography show This Is Your Life featured Richard in 1977, when he was just 30 years old. This year also saw his marriage to actress Judy Loe, after eight years together (they met at Crewe Rep.), and the birth of their daughter Kate on 26th July 1973 (Kate is now a huge Hollywood star, thanks to blockbusters such as Pearl Harbor and Underworld). Richard had returned to the theatre by this time, in roles as varied as Romeo and Juliet, a song and dance part in I Love My Wife and a 19-month run in Funny Peculiar. In 1979, Richard Beckinsale had recorded five episodes of a new sitcom for the BBC called Bloomers, when he suffered a heart attack at his home in Sunningdale, Berkshire. Although always a nervous person, with a high cholesterol level and given to mild panic attacks, he had no medical history of heart problems. One of the most popular, widely-loved, sought after actors on British television, Richard Beckinsale died on March 19th 1979. He was just 31 years old. A huge talent, he is still greatly missed today.

Remembering Rising Damp:
- "I've always been selective, especially where comedy series are concerned. I have been lucky in that I accepted three offers in television comedy [The Lovers, Rising Damp, Porridge] within a relatively short space of time which have become hits..."
- "Richard was very laid back, and he absorbed some of Len's frenetic energy, which was good for the show, because we couldn't have had two people like Len in the show!" "Although he was young he was a veteran, and a calming influence. He did everything in a natural way, and his reactions to situations on the set made you laugh - it was a wonderful quality." - Eric Chappell.

Notable Credits:
Theatre - Romeo and Juliet (Romeo); Hamlet; Funny Peculiar; I Love My Wife; Mrs. Grabowski's Academy. TV - The Lovers (Geoffrey Scrimshaw); Madly In Love (Angus); Rising Damp (Alan Moore); Porridge (Lennie Godber); Last Summer; Going Straight (Lennie Godber); Bloomers (Stan). Film - Rentadick (Hobbs); Three For All (Jet Bone); Bloody Kids.

Links: IMDB - Play, starring Richard and Leonard - His death - front page news

---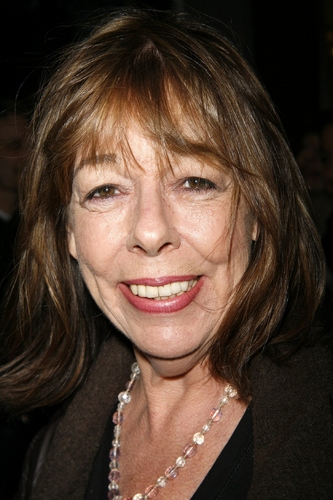 Frances de la Tour played spinster college administrator Ruth Jones in the London performances of the original play The Banana Box, 24 of the 28 episodes of the TV series and The Movie. A delay in the writing of episodes caused conflict with theatre commitments for Frances, resulting in her being written out of the episodes The Perfect Gentleman, The Last Of The Big Spenders, Things That Go Bump In The Night and the Christmas special For The Man Who Has Everything.
Frances de la Tour was born in Bovingdon, Hertfordshire on 30th July 1944. After graduating from The Drama Centre, she joined the RSC (Royal Shakespeare Company) in 1965, but left after six years, dissatisfied with the "limited casting" she was constantly offered, including 'The Bumpkin' in As You Like It. She was determined to perform in more demanding, challenging roles - she once played the lead role (ie. a male) in Hamlet! By the early 1970s, Frances had appeared in a number of films, such as Every Home Should Have One and Our Miss Fred, but she still concentrated on developing her acting style on stage. On 17th May 1973, Frances took over the role of Ruth Jones in Eric Chappell's play The Banana Box at the Hampstead Theatre Club in London (the role was previously played by Heather Canning, Janet Michael and Rosemary Leach). By the time the play ended its run on 24th July at The Apollo theatre, plans were already afoot to bring the story to television, and Frances was to continue in her role as Miss Jones. The series bought her fame, but also an unwanted, typecast label of "that woman who played Miss Jones", which annoys her to this day. And with reason, for Frances de la Tour is no "one-hit wonder". She has appeared in a seemingly endless number of plays across the UK and on Broadway, and the number of awards she has won for her roles proves not only that the RSC never saw her true worth, but also that she is now without doubt one of this country's finest theatre actresses. These awards include Olivier Award for Best Actress (for Josie in A Moon For The Misbegotten) and both the Evening Standard Best Actress award and Society of West End Theatres Best Actress award (for Stephanie in Duet For One, a play written for her by former partner Tom Kempinski). She continued her TV and movie roles during this time, including films such as To The Devil A Daughter, The Time Bandits and Rising Damp: The Movie (for which she received the Best Actress award from the Evening Standard), in addition to raising her son Josh and daughter Tamasin. Her television appearances have included Flickers, two series of the sitcom A Kind Of Living (in which she played opposite Richard Griffiths and Tim Healy as an unemployed mother of an unnamed baby, referred to only as Og), Downwardly Mobile and Dennis Potter's futuristic Cold Lazarus. She was introduced to a new generation of viewers when appearing as Madame Maxime in two Harry Potter films, as well as Aunt Imogene in Tim Burton's retelling of Alice In Wonderland. In 2013 Frances returned to the sitcom genre in ITV's comedy Vicious, opposite Sir Derek Jacobi and Sir Ian McKellern.
Remembering Rising Damp:
- "...I was brought up a little like her [Miss Jones] - she has middle-class values and these were instilled into me when I was young - but there the similarity ends...I was able to draw upon my own background experience in creating her."
- "Leonard was one of the great farce actors of all time. He was nervous, vulnerable, a slave-driver, no more punishable to others than he was to himself in his drive for perfection. And we all got the giggles on numerous occasions."
- "We laughed a lot on set, but comedy is a serious business and Leonard took it particularly seriously, and rightly so."
- "Miss Jones was the most underwritten part, and it got better because of Frances. In the end, as I got to know the character and actress better, I was able to feed her the lines she could use so perfectly, especially with the quaint coyness she adopted...I'm very pleased with how she [Miss Jones] turned out, largely because of Frances." - Eric Chappell.
- (On The Movie) "...But when the film finishes I won't be sorry. I have enjoyed the part but five years is long enough. The film is like the icing on a good cake. And it's nice to go out with a bang and not a whimper."
- "she is one of the most under-rated actresses in Britain. If she was workng in the States she would be in huge demand." - Joe McGrath, direct Rising Damp: The Movie.
Notable Credits:
Theatre - Hamlet (The Prince); A Moon For The Misbegotten (Josie); Duet For One (Stephanie); A Midsummer Night's Dream (Helena); Small Craft Warnings (Violet); Antony and Cleopatra (Cleopatra). TV - Rising Damp (Ruth Jones); Flickers (Maud Cole); A Kind of Living (Carol Beazley); Cold Lazarus (Emma Porlock). Film - Rising Damp (Ruth Jones); Strike It Rich (Mrs. deVere); The Cherry Orchard (Charlotte Ivanovna).
Links: IMDB - Article & Interview
---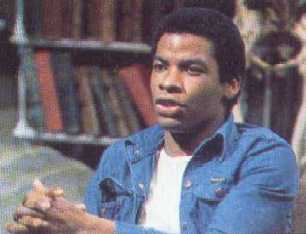 Don Warrington MBE played Town and Country Planning student Philip Smith in all but the Leicester performances of the original play The Banana Box, all 28 episodes of the TV series, and a medical student in The Movie.
Don Warrington was born on the Caribbean island of Trinidad on May 23rd 1952. His father was the politician Basil Kydd. He moved with his family to England when he was five years old, and settled in Newcastle-Upon-Tyne. One of very few black families in the North East at the time, he had the nickname 'The Pele Kid' at school. With a theatrical interest since his childhood, Don left school and started work at Newcastle's Playhouse Theatre, where he worked his way up to ASM (assistant stage manager). Determined to become a full-time actor, he moved to London in 1969 where he trained at The Drama Centre for three years. This helped him land a part in the controversial play Hair, with which he toured Europe in 1972. The following year was to be Don's breakthrough as an actor. As well as roles at Lincoln Rep. including Measure For Measure, Erpingham Camp and A Taste Of Honey, he also landed the part of the black student Philip Smith in Eric Chappell's play The Banana Box. When the play became a TV series, it was Don who again got the part, his first television role, for which he was paid £150 per episode to begin with, an amount he now describes as "a fabulous sum back then". It was to become his most famous. Many other TV roles were to follow for Don, including three series of the female cops drama C.A.T.S Eyes, To Play The King and The Arabian Nights. The movie version of Rising Damp in 1980 (in which Philip revealed he was from Croydon and not an African chief with ten wives) was Don's first big-screen role, and he has since appeared in other films including Kenneth Branagh's Hamlet, Babymother and Lighthouse. Don Warrington has continued to return to his first love - the theatre, with major parts in Macbeth, Julius Caesar, A Midsummer Night's Dream and Ear, Nose and Throat. He can also be seen in commercials on TV for the coffee company Kenco. He lives in Shepherd's Bush, London with his wife of 20 years. They have two children: Jake and Archie. Don was awarded the MBE in the 2008 Queen's Birthday Honours. He was recently a contestant on BBC celebrity dancing show Strictly Come Dancing.
Remembering Rising Damp:
- "Len was always very concerned about the fact that comedy is about what happens between people. It's not about a close-up here or a close-up there - it's the relationship. And that's what we worked at - that if we found the relationship, then it would be funny."
- "Whoever came into contact with him [Richard] was immediately put at ease, and that was vital in Rising Damp. And Len really loved Richard, he thought he was wonderful. Whatever mood Len was in, Richard would come in and his mood would change - which was great for everybody."
- "The effort that he [Len] put into those shows was phenomenal. At the end of it sometimes the man was absolutely exhausted. The passion that was there was frightening..."
- "He [Len] was amazed at how successful Rising Damp was. He'd spent years doing these incredibly difficult parts, and then this part comes along which was as easy as falling off a log for him, and it makes him into a gigantic star."
- "...He was learning the trade as he went along, and the pure fact that he came into the show and survived says much for his guts and determination." "One of his strengths was the ability to play an upper-crust, well-bred gentleman, which helped enormously. Don played a rather aloof man who was world-weary, qualities which we wanted." - Eric Chappell.
- (On The Movie) "I shall be sorry to see the end of Philip... I started with the play The Banana Box and have been with it ever since. Philip's comedy was that he was more English than the English and yet black - a difficult part - it could so easily have been caricatured. I have a lot to thank Philip for."
- "I have only good memories of Rising Damp although they are, of course, old memories. As it was my first television I had nothing with which to compare the experience. It was a steep learning curve for me."
Notable Credits:
Theatre - Julius Caesar; Hamlet; Dispatches; Dutchman; Streamers; Alterations; Caesar and Cleopatra; The Passion; Ear, Nose and Throat; Hair; A Taste Of Honey; The Banana Box; Eldorado. TV - Rising Damp; C.A.T.S. Eyes; To Play The King; Doctor Who; Crown Court; Red Dwarf; Fairly Secret Army; The XYY Man; Lovejoy; Backup; Trial and Retribution; Manchild. Film - Rising Damp; Camping; Hamlet; Babymother; Lighthouse; Black XXX-mas; The Last Giraffe.
Links: IMDB

Return To Rigsby Online
(c) Paul Fisher
Pictures (c) their respective owners