Elizabeth Adare (pron. a-DAHR-ay) played Lucy in the play The Banana Box and in the TV episode For The Man Who Has Everything.

Born in Newcastle-Upon-Tyne on 3rd June 1949, of Sierra Leonian descent. She trained at the Guildhall School of Acting and Drama. She is best remembered on TV for playing Elizabeth in the children's science fiction series The Tomorrow People, and Maggie in sitcom Father, Dear Father.
IMDB - The Tomorrow People
Neville Aurelius played Philip Smith in the Leicester performances of the play The Banana Box.
Neville arrived in England in 1952. After a spell in the RAF, he joined the London Negro Theatre Workshop. He appeared in numerous theatre performances during the 1960s and 70s, as well as TV appearances in Softly, Softly and Jason King. He toured Europe with a theatre group, and appeared on Broadway in New York, where he now lives.
IMDB
Roy Barraclough played the Barman in the TV episode Pink Carnations.

Born in Preston on 12th July 1935. Roy spent eight years as a draughtsman in an engineering company while acting in his spare time until he decided his hobby was what he wanted to do full time. He became the entertainment manager at an Isle Of Wight holiday camp and then joined Huddersfield Rep., then subsequently toured the country. As was the natural progression in the late 1960s, Roy transferred to television, and when he met with Lancashire comedian and New Faces winner Les Dawson, a lifelong partnership was launched. He appeared in many of Les' series, including Sez Les, and their hilarious gossipping housewives routine Cissie and Ada became firm favourites with the British viewing public. He is also well remembered on TV as Alec Gilroy in Coronation Street, eventual husband of brassy barmaid Bet Lynch and owner of the Rover's Return. Holds the record for playing the most number of characters in 'The Street'. Roy died on June 1st 2017, aged 81.
IMDB - Corrie.net
Ann Beach played Mrs. Brent in the TV episode That's My Boy.

Born in Wolverhampton on 7th June 1938. A natural singer, she was first to be heard on radio with the BBC Welsh Orchestra. She later joined RADA, then Joan Littlewood's Theatre Workshop and won bit parts in many sitcoms, including Steptoe And Son, Only When I Laugh, The Rag Trade and most notably as Julia McKenzie and Anton Rodgers' nosey neighbour Sonia Barratt in Fresh Fields. She was also to be seen in children's show Rainbow occasionally, and narrated the Fred Bassett cartoons for the BBC. Ann lists her hobbies as travel, art and music. She was married to Francis Coleman and is the mother of actress daughter Lisa Coleman (Casualty, Bottom) & the late Charlotte Coleman. Ann died on March 9th 2017, aged 78.
IMDB

Norman Bird played the Vicar in the TV episode Things That Go Bump In The Night.

Born in Coalville, Leicestershire on 30th October 1924. A familiar bit-part actor on screen during the 1970s and 80s, Norman's long list of credits include Ever Decreasing Circles, Yes Minister, To Serve Them All My Days, and Boon. His film appearances include Whistle Down The Wind, An Inspector Calls and The Punch And Judy Man with Tony Hancock. Norman died on April 22nd 2005 from cancer.
IMDB

Peter Bowles played Hilary in the TV episode Stage Struck.

Born in London on 16th October 1936, peter joined RADA on leaving school and became a professional actor at the age of just 18. He has never been out of work since. Despite a huge repertoire of theatre performances, Peter is best known for his TV roles, in particular as Richard deVere in To The Manor Born, Archie Glover in (another Eric Chappell creation) Only When I Laugh, and Howard Booth in (yet another Chappell work) The Bounder. His hobbies include collecting modern art, and he is married to Susan with 1 daughter Sasha and two sons, Guy and Adam.
Remembering Rising Damp: "I'd never done situation comedy before, and when I made my first entrance, the laughter was so enormous - it surprised me. It really did surprise me. In fact, it was so enormous they couldn't continue with the recording. The great thing about Leonard was that he always played to the other actors. There's a tendency in situation comedy to play to the audience, but Leonard never did."
"Len was a remarkable actor with a unique style. I remember his spring-footedness more than anything... His stylistic approach was very powerful and was something he was unaware of until later in his career, when he began exploiting it. He was a great actor."
IMDB

Wilfrid Brambell played Rooksby in the Leicester performances of the play The Banana Box.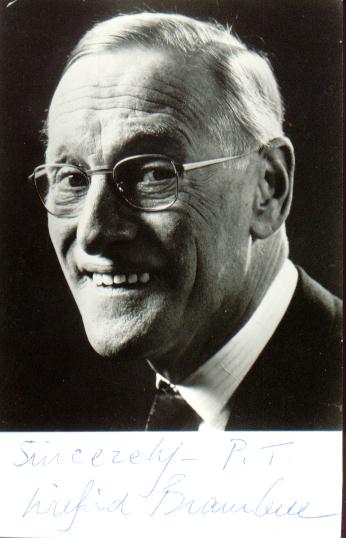 Wilfrid was born in Dublin, Ireland on 22nd March 1912 to a father who was a cashier at a Guinness brewery, and a mother, Edith Marks, who was an opera singer. Wilfrid Brambell's first foray into acting was at the age of just two, entertaining wounded soldiers in World War One. As a teen, he had a soprano voice, and it won him medals at festivals, until his voice broke during an argument with an aunt! After leaving school, he became a reporter for The Irish Times, and started amateur dramatics at the Abbey Theatre in Dublin. Turning professional, he then moved to Dublin's Gate Theatre, then on tour with ENSA during the Second world War, and then into repertory theatre at Bristol, Chesterfield and Swansea. His London appearances included roles in Canterbury Tales and The Ghost Train (written by Dad's Army actor Arnold Ridley - Private Godfrey). His Broadway career was less successful, however, as the first night of the play Kelly was also the last. The advent of regular television programming in Britain brought Wilfrid regular roles on TV, not least in Arthur Askey's shows, plus many diverse roles such as in The Quatermass Experiment and as a tramp in No Fixed Abode. It was this last role which was seen by two British writers, and he was instantly signed-up for Galton and Simpson's new production The Offer, part of their Comedy Playhouse series of one-off TV plays. The comedy, about a retired rag-and-bone dealer and his son, was commissioned as a series and in 1962 what became the classic sitcom Steptoe and Son was born. By now, Wilfrid was in demand as an actor and appeared in many more roles, including films such as The Thirty-Nine Steps, Carry On Again Doctor, Dry Rot and as Paul McCartney's grandfather in The Beatles' movie A Hard Day's Night. On a personal level, Wilfrid's wife Molly was found to have been made pregnant by a lodger and he subsequently threw her out, divorcing her on grounds of adultery. She died the following year. Many years later Wilfrid Brambell shared his Pimlico home with a male Chinese-born companion Yussof Ben mai Saman, to whom he left his fortune after his death in London from cancer on 18th January 1985.
Remembering The Banana Box: "[Wilfrid Brambell] was wonderful. Such a dapper, wee man. He used to wear a diamond ring, beautiful suits, starched collar and tie and and would have his hair slicked back...He was very funny off stage as well as on, and would tell the filthiest jokes - he just made a perfect Rooksby."
IMDB - Steptoe & Son - Museum.tv

James Bree played Peppery Man in the TV episode Clunk Click (scene edited out due to time constraints).
James appeared in many performances from the 1960s to the 1980s, including The Avengers, Dr. Who, The Professionals, The Sweeney and The Duchess of Duke St. He even appeared in the 1969 James Bond movie On Her Majesty's Secret Service. Died 1st December 2008.
IMDB - Filmography

Roger Brierley played Osborne in the TV episode Suddenly, At Home.

Born in Stockport, Cheshire, Roger became involved in amateur dramatics at the tender age of 14, but trained as a chartered accountant after leaving school. He returned to acting after conscription, however, and has since appeared in a handful of films and over 200 TV roles, including many sitcoms (including The Likely Lads, The Fall & Rise of Reginald Perrin, The Legacy of Reginald Perrin (the only actor to play two different roles in the Perrin series), In Loving Memory and Jeeves and Wooster). He is often seen playing authority roles, such as bankers or vicars, due in no small part to his lofty height! Roger died on Friday 23rd September 2005 from a heart attack. He was 70.
Remembering Rising Damp: "It was a very good episode. The script was great and the character wonderful to play..." "Success on television is down to the writing, and Eric Chappell hit on a great idea. But it would never have worked without someone in the lead role, and Len was one of those actors who wasn't afraid to play unloved characters...It was a remarkable performance from Len Rossiter, who was a wonderful actor..."
IMDB

Ronnie Brody played Charlie, the bailiff's assistant in the TV episode Last Of The Big Spenders. He also played an Italian Waiter in The Movie.

Born in Bristol on 6th November, 1918, the son of Bourne & Lester, a huge music hall act at the turn of the century. He served in the merchant navy and with the RAF during World War Two. After a number of subsequent years in rep. companies and variety shows, Ronnie turned to film and television, working with Dave Allen, Lenny Henry, The Beatles and Dick Emery, among many others. Ronnie died in London of a heart attack on 8th May 1991.
IMDB

Avis Bunnage played Rigsby's estranged wife, Veronica, in the TV episode Great Expectations.

Born in Manchester on 22nd April 1923, the daughter of a variety performer mother and dentist father, Avis became a member of Chorlton Rep., then joined the Joan Littlewood Theatre Workshop. She toured Europe and America with the company, then found her way into films, including Gandhi, The L-Shaped Room, The Krays, The Whisperers and The Wrong Box (these last two, ironically, also starring Leonard Rossiter). Her television credits include Inspector Morse, In Loving Memory and Coronation Street. Avis died on 4th October 1990.
IMDB

Judy Buxton played Alan's girlfriend Caroline Armitage in the TV episodes Clunk Click and The Cocktail Hour.

Judy was an actress from an early age, and professionally so during her time as a college student. She became ASM at Chesterfield Rep., and then moved into television during the 1970s and 80s, with roles including Blake's 7, Angels, Lovejoy and General Hospital. She later returned to theatre in classical roles, and spent three years with the Royal Shakespeare Company. She is still active in the theatre.
Remembering Rising Damp: "Leonard was a true perfectionist. He was wonderful to watch in rehearsals because he was so precise in everything; he had every little movement off to a tee - I admired him for that. It was a bit nerve-wracking working with him, but I'm glad I had the opportunity."
IMDB

John Cater played Bert in The Movie.

Born in 1932, John's career spanned five decades. Most recently, he played Kathy Staff's beau Arthur Williams in the revamped Crossroads, but was more active in the 1960s when he played in Dr. Who, The Avengers and TV plays. Since then he has starred in Inspector Morse, Lovejoy, Home To Roost (another Eric Chappell creation), Bergerac and One Foot In The Grave, amongst many others. His film credits include Loot, Dr. Phibes Rides Again and Savage Hearts. Died 21st March 2009.
IMDB

Jonathan Cecil played a Boutique Assistant in The Movie.

Born in London in 1939. Died September 2011. Jonathan has a long career in theatre, film and television, including Agatha Christie, The Taming Of The Shrew, Little Doritt, Victoria & Albert and three films with Leonard Rossiter: Otley, Barry Lyndon and Rising Damp.
IMDB

Alan Clare played the Accordianist in The Movie.

Born in London on 31st May 1921. A self-taught pianist, Alan Clare became a professional musician at the age of 15 and during the next few years became a familiar figure on the London jazz scene. He played with Carlo Krahmer, Sid Phillips and others in the early '40s before military service intervened. Wounded soon after D-Day, he returned to civilian life, playing in the comedy band led by Sid Milward and also began a long sporadic association with Stéphane Grappelli. From the '50s onwards, Clare was busy playing jazz in small groups, some of which he led, mostly in nightclubs but also appearing occasionally on television. An exceptionally gifted pianist with a light, subtle touch, he had a seemingly endless knowledge of tunes and chord progressions. Allied to a gift for accompaniment and the ability to play with unflagging swing, Clare was an outstanding figure of British jazz. It was his involvement in the jazz scene that lead to his teaming up with Spike Milligan (himself an accomplished jazz trumpeter). Alan appeared in both Spike's series Q and There's A Lot Of It About, and not just in musical sketches. He died on 29th November 1993.
IMDB

John Clive played a Samaritan in the TV episode The Good Samaritan, and later played pious student Gwyn Williams in the TV episode Fire And Brimstone.

Born in London on 6th January 1938, John Clive became an actor as a child, then became pageboy at a theatre before landing regular roles in the theatre from the early 1960s onwards. He went on to make over 100 TV and film appearances, including appearing opposite Dick Emery and Tommy Cooper and in series such as The Sweeney, The Perils of Pendragon, and the lead role in Robert's Robots. His films encompass all genres, from Carry On Dick through Revenge of The Pink Panther and The Italian Job to A Clockwork Orange. He was married with one son Alexander and one daughter Hannah. He later had a stepson from his second marriage. John died on October 14th 2012, aged 79.
Remembering Rising Damp: "It was a delight to appear with Frances de la Tour, whose subtle performance complemented everything you did. I thought the episode [The Good Samaritan] worked rather well, especially as Eric's writing was so good..."
IMDB - Official Site

George A. Cooper played Mr. Cooper, the father of one of Alan's girlfriends in the TV episodePermissive Society.

Born in 1916. After a brief career as a draughtsman, George became an amateur actor, then became professional aged 23. He toured with Joan Littlewood's Theatre Workshop before landing TV roles. He appeared in Z Cars, Some Mothers Do 'Ave 'Em, Mind Your Language and major roles in Grange Hill and Billy Liar. George also has over 40 films to his credit.
Remembering Rising Damp: "It was absolutely spot-on...Although I only appeared in one episode, it was terrific fun."
IMDB

David Daker played Mr. Brent in the TV episode That's My Boy.

A popular sight on British screens from the 1980s onwards, David is probably best remembered as Michael Elphick's boss Harry Crawford in seven series of Boon, and as Gordon Lewis, landlord of the Rover's Return in Coronation Street for five years. He has also appeared in Midsomer Murders, The Bill, Crown Prosecutor and Casualty.
IMDB

Bill Dean played a Workman in The Movie.

Born in Liverpool on 3rd September 1921. Bill is best remembered as curmudgeonly resident Harry Cross in Brookside Close. Bill died of a heart attack in London on 20th April 2000.
IMDB - Obituary

Robert Dorning played a lovestruck tenant's Father in the TV episode Hello Lovers.

Born in St. Helen's on 13th May 1914, Robert trained as a ballet dancer, then became a musical comedian. He returned to this form of entertainment after demob from the RAF. His move into acting resulted in three major television roles, in Coronation Street, Bootsie & Snudge, and Pardon The Expression (with Arthur Lowe). Robert died of diabetes in London on 20th February 1989.
IMDB

Keith Drinkel played Noel Parker in the Leicester performances of the play The Banana Box.
Born in York on 14th November 1944. After a career beginning with rep., Keith began being offered TV roles. He appeared in many period dramas, as well as Tales Of The Unexpected, The Bill, Grange Hill and Thatcher, in which he played Prime Minister John Major. Keith is still active in the theatre.
Remembering The Banana Box: "I thought it had a lot of potential...Eric had a great facility for good lines, the characters were believable..."
IMDB
Liz Edmiston played Maureen in the TV episode Charisma.

Other than Rising Damp, Liz had only appeared several times on television since, including Juliet Bravo, Touched By An Angel and Forgotten. She had also appeared in a number of theatre roles during the 1980s. Liz died from a stroke on board the ship Oriana, aged 62, on 10th April 2008.
IMDB

Glynn Edwards played Mr. Cooper in The Movie.



Born in Malaya, Malaysia February 2nd 1931, Glynn trained at Joan Littlewood's Theatre Workshop. He worked as a sugar farmer in Trinidad, and was married to George & Mildred actress Yootha Joyce (dissolved), then Christine Pilgrim (dissolved), now Valerie. Has one son, Tom (from 2nd marriage). Now semi-retired, Glynn lives in Spain and on a houseboat on the River Thames, London. He is best remembered for playing landlord Dave Harris in Minder, and also appeared in Some Mothers Do 'Ave 'Em, Please Sir! and The Fall and Rise of Reginald Perrin.
IMDB

Denholm Elliott CBE played Seymour in The Movie.

Born in Ealing, London on 13th May 1922. After an education at Malvern College, Denholm Elliott joined RADA, but was later expelled. At the onset of war, Denholm joined the RAF, in which he served as a gunner and radar operator. After being shot down over Denmark, Denholm resumed his acting career in a prisoner of war camp (where he was interned for three years), including such parts as Macbeth and Eliza Doolittle! After the war, and against the wishes of his family, he decided to become a full-time actor, starting at repertory theatre in Amersham, Bucks in 1945. His long and varied film career included such classics as Zulu Dawn, The Cruel Sea, A Private Function, Raiders Of The Lost Ark and Room With A View, which earned him an Oscar nomination for Best Supporting Actor. He was also a prolific TV drama actor, starring in the award-winning Hotel du Lac and Blade On The Feather, which won him Best Actor at the 1980 BAFTA Awards. His first marriage, to actress Virginia McKenna, ended in divorce. A second marriage, to actress Susan Robinson, bore him two children, Mark and Jennifer. A bisexual, Denholm Elliott died of AIDS on the Spanish Balearic island of Ibiza on 6th October 1992.
Remembering The Movie: "I am the cad, the scrounger. Despite that, I do expose each character;s weaknesses or secrets. They kick me out but are left facing each other with their skeletons no longer locked in the cupboard. I enjoyed it. It was an excellent part."
IMDB - BritMovie

Jonathan Elsom played the curate, Douglas, in the TV episode Fawcett's Python.

Born in New Zealand, Jonathan came to Britain in 1959 and studied at LAMDA for two years. This resulted in terms at many theatres across country and on tours abroad. On TV he has starred in Z Cars, To The Manor Born, Ladykillers, Danger UXB, Minder and Bergerac. Jonathan is also an accomplished artist and sculptor.
IMDB

Derek Francis played Mr. French in the TV episode Clunk Click.

Born in Brighton on 7th November 1923. Derek appeared in a huge list of theatre, film and television performances throughout his long career. Among his TV appearances were The Sweeney, The Professionals, Man In A Suitcase and Doctor Who. His films included six Carry Ons, plus Press for Time, Scrooge and Ring of Spies. Derek died on 28th March 1984.
IMDB - Biography

Gretchen Franklin played Aunt Maud in the TV episode Great Expectations.

Born in Covent Garden, London on 7th July 1911. With her parents a theatre double act, it was perhaps inevitable that Gretchen would become an actress. She started as a chorus girl, but has been seen on television more in her later years, playing elderly characters. These include roles in George and Mildred, You're Only Young Twice, General Hospital, and more recently, Ethel Skinner in Eastenders. She was married to the writer Caswell Garth (deceaed). She died on Sunday 10th July 2005.
IMDB - Biography

Helen Fraser played the postmistress Gwen in the TV episode For The Man Who Has Everything, and also played a new Bride in the TV episode Pink Carnations.

Helen attended a theatrical boarding school from the age of nine, which led to her first public performance in a pantomime aged 15. She studied at RADA and was soon landing roles in both the theatre and on television. She has appeared in One Foot In The Grave, Doctor In Charge and in the sci-fi series The Uninvited. She also starred in the film of Billy Liar in 1963, in a scene with Leonard Rossiter.
IMDB

Frank Gatliff played 'Charlie', the Manager at The Grange restaurant in the TV episode A Night Out.

Born in Melbourne, Australia on New Year's Eve 1927, Frank moved to London and soon started to appear in small roles in films and on TV. He has starred in many roles on TV including The Avengers, Department S, The Good Life, Robin's Nest and Doctor Who. His films included The Ipcress File and On The Beach. Frank died in London on 23rd June 1990.
IMDB

Robert Gillespie played a Gas Man in the TV episode Last Of The Big Spenders.

Born in Lille, France on November 9th, 1933 of a Hungarian mother and Canadian father of Scottish descent. Robert arrived in Plymouth in 1940, speaking no English. He became an amateur actor, then semi-pro in 1951. Having trained at RADA, Robert then spent two years at Old Vic, Bristol. He was a familiar face on television thorughout the 1970s and 1980s, appearing in Whatever Happened To The Likely Lads?, Rosie and a title role in Keep It In The Family.
Remembering Rising Damp: "Leonard was just excellent. He had a particular line of comedy which was unusual in this country - a highly satirical edge... He was an absolute perfectionist who worked and worked..."
"He [Len] devised a wonderful gag where he was caught red handed and hadn't time to do anything with all the coins so he put them in his pocket. He wanted a pay off while he was lying and denying everything. He wanted this chink as slowly they all fell down till he was standing in a pool of coins. He had to get it right. No one could be bothered to see to it. He said do you want this sketch to work so he organised the whole thing. He told them where he wanted the holes sewn in the pockets. He had a box put it one pocket so he could put the coins in there and turn it round. He organised the whole thing. I remember one of the last rehearsals, we were circling round the room and he caught sight of one of the monitors and suddenly stopped and he said I'm doing this thing, I'm jiggling these pockets because I am trying to build up to the pocket gag and you are cutting it here. He said I don't mind but I am trying to build up the gag so do you want it to be funny? It wasn't heavy at all, he was just trying to get it right. It was nothing personal. Of course, it worked and it was one of the funniest physical gags I have ever seen."
IMDB - Biography
Derek Griffiths played Alec in The Movie.

Born in Woking, Surrey on 15th July 1946, Derek was a popular face on television during the 1970s and 1980s, at a time when black characters were needed a lot more in socially-aware dramas and comedies, such as The Alf Garnett Saga. Derek was also a children's TV presenter, fronting programmes including Play School, Play Away and Jackanory. He has provided the voice for Superted and Vervain in Watership Down. Derek is also a talented musician, singer and songwriter. He wrote several songs and themes for television, including Heads and Tails and the character introduction songs for Bod (Frank The Postman, Aunt Flo, etc.).
IMDB


Kelwyn Harrison played a non-speaking Policeman in the TV episode The Prowler.

Peter Jeffrey played Ambrose in the TV episode Under The Influence.



Born in Bristol on 18th April 1929. After completing education at Harrow and Oxford University, Peter joined RADA and spent mny years in rep. (including a season at Bristol with Leonard Rossiter). A large number of theatre roles followed, and he spent thirty years with the Royal Shakespeare Company in Stratford-upon-Avon. His TV appearances include Lovejoy, Triangle, By The Sword Divided, Lipstick On Your Collar, Porridge and Jewel In The Crown. On film, he has starred in The Odessa File and with Leonard Rossiter again in Britannia Hospital. Peter died of prostate cancer in Stratford-upon-Avon on Christmas Day 1999.
IMDB

Carrie Jones played Sandra in The Movie.

Carrie has appeared on TV in Minder and Shoestring, and in adult films.
IMDB

Paul Jones played Noel Parker in all but the Leicester performances of the play The Banana Box.
Born in Portsmouth on 24th February 1942. Paul is best remembered as lead singer with pop group Manfred Mann, whose hits in the 1960s included the number ones Pretty Flamingo, Doo Wah Diddy Diddy and The Mighty Quinn, plus Ha Ha Said The Clown and 5-4-3-2-1. Paul later left the band and became a very sought-after actor on stage. His TV appearances included Beat Club and The Sweeney, and he was also the quizmaster on the children's TV show Beat The Teacher.
IMDB - Biography

Andonia Katsaros played exotic dancer Marilyn in the TV episode Fawcett's Python.

Born in 1949 in New South Wales, Australia, Andonia moved to England in 1969. TV roles were soon offered, including Porridge, Please Sir! and Helen - A Woman Of Today. She now lives in the USA, where she tours her one-woman show. She is also a qualified flying instructor.
Remembering Rising Damp: "...Rising Damp was great, and Leonard Rossiter always made me feel part of the group."
IMDB

Diana King played Mrs. Armitage in the TV episode The Cocktail Hour.

Born in Buckinghamshire in August 1918. She attended the Fay Compton School of Drama, and was a prolific theatre performer during and after World War Two. On TV, she appeared in sitcoms Dad's Army, Are You Being Served?, Some Mothers Do 'Ave 'Em, You're Only Young Twice and Marriage Lines. Her films included A Farewell To Arms with Rock Hudson. Diana died in Nettlebed, Oxfordshire on 31st July 1986.
IMDB

Ian Lavender played political canvasser Mr. Platt in the TV episode Stand Up And Be Counted.

Born in Birmingham on 16th February 1946. On leaving school, Ian went to drama school at The Old Vic, Bristol, then travelled extensively in theatre performances. He will be best remembered, however, for playing Frank Pike, the "Stupid Boy!" of Captain Mainwaring's platoon in Dad's Army, alongside Arthur Lowe and John Le Mesurier. He has recently appeared in Eastenders.
IMDB

Rosemary Leach played Ruth Jones in the East Grinstead, Oxford and Newcastle performances of the play The Banana Box.
Born in Much Wenlock, Shropshire on 18th December 1925. Unsure of which career path to follow, Rosemary's sister suggested she went along to RADA's auditions in London before the war. She was accepted, and went on to play theatres nationwide in a huge number of performances. On TV she has appeared in Jewel InThe Crown, Swallows and Amazons, Life Begins At Forty, The Tomorrow People and a major role in The Power Game. Rosemary died on October 21st 2017, aged 81.
Remembering The Banana Box: "I thought the play was good...He [Leonard] was a very talented man and Frances, who took on the role of Ruth after me, was absolutely super...".
IMDB

Alun Lewis played Robin in the TV episode Hello Young Lovers.

Born in Garnant, South Wales, the brother of actor Hywel Bennett (Shelley). Joining RADA at 18, Alun honed his skills at various theatres and repertory companies around the country, before making the inevitable break into TV. He has appeared in Minder, Angels, Rumpole of the Bailey, but most notably as jailbird Daryl in Birds of A Feather and as Vic Windsor in Emmerdale (from which his talents as singer and guitarist with The Woolpackers became known).
IMDB

Larry Martyn played Rigsby's milkman Fred in the TV episode For The Man Who Has Everything.

Born in London in 1934, Larry was a singer and comedian in variety shows until the late 1950s, when he started to appear on television. Many serious roles throughout the 1960s were soon replaced by comedy roles such as Mr. Mash in Are You Being Served?, Up Pompeii, Never The Twain and as James Beck's replacement as Private Walker in the radio adaptations of Dad's Army. Larry died in 1994.
IMDB

Henry McGee played Seymour in the TV episode The Perfect Gentleman.

Born in Kensington, London on 14th May 1929. Henry decided to give acting a go after deciding he wasn't much good at anything else! He joined the Italia Conti School of Drama in London, then gained experience by touring the country in various repertory theatres, plus two years in Australia. He was first to be seen on television in Charlie Drake's The Worker. This bought him a constant supply of serious roles to play against comedians, including Tommy Cooper, Dick Emery, Eric Sykes, The Goodies, Max Wall, Frankie Howerd and, in particular, a 23-year association with Benny Hill. Henry died from Alzheimer's on January 28th 2006, aged 77.
Remembering Rising Damp: "It's probably the most interesting part I've had on television...people are still coming up to me saying 'You're Seymour!'" "Working on Rising Damp was a very happy experience; it was the only time I ever worked with Leonard but he was very inspiring because he had enormous energy. It was great fun." "I've watched some repeats recentlyand have become even more impressed with the show because you appreciate the timelessness of it; the wonderful witticisms flow so smoothly...Eric's scripts were always so good."
IMDB

Janet Michael played Ruth Jones in the Leicester performances of the play The Banana Box.

Born in Scotland, Janet has remained faithful to her country's training of her acting skills. After turning professional at Glasgow's Citizen's Theatre, she has now spent over twenty-five years with Perth Rep. But she has also appeared in numerous productions in London's West End and starred in Scottish soap High Road, and Glasgow crime drama Taggart.
Remembering The Banana Box: "I played Ruth as very prim and proper, which seemed to complement Wilfrid Brambell's performance."
IMDB

Louise Nelson played Lucy in the Leicester performances of the play The Banana Box.
A trained singer and dancer, Louise worked in cabaret abroad before returning to the UK to join the famous Italia Conti Stage School, and has since appeared in numerous theatre performances. She has also starred in TV roles in Z Cars, Troubleshooters and The Power Game.
IMDB

Derek Newark played wrestler and tenant Spooner in the TV episodes A Night Out and All Our Yesterdays.

Born in Great Yarmouth in 1933, Derek served in the merchant navy and Coldstream Guards beore becoming a Services DJ in Singapore. On returning to the UK, he enrolled at RADA and appeared in many theatre roles, culminating in more than ten years at the National Theatre. On TV he appeared (often in tough-guy roles) in The Avengers, The Saint, Jason King, Doctor Who, Coronation Street and Some Mothers Do 'Ave 'Em. Derek died on 11th August 1998, after a long illness, from a heart attack.
IMDB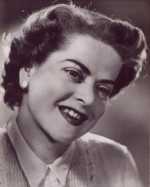 Daphne Oxenford played the Radio announcer in the TV episode That's My Boy.
Daphne was the voice of children's hour programme Listen With Mother from 1950 to 1971. Prior to this, she worked extensively in theatres nationwide, and could be seen on television in To The Manor Born (shopkeeper Mrs Patterson), Fresh Fields and Man About The House (Chrissie's mum), as well as in films Sweet William and That'll Be The Day. She died on December 21st, 2012, aged 93.
IMDB

Robin Parkinson played Ruth's beau Desmond in the TV episode Moonlight And Roses.

After leaving school and working for his artist father, Robin attended drama school, then moved straight into television. Among many roles are Dad's Army, Dick Emery, Outside Edge, three series of 'Allo 'Allo and 20 episodes of The Many Wives of Patrick. He was also the narrator of the children's TV show Button Moon.
Remembering Rising Damp: "...[T]he centrepiece was Leonard Rossiter's performance. I sit in awe of him. He was fantastic. I regard him as the best comedy actor this country has produced in the last thirty or forty years..."
IMDB

Brian Peck played Rigsby's brother Ron Rigsby in the TV episode Come On In, The Water's Lovely.

Born in Hull on 24th October 1930, Brian was a child actor, appearing in many children's films. He later enrolled at the Webber Douglas Academy and went on to appear in many theatre and TV roles, including Crossroads, Coronation Street, Doomwatch, Boon, Sorry! and Last of The Summer Wine.
IMDB

John Quayle played the Groom in the TV episode Pink Carnations.

Born in Lincoln on 21st December 1938. He trained at RADA and has appeared on TV in Terry and June, The Good Life, The Fall and Rise of Reginald Perrin and recently Coronation Street, where he played Rita Fairclough's beau Anthony.
IMDB - Corrie.net

Pat Roach played a Rugby Player in The Movie.



Born in Birmingham on 19th May 1943, Pat became a professional wrestler and was often to be seen on Saturday afternoon TV during the 1970s and 1980s sparring with the likes of Big Daddy and Giant Haystacks. He has appeared in many films, mainly as tough-guys or even monsters. His roles included Raiders of the Lost Ark, Indiana Jones and the Temple of Doom, Indiana Jones and the Last Crusade, Willow, Superman III, and as Bomber in three series of the comedy-drama Auf Wiedersehen, Pet. Died 17th July 2004.
IMDB - Official Site

Gay Rose played Brenda in the TV episodes Moonlight And Roses, Last Of The Big Spenders, Things That Go Bump In The Night and For The Man Who Has Everything.

Born in Canada, Gay's entry into acting was perhaps inevitable, as her grandfather was co-author of Me And My Girl. She trained at Bristol Old Vic and had six years experience of acting in Britain before returning to Canada. She later returned to the UK where her TV roles included Machinegunner (with Leonard Rossiter) and, more recently, an episode of The X-Files.
Remembering Rising Damp: "I was nervous because the cast, being so good, were a little intimidating...But when I look back on the job it was fun."
IMDB

Fanny Rowe played Ruth's Mother in the TV episode Come On In, The Water's Lovely.

Born in Preston on 26th June 1913, Fanny abandoned her University education when her urge to act became too great. She went on to be an accomplished actress, especially in plays by Bernard Shaw. She had major roles in The Forsyte Saga, Fresh Fields, Life Begins At Forty, Vanity Fair and Jane Eyre. Fanny died on 31st July 1988.
IMDB

David Rowlands played the cricket-mad Curate, Gordon, in the TV episode Things That Go Bump In The Night.

Born in Abergavenny, Wales. He trained at the Guild Hall School of Music and Drama and was seen in roles including 'Allo 'Allo, The Two Ronnies, Doctor Who and The Fall and Rise of Reginald Perrin. David is a qualified teacher, and now lives on a farm in Wales. He has worked for Radio Sussex as a reporter, and is now a supply teacher in Wales.
IMDB

Andrew Sachs played Mr. Snell in the TV episode Great Expectations.

Born in Berlin, Germany on 7th April 1930, Andrew's family fled the emerging Nazi Germany in 1937 and settled in the UK. At the age of 16 he had decided for life as an actor because, as he says, "I wanted to sign autographs!". In 1964 he wrote an avante-garde radio play called The Revenge, which featured no characters, but instead simply sound effects of a man escaping from an asylum, murdering someone and eventually giving himself up. Apart from his most famous roles as Spanish waiter Manuel in Fawlty Towers, Andrew has appeared in Bergerac, Crown Court and can often be heard narrating wildlife and nature documentaries. He is married to Melody, and has one daughter, Kate and two sons John and William. Andrew died on 23rd November 2016 after a battle with dementia.
IMDB - Fawlty Towers

Joan Sanderson played the bride's Mother in the TV episode Pink Carnations.

Born in Bristol on 24th November 1912, Joan Sanderson trained in RADA to be an actress, and acted extensively in repertory theatre. Her debut in London's West End was in See How They Run, and subsequent performances included Alan Bennett's Habeas Corpus, Simple Spymen, When We Are Married and Anyone For Denis? By the late 1960s, she was familiar to TV viewers from her role in All Gas And Gaiters, but found fame in the 1970s school sitcom Please, Sir!, in which she resumed her by now stereotypical battleaxe role. Joan was also to be seen in Ripping Yarns, The Other 'Arf, The Ghosts Of Motley Hall and Upstairs, Downstairs. Many people will remember Joan Sanderson, however, for her almost upstaging of John Cleese in the Fawlty Towers episode 'Communication Problem', in which she played Mrs. Richards, the deaf hotel guest from Hell. She went on to play regular roles in Me And My Girl with Richard O'Sullivan and After Henry with Prunella Scales. Shortly after completing a fifth series of this last comedy, Joan Sanderson died, on 24th May 1992.
IMDB

George Sewell played a prowler masquerading as 'Detective Constable Baker' in the TV episode The Prowler.

Born in 1924. Often cast as an authoritarian figure, George is a regular face on TV in the UK, having appeared in Minder, The Sweeney, The Gentle Touch, Redcap, Heartbeat and The Detectives. He has also starred in several films, including Get Carter, Barry Lyndon and This Sporting Life. Died 1st April 2007.
IMDB - Biography

Anthony Sharp played Conservative Party candidate Colonel DeVere-Brown in the TV episode Stand Up And Be Counted.

Born in Highgate, London on 16th June 1915, Anthony often played upper-class characters, including roles in To The Manor Born, Dad's Army, Doomwatch and Counterstrike. His films included Crossed Swords, Rebound and the James Bond movie Never Say Never Again. Anthony died in London on 23rd July 1984.
IMDB

Campbell Singer played the bailiff, Mr. Flint, in the TV episode Last Of The Big Spenders.

Born in London on 16th March 1909, Campbell had a prolific career on both stage and screen, and particularly in movies, numbering more than fifty. These included The Square Peg, The Titfield Thunderbolt, Operation Diamond and Home At Seven. Campbell died in March 1976.
IMDB

Michael Stainton played a Policeman in the TV episode The Prowler.



With a long career starting in various repertory theatres, Michael soon moved into television, and has been seen in many roles, including French Fields, Ever Decreasing Circles, Grange Hill, London's Burning, Bread, Only Fools and Horses, and as the father of the household in which loveable robot Metal Mickey resided. He is still active in the theatre and on TV.
IMDB

Christopher Strauli played the student John Harris in The Movie.



Born in Harpenden, Hertfordshire on 13th April 1946. Christopher trained as a maths and science teacher before training with RADA as an actor, followed by further experience at The Old Vic, Bristol. He had a major role on TV in the 1980s in Eric Chappell's Only When I Laugh, plus appearances in Bergerac, Victoria Wood - As Seen On TV, and Raffles. He is married to Lesley, with two daughters Belinda and Hanneli, and two sons Barnaby and Dominic.
Remembering The Movie: "The film turned out fine, and I think I did averagely well, though I could have done better..."
"I thought it might be difficult joining the cast who have worked together for five years. It was quite the contrary. It's an excellent part and Eric knows my work too, which helps."
IMDB
David Swift played suicidal Mr. Gray in the TV episode The Good Samaritan.

David only became an actor at the age of thirty, after being a businessman for many years. He toured with a number of repetory companies, before landing TV roles such as Bergerac, War And Peace and another two roles with Richard Beckinsale, Bloomers and Going Straight. He is the brother of Clive Swift, who played hen-pecked Mr. Bucket in Keeping Up Appearances. David died on April 8th 2016, aged 85.
IMDB

Michael Ward played the Labour Candidate in the TV episode Stand Up And Be Counted.

Born in Redruth, Cornwall on 9th April 1909. Michael trained as a teacher before enrolling with the Central School of Speech and Drama. He appeared in a huge number of films and theatre roles, including five Carry Ons and five Norman Wisdom films. On TV he starred in Steptoe and Son, Morecambe & Wise and The Two Ronnies. Michael died in Ladbroke Grove, London on 9th November 1997.
IMDB - Official Site

Deborah Watling played Lorna in the TV episode Hello Young Lovers.

Born in Fulmer Chase, Buckinghamshire on 2nd January 1948, into a family of actors (father Jack and sister Dilys), Deborah has a long list of theatre roles to her credit, plus TV including Doctor Who, Danger UXB and Life of Bliss. She also starred in films of David Essex and Cliff Richard. Deborah died on July 20th 2017 after a battle with lung cancer.
Remembering Rising Damp: "I adored Leonard Rossiter, Richard Beckinsale and Frances de la Tour, so you can imagine my delight and excitement when I was offered the part...Everyone was super, especially Leonard who was a marvellous actor. It was like walking into a family. I was made to feel welcome from the beginning."
IMDB - Official site