Rigsby Online: The Authorised Rising Damp web site
The Story of Rising Damp
Related pages: Episode Summary & Scene Guide - Video Clips
The TV Series and Spin-offs
The Television Series:

Written by Eric Chappell
Broadcast by Yorkshire Television

Pilot:
Produced by Ian MacNaughton
September 1974
Audience: 6.1 million

Series One:
Produced and Directed by Ronnie Baxter
December 1974 to January 1975
Audience: 6.5 million

Series Two:
Produced and Directed by Ronnie Baxter
November to December 1975
Audience: 7 million

Series Three:
Produced and Directed by Ronnie Baxter
April to May 1977
Audience: 8.2 million

Series Four:
Produced and Directed by Vernon Lawrence
April to May 1978
Audience: 18.6 million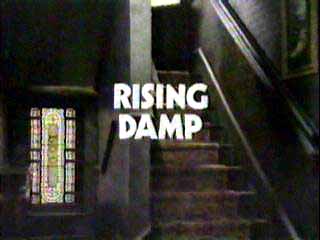 Automatic Pilot
In 1955, Britain's second television channel was launched. It was called ITV, and it was a commercial channel, funded by corporate advertising. It was also split into regional autonomies, including HTV in Wales, Scottish Television and Ulster. A further regional broadcaster, and maker of programmes, was Yorkshire Television, or YTV. And it was in 1973 that the Head of Light Entertainment at YTV, John Duncan, was invited to see a performance of a play at the Theatre Royal in Newcastle-upon-Tyne. The play was called The Banana Box and Duncan saw its potential as a sitcom immediately. A series of half-hour sitcom pilots were commissioned by YTV for broadcast in the autumn of 1974, by which time John Duncan had been replaced by Duncan Wood, a more experienced producer from the BBC. The series of six comedies were: You'll Never Walk Alone (written by Ray Galton and Alan Simpson, and starring Brian Glover); Brotherly Love (starring Keith Barron); Badger's Set (written by Barry Took, and starring Julian Orchard and Gwen Taylor); Slater's Day (starring John Junkin); Oh No, It's Selwyn Frogit! (starring Bill Maynard); and Rising Damp. Up against so many good writers and acting talent, it was only the latter two pilots which evolved into full series, with Rising Damp having a respectable audience of 6.1 million when it was broadcast on 2nd September 1974.
Unbeknown to the watching public, there were major differences between the pilot and the original play. For one, the main character's name had changed! In a promotional interview for the pilot, Leonard Rossiter said words to the effect that 'if you didn't like Hitler, you won't like Rooksby!' A real Mr. Rooksby from Scarborough (who happened to be a landlord!), took offence to this, and Eric had to quickly scan the telephone directory for a similar name. As the title of the pilot episode was also to be called 'Rooksby', this too had to be changed, and it became The New Tenant. It was also quite late in the production of the pilot before Eric Chappell decided The Banana Box was not a suitable title for the programme, and instead used part of a character's line in the script "[I've got]...rising damp!". That character, Alan, was played by a newcomer to the story, as the other three (Leonard, Don Warrington and Frances de la Tour) had survived the change from theatre to TV and simply resumed their roles. Richard Beckinsale had been seen by Eric Chappell in the Jack Rosenthal comedy The Lovers, and knew he would be right for the part of the innocent, naive medical student Alan Moore. The other major difference was that the black student Philip was the new arrival at the boarding house, while Alan was the resident. In The Banana Box, it was Philip who was resident, and Noel the arrival.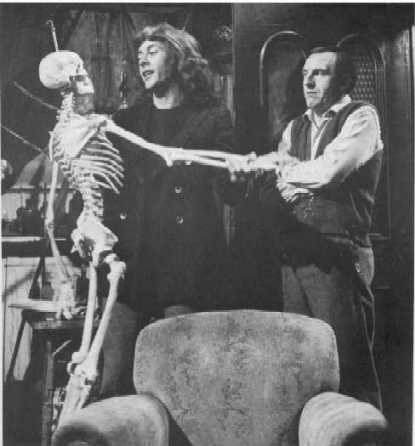 Although the script of 'The New Tenant' borrowed heavily from the original play, the introduction of close-up camera work, lighting and more detailed sets served to enhance the setting, the story, the performances of the actors and consequently the audience reaction. This was to the great relief of the writer, as Eric remembers: "I was thinking 'How are we going to get through week after week?' because I wasn't always going to write stuff that was hilariously funny... And then I realised how we were going to do it - when I saw Len's reaction that first week when he realised he was stuck with an African student, and the audience roared with laughter, I thought 'He hasn't said anything yet!'...and so I thought 'Eric, you're home and dry because when you're stuck for a line, he's going to finish the scene for you.'" The great physical gestures and mannerisms of Leonard Rossiter were being seen for the first time, something that could never be seen in all their glory on stage.

The Pressure Is On
So pleased were YTV with the audience reaction and critical praise of The New Tenant that a series was immediately commissioned. Although ecstatic at the decision, it was a daunting prospect for Eric Chappell as he had already had one sitcom to write. At the same time he had submitted the script for The New Tenant to YTV, he had submitted a script about office politics and relationships called The Squirrels to another ITV regional broadcaster, ATV. They had commissioned Eric to write a full series of this sitcom, too, so Eric now had two scripts to write. With a young family to bring up, Eric found himself getting up early in the mornings to write, but with only seven weeks to write five Rising Damp scripts (and with three drafts per script meaning one script took three weeks), Eric soon became mentally and physically exhausted. He advised YTV to get in other writers to finish the Rising Damp scripts, but Leonard Rossiter was furious: "When Len put his foot down, it stayed down", Eric remembers. "He said he'd contracted to do a series written by me and that was what he intended to do." Eric was instead given a six-week break, and returned refreshed to his typewriter, while other writers took on the task of penning the scripts for The Squirrels.
A vast amount of work goes on behind the scenes of a sitcom, and Rising Damp was no exception. Each episode took one week from the receipt of the script to the recording. Scripts would be amended, then a read-through would take place in London. For the first series this happened at St. Paul's Church Hall in Hammersmith. For the other series, it took place at the Sulgrave Boys Club in Shepherd's Bush. Studio times would be booked, any additional casting of peripheral characters would be made, and all involved members of staff would attend the rehearsals: designer, wardrobe, make-up artists, cameramen, all noting down the requirements their particular department calls for for each episode. They would then return to Leeds to gather props and set the scene in the studio. The actors would arrive in the Leeds studio for rehearsals on Fridays, first for a camera position run, then a dress rehearsal, and then the recording in front of a studio audience, who would arrive at 7.30pm. The cast would then travel home on Saturday, and the whole thing would start over again on Sunday.
The set designer, Colin Pigott, was in his element working on Rising Damp. The cramped surroundings of the bedsit were easy to cater for: cheap, miserable wallpaper and tatty carpets. The sets were actually scaled down to further enhance the cramped, claustrophobic atmosphere. For example, the beds in the students'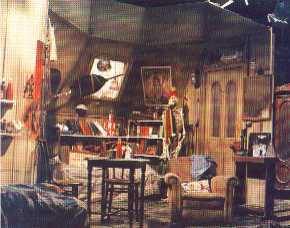 attic room were far too short to sleep in, but the viewer never got to see the whole bed, so it went unnoticed, and the attic room itself was built on an elevated stage, so that anyone exiting through the door really would have to 'go downstairs'. The lighting, too, was fittingly dull for a squalid bedsit, giving the appearance of a solitary light in the centre of each room, and illuminated by a low-watt bulb at that. Even the characters' costumes had days of research put in to them. It was decided that Rigsby should wear plimsolls around the house, so that he could appear in his tenants' rooms without detection. His threadbare cardigan was picked up from a charity shop and his trousers were polished to provide that 'well-worn' look. Don was always well-dressed, as befits an apparent African prince, and Alan had to wear a wig until the episode Stage Struck as Richard Beckinsale was playing a convict (with obligatory short-cropped hair) in Porridge at the same time as recording Rising Damp. Even Alan's training anatomical skeleton becamely progressively clothed as the series went on.



The four main characters
See Main Biographies page for appearances and biographies.

Rupert Rigsby played by Leonard Rossiter
Landlord of the boarding house. Extremely prejudiced, especially toward students and blacks (examples of both of which reside in his home). Married (Veronica, during wartime, and on pain of death by her father's shotgun), but now separated. Has a shoplifting brother, Ron, in Accrington. Wears one set of clothes: holey green cardigan, minus most buttons, shiny grey trousers, worn red slippers (but still has his demob suit, minus its pockets' linings). Participation in World War II sketchy at best. Has tendency to embellish war stories. Dislikes children (after receiving a singed beard while playing Santa one Christmas). Has barred any romance in the house (probably based on jealousy). Lusts after Ruth Jones, a tenant and spinster. Only companion is Vienna, his flea-bitten cat.

Ruth Jones played by Frances de la Tour
Tenant of the boarding house. University administrator, responsible for the accommodation of students.Thirty-something spinster with few previous beaus (one being a policeman who always wore his uniform, hence the need to keep swinging their arms to show they weren't handcuffed together). Has brought a womanly touch to the dingy lodgings (eg. blue water in the toilet) and never complains about her room (unlike the other tenants).

Continually rebuffs Rigsby's advances. Lusts after black student tenant Philip Smith, but eventually falls in love with and moves out to live with librarian Desmond, but returns after it doesn't work out. Eventually accepts Rigsby's hand in marriage but gets cold feet before the service.

Alan Moore played by Richard Beckinsale
Tenant of the boarding house. Medical student at the local university. A kind, gentle sort of chap, with boyish good looks, which have, nevertheless, resulted in a noticeable absence of girlfriends, despite his boasting to the contrary. Still very much under his parents' wings (he goes home at the weekends), he is rather cowardly and gullible, but enjoys playing tricks on Rigsby with his room-mate Philip Smith. Graduates as a doctor and leaves the house.

Philip Smith played by Don Warrington
Tenant of the boarding house. Town and country planning student at the local university. Alleges he is from Africa and has ten wives. A black, well-spoken, well-dressed gentleman, with tribal makrs and a long history of girlfriends, much to the annoyance of room-mate Alan. Is lusted after by Miss Jones, much to the annoyance of Rigsby. Has no interest in Miss Jones, much to the annoyance of Miss Jones. Is often the butt of Rigsby's racist, bigoted comments.
The Series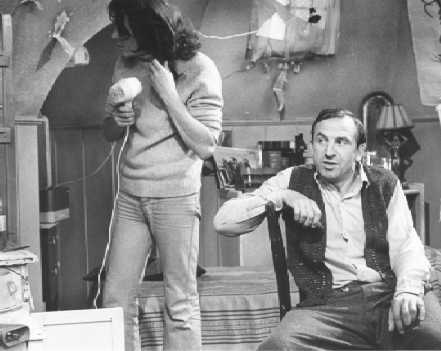 Series One was broadcast from December 13th 1974 to January 17th 1975, and was an immediate success. It was a personal triumph for Leonard Rossiter, his first sitcom role. Each week, viewers learned more and more about each of the characters. Rigsby would go to even greater lengths to win affection from Miss Jones, while being victim to Alan and Philip's pranks. Rigsby would carry around his overweight, slothful cat Vienna (which Leonard hated off-set. Although a cat-lover, he used to complain that Vienna smelled awful), barging into the boys' room without knocking, trying to catch them 'up to something', which they never were. Mocking Philip, his race and his culture, while trying to be a father-figure to Alan, Rigsby came over as cold, pretentious and chauvinistic, but at the same time vulnerable, a sad, lonely figure of a man who longed for love and happiness in his twilight years. As Eric Chappell says: "Rigsby wanted to be part of their lives, which became irritating for them... and he was always coming through doors without knocking, saying he had right of access - which really meant access to their lives, not just their rooms." The first series of any sitcom is much concerned with establishing the characters and their lives, and Eric displayed this very well in the scripts, which often drew on the script from The Banana Box. We learn that Rigsby did marry, a battle-axe called Veronica, but he was 'elated' when she left him. He was a soldier in World War Two, and would get out his mementoes or relate one of his yarns at the slightest mention of the war. Leonard once said of Rigsby: "I knew people like this. I've sat in pubs with them." And Don Warrington concurs: "I think he really caught something about the English in Rigsby - a sort of emotional incontinence which one can see in pubs. The one who knows it all and actually knows nothing. He got that brilliantly."
The second series ran from November 7th until December 19th 1975, and saw further development of the characters. In Episode Four ('Moonlight & Roses'), Miss Jones is swept off her feet by a librarian named Desmond (played by Robin Parkinson), and her departure rocks Rigsby's world - until Alan installs artists' nude model Brenda (played by Gay Rose) into the vacant room. A conman (Henry McGee) plays on Rigsby's gullibility to take his money ('The Perfect Gentleman'), and the tenants have the last laugh when he tries to convince them that the house is haunted by a 'grey lady' ('Things That Go Bump In The Night'). Although ending on December 19th, the series appeared to continue for another week when a Boxing Day special was broadcast on December 26th entitled 'For The Man Who Has Everything', which sees Rigsby spending Christmas alone, opening his own Christmas card, and hoping he will catch someone under the mistletoe. The boys return home early for some yuletide romancing, thinking Rigsby is spending the festive season away. A delay in the writing of episodes caused conflict with theatre commitments for Frances, resulting in her being written out of the episodes The Perfect Gentleman, The Last Of The Big Spenders, Things That Go Bump In The Night and the Christmas special For The Man Who Has Everything.
Rising Damp was absent from British screens for the whole of 1976 (except for repeats). This was due to Leonard's contract with the BBC filming The Fall and Rise of Reginald Perrin. But Rising Damp returned for a third series on April 12th 1977. Babies ('That's My Boy'), snakes ('Fawcett's Python'), a gay playwright ('Stage Struck') and a hypochondriac ('Suddenly At Home') all descend on 'Bleak House' for another seven episodes of brilliantly-written and even more brilliantly-acted sitcom fun. Frances de la Tour returned as Miss Jones, and Peter Bowles, Derek Francis, Ann Beach and Roger Brierley were among the guest stars for Series Three which ran until May 24th. By now, Richard Beckinsale had another successful series under his belt, Porridge, with Ronnie Barker. And Leonard had created another character of sitcom legend, over on BBC1. For those who had never seen Leonard on stage, the appearance of such disparate characters as Rigsby and Reginald Perrin gave the viewing public the opinion that theatre critics had long- known: that Leonard Rossiter was a fantastically versatile actor, hugely-talented, committing staggering energy and vitality to both performances on both channels. "I have never known such energy and such pace", recalls Eric Chappell. "He could speak quicker than most people, and he could think about three different things at the same time, which was useful! He'd be remembering his lines, watching the set and the actors, and watching where the cameras were. He was really in control."

Another year was to pass before Rising Damp's fourth and final series was aired. It featured just six episodes instead of the usual seven, for the simple reason that YTV forgot to commission a seventh! (Eric's scripts for Rising Damp were commissioned individually). The series ran from April 4th to May 9th 1978, and saw some of the funniest episodes of all, and commanding massive audience figures of over 18 million. Richard Beckinsale had left to pursue theatre commitments and the series' director Ronnie Baxter had left to direct In Loving Memory, so Vernon Lawrence took over the directorship. Nevertheless, the fourth series lost none of its quality: 'Great Expectations' co-starred Andrew Sachs and Gretchen Franklin in a family inheritance tale that goes sour, but turns out for the best in the end. In 'Pink Carnations', a desperate Rigsby places an ad in a lonely-hearts column, only to have it answered by Miss Jones. And in the final episode, Rigsby finally proposes to Miss Jones, who accepts. Sadly, she stands him up at the church, only to find that Rigsby had gone to the wrong church anyway.
And so Rising Damp, one of the greatest sitcoms of all time, came to an end. It had won itself a BAFTA for Best Comedy, rocketed Leonard Rossiter to stardom and the comedy Hall of Fame, and it had served as a springboard for the writer Eric Chappell, who went on to write other classic situation comedies including Singles, The Bounder, Haggard, Home To Roost, Duty Free and Only When I Laugh. The perfection of the scripts, the massive talents of the actors involved, and the timelessness of the stories and settings ensure Rising Damp is as popular today as it has always been.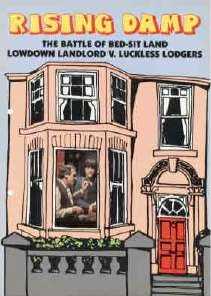 TV Spin-offs
As with many British successes, America tried out their own version of Rising Damp. In 'Steam Heat', Jack Weston played the landlord of two medical students, a nude model and a wrestler, who lived in a boarding house in 27, Joy Street, Cambridge, Massachusetts. A pilot was made for CBS by King-Hitzig Productions, written by Peter Stone and directed by Bill Persky. It was based on the Rising Damp episode The Prowler. The preview, in the presence of CBS programme planners, was less than favourable, and the channel never even screened the pilot, let alone commissioned a series. The fundamental problem was that Americans have no such thing as 'bedsitland' and so the entire concept was lost on the audience. A Portuguese version was made and was well-received, and Sweden is also planning a version.

Move On To Rising Damp Story: The Movie
Return To Rigsby Online

Text (c) Paul Fisher
Pictures (c) their respective owners.