Related Links: C J's catchphrases - John Barron biography

Introduction:


C. J. - Charles Jefferson - is the owner of Sunshine Desserts, and is as tough a boss as they come. Tyrannical and unforgiving, he lords over his employees with a rod of iron. He is married to Kate, but she is only ever referred to by him as 'Mrs. C. J.', and they live in Virginia Water in sprawling grounds with a river running through the rear garden. They have no children. He lives for being in control and at the top of the business tree, and enjoys advising people that he didn't get where he is today by doing or saying what his inferiors have just mentioned. But C.J.'s life suffers many setbacks and revivals as the series progress.
Series One
C.J. is briefing the three key men - Reggie, Tony and David - on Sunshine Desserts' brand new project, Exotic Ices. His office is large, with double doors and a huge oak desk. His chair is ominous in itself and adequately frames the man who makes his employees quake. He is present later in Reggie's much smaller office for a 'tasting' to determine the three most popular flavours that will launch the Exotic Ices project. The computer collating the results blows up, however, and C.J. is left contemplating the fact that the three most popular flavours are bookends, pumice stone and West Germany. The next day, C.J. has his key

man, Reggie Perrin, in his office to tell him that he has chosen him to give a speech at a fruit seminar on Friday. C.J. has decided the speech will be called 'Are We Getting Our Just Desserts?' He begins to get concerned about his decision for Reggie to give the speech when Reggie invites him and Mrs. C.J. to a dinner party but refuses to give them any food. His worries are diverted, however, by David Harris-Jones getting drunk, dropping his trousers and asking him for the last waltz. Next day, Reggie is present in C.J.'s office when he grills David over last night's events. He is more concerned that David is a homosexual and that his underpants featured a picture of Ludwig von Beethoven, and goes so far as to call for Tony Webster to display his pants. David explains they were on sale while on holiday in Bonn. As the day of the speech arrives, C.J. calls in on Reggie to see if he is nervous, and more to the point, is still sane. He is, just about. But Reggie gets drunk at Bilberry Hall and refers to C.J. as 'toothbrush', and invites anyone from Tarporley to stand up and shake hands with the person on their right. Reggie

disappears, leaving his clothes on a beach in Dorset, but not before sabotaging a fishing contest held on C.J.'s private stretch of river, featuring Tony, David and Doc Morrissey. Reggie borrows a van of loganberry essence and pollutes the river upstream, having earlier promised C.J. in a furtive letter posted under his door that 'blood will flow'. C.J. sees the 'blood' and is convinced there is a crazed murderer killing all his guests. He wades into the river, trips and is knocked unconscious. Doc Morrissey declares him dead. C.J. declares the Doc fired.
A week or two later, C.J. is in the pub with Tony and David. He is still not sure about David's future with the company, but has promoted Tony Webster to fill Reggie's position. Reggie, disguised as a Welshman, listens nearby to their conversation, and is surprised to hear that his disappearance has made C.J. think about life. He hears him tell his proteges that his dad once caught him thinking and advised his son that 'philosophy doesn't get the washing up done'. Reggie's death has changed C.J. He attends Reggie's memorial and cracks jokes at the wake (Reggie attends both in disguise as Martin Wellbourne, Reggie's friend from Brazil). Elizabeth falls in love with Martin and gets him a job at Sunshine Desserts. C.J. has given Reggie the job of running the Reginald Perrin Memorial Foundation.
Series Two
Reggie is again working for C.J., except this time disguised as Martin Wellbourne. He hates his job, as he's in charge of his own memorial fund. He has been asked by C.J. to distribute a questionnaire among all staff about what people like about Sunshine Desserts. There were very few things Reggie could report to C.J. that people actually did like. One of the main things they didn't like was C.J. himself. But C.J. is a changed, more happier man since Reggie's 'suicide', and

takes Martin's findings in his stride. However, things soon change after Martin visits Doc Morrissey and the old medic recognises him as Reggie, and tells C.J. The boss sacks both of them on the spot. With Reggie no longer 'in memoriam', the Reginald Perrin Memorial Foundation is scrapped, and it's back to business with the Exotic Ices project. After their split, Joan has left the company and Tony is now overseeing the project in the position left by Reggie. Reggie is out of work and there is no money coming in. This drives Elizabeth to desparate measures - she goes to see C.J. for a job. He employs her as secretary to Tony and David. With Mrs. C.J. in Luxembourg, C.J. uses the opportunity to wine and dine Elizabeth with the hope of having an affair in his country cottage near Godalming. He uses the ruse of a pile of papers that need sorting, and she reluctantly agrees to meet him one Saturday morning. C.J. plies her with champagne but realises the stupid mistake he is making, and reaches for the pile of unsorted papers. All this time, Elizabeth has been lying to Reggie that she is working for the British Basket Company, but he begins to suspect, and follows her to work - all the way to Sunshine Desserts. He suspects, correctly, that C.J. is the man at the centre of all this, but C.J. deflects the blame onto Tony Webster. Reggie and Tony fight, and both end up with black eyes.

Next day, Elizabeth decides to get herself sacked in case C.J. tries anything else, and does so by typing out a rude letter. Meanwhile, Reggie has returned to the piggery, but the owner has found out who he really is too, and he has been sacked from there.
Soon, Reggie gets his inspired idea for Grot and goes to see C.J. for a loan. C.J. thinks it's blackmail money and readily signs a cheque for him for £30,000. The Grot empire soon grows, and at the same time Sunshine Desserts goes bankrupt. Reggie thinks it would be fun to have all his old crowd working for him for a change, particularly C.J. He invites C.J. for an interview and gives him a job as Head Of Expansion (Europe). Eventually, Reggie tires of Grot and the commuter rut he has found himself back in, and both himself and Elizabeth leave their clothes on the beach and assume new identities. The following day, they are sitting on a cliff-top bench when an old tramp asks them for some small change for a cup of tea. It is C.J. He has followed Reggie's lead in faking his death, and hundreds of others down on the beach are doing the same.
Series Three
At the start of Series 3, C.J. has not returned to society but has remained a tramp, or 'street entertainer' as he prefers to call it, earning a living by busking,

badly, on the streets of London. Reggie has set out to recruit all the old mob again for his Perrins Community and finds C.J. playing his banjo outside a tube station. He treats C.J. to a pint and offers him a job, although he'd have to live in a tent. With all staff recruited, the first meeting is soon held to allocate everyone's jobs in the community. Reggie elects C.J. the Work Therapist, as "no-one understands the problems of work..." more than C.J., adding "having caused most of them yourself, C.J.". But C.J.'s first task is less than satisfying for him. Reggie is in charge of the household chores, and applies C.J. to babysitting duties three days running. Linda's children Adam and Jocasta and baby Reggie Harris-Jones are fond of thrusting a stuffed Kermit toy down the front of C.J.'s trousers, much to his annoyance. Eventually, guests start to arrive, although half the staff have to pretend to be guests to assure the first real guest that he is not alone. C.J. pretends that he 'can't make friends' but the guest sees through the scheme and flees in panic.
When the community is fluorishing, we see C.J. in a role-playing session with two guests, Thruxton Appleby the textiles tycoon and Arthur Noblett. an arc welder. Reggie looks in to hold a 'watching brief', and suggests that the worker should be the boss and the tycoon should be the labourer to demonstrate the 'them and us syndrome'. C.J. reluctantly agrees and decides to be the boss's secretary Cynthia Jones. The two guests fail to become each other and so C.J. and Reggie decide to show them how it's done, but get carried away and end up in a slanging match. Guests are now pouring into Perrins as a result of TV and newspaper promotions and Reggie tells staff members they will have to share. He bets Elizabeth five pounds that he can get C.J. to share with Doc Morrissey, and does so, but only by first telling him he must share with sweaty, germ-ridden Scottish chef McBlane then 'compromising' by saying the Doc instead. But

when the Doc hears of his order to share with C.J., he faints. In Anti-Self-Consciousness Week, C.J. has an idea to go out in public and having conversations ending with '-ergle'. They try it on a train and it is a great success. A femme fatale called Deborah Swaffham leads C.J. astray, even to the point of them both being undressed. But the Community is threatened by thugs and despite their best efforts, they cannot save it and it closes down. All staff go their separate ways, and Reggie faces the prospect of never seeing C.J. again. A few weeks later, however, a letter arrives inviting Reggie to an interview at Amalgamated Aerosols where C.J.'s brother F.J. is managing director. Reggie soon discovers he is to be C.J.'s 'think tank' and orders Reggie to attend a 'smelling' to determine the three most popular fragrances which will launch the new range of aerosols. C.J. is horrified to read that one person has listed rude answers to what each smell reminded people of, and he knows it's Reggie. He orders Reggie to conduct an investigation, but Reggie decides to come clean and dictates a memo to be distributed to all departments.


The Legacy of Reginald Perrin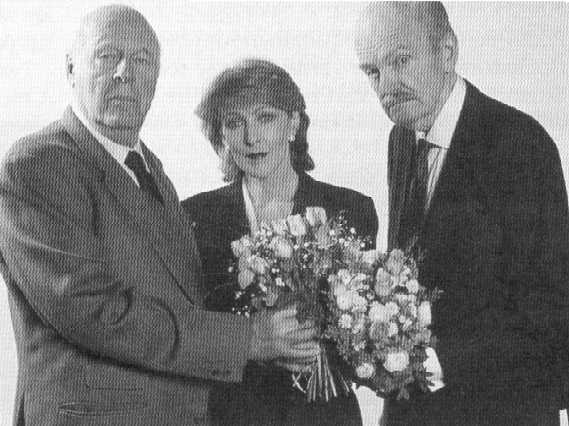 With Reggie now dead, all are assembled at his funeral service, including C.J. Weeks later he, along with all Reggie's other close friends and family, have been ordered to attend the reading of Reggie's last will and testament at the office of solicitor Geraldine Hackstraw. C.J. nearly faints when told he is to inherit £1million of Reggie's money, but is less than keen to learn they all have to do something totally absurd to earn it. After working separately, they eventually decide to work together to march on London in demonstration against ageism. C.J. funds the project, and recruiting begins. Meanwhile, C.J. tries to woo Miss Hackstraw, little realising that Doc Morrissey is trying to do the same. C.J. decides to betray the team and sell the secret to the papers - spied on by Tom and David - but one journalist gets run over by a lorry and is hospitalised, and another decides to join the team. The big day arrives, and the injured reporter remembers his scoop in time to tip-off the London police about the demonstration. Newspapers carry the story of C.J. the betrayer and one has 'PM thanks C.J.' for allowing the police to be there to meet them. On the day of the beneficiaries receiving their money, no-one is speaking to C.J. and Elizabeth suggests C.J. should forfeit some of his money in recompense. But Geraldine refuses to release any of the money anyway, as the project failed to be absurd enough, and C.J. nearly has a heart attack.

Character Analysis
C.J. is second only to Reggie himself for the number of scenes and number of storylines to be featured in during The Fall and Rise of Reginald Perrin. He has probably the most fondly-remembered catchphrase of all the characters and, including The Legacy of Reginald Perrin, has more 'rises and falls' than Reggie. C.J. is remembered because his character was larger than life, and one that everybody loved to hate. He was ruthless with his employees but also funny without

him realising it. He revelled in his power and was uncaring in embarrassing his workers in front of others. More than anything, he was real. People who watched the series worked for people like C.J.. their tyranny, their giant cigars, giant desks in their 'inner sanctums' of a giant office, and their sheer brutality was displayed with total accuracy by C.J. It is, however, only the first Series in which C.J.'s character is remembered by most people. His subsequent ups and downs - working for Reggie at Grot, becoming a busker, working for Reggie at Perrins, Reggie working for him again at Amalgamated Aerosols - are not often recalled by most viewers when they think of C.J. This is because, although, still a dominant figure, the character became only as peripheral as that of, say, Tony or Joan in Reggie's later projects, but still managed to provide some of the greatest scenes of all three series. C.J. is now in the halls of sitcom fame as the archetypal office boss, unmatched by newcomer pretenders to the throne such as that of Ricky Gervais' creation in The Office. C.J. was king, and still is.