Reggie Online: The Official Reginald Perrin web site
Christmas Special, 1982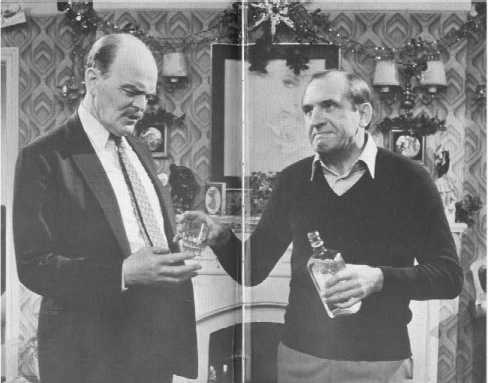 On December 27th, 1982, at 8.05pm, Frank Muir introduced an hour of sitcom shorts specially made for the Christmas season. The sixty-minute programme was entitled "The Funny Side Of Christmas", and featured five- to ten- minute, and mostly one- or two- scene, situations of some of the BBC's most popular programmes of the time - all of which are now defined as 'classic television'. As Frank says in his introduction: "We have helped the writers of this programme, of sorts. 'Take one aspect of Christmas', we said, 'and show how it affects the characters in your situation comedy'". Frank Muir linked the segments together, and the first to be shown was "The Fall & Rise Of Reginald Perrin". Other shows were Butterflies, Only Fools & Horses, Last Of The Summer Wine, Sorry!, Three Of A Kind, Alas Smith & Jones, Open All Hours and Les Dawson's 'Sissy and Ada'.

All cast were as per the series. The additional character of the tramp was played by Michael Ripper.

Note: It is worth remembering that it had been three years since Series Three had finished on BBC1, and David Nobbs seems to have made this sketch into a kind of roll-call of everybody's catchphrases, sometimes at the expense of the storyline. Nevertheless, the idea is a good one, and as with the three series, the strong characters, revolving around Reggie as 'ringmaster', make the whole work well. Although not a part of the series, there are similarities in the sketch to Series One, Episode Three, where Reggie has asked Joan to come round to have an affair, but all the family turn up uninvited, and Reggie's frustration boils over.
---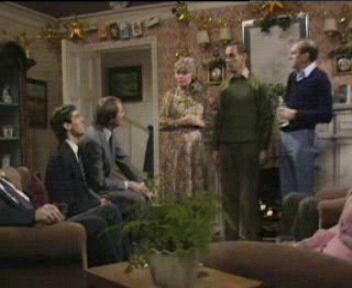 Scene 1: It is Christmas morning. Reggie and Elizabeth are relaxing in their living room in casual clothes, looking forward to a nice, relaxing Christmas Day. The doorbell rings, and Elizabeth answers it. It is Joan. She has come to see if he is alright, as he seemed strained at the office. Reggie insists that he is OK. Next, C.J. calls round for the same reason, as does David Harris-Jones, Tony Webster and Doc Morrissey. Jimmy calls round for some food, as usual. After issuing everyone with drinks, Reggie remembers it is the time of giving and hands out a bottle of spirits to all his uninvited guests. He then gives everyone one of his own presents from underneath his Christmas tree, including giving back Doc Morrissey the same present he gave to Reggie, which C.J. gave to Doc the Christmas before. With the front door open, a scruffily-dressed tramp enters, and asks if the master of the house could spare anything for him, too.
Scene 2: Reggie is stoking the fire, after all the guests have gone, and Reggie has finished his giving of presents. As he looks around the room, he realises something has gone wrong with his feeling of goodwill - his living room is empty of everything: presents, tree, food, drinks, even furniture and carpets.
Related Links: Script - Video Clip

Text (c) Paul Fisher. Pictures (c) BBC