Reggie Online: The Official Reginald Perrin web site
Overview of the Series
(Reproduced and expanded from The Life & Career of Leonard Rossiter)
Written by David Nobbs
Produced by Gareth Gwenlan (pilot by John Howard-Davies)
Broadcast by BBC

Series One
September 8th 1976 to October 20th 1976

Series Two
September 21st 1977 to October 2nd 1977

Series Three
November 29th 1978 to January 24th 1979

Christmas Special
December 27th 1982

The Legacy Of Reginald Perrin
September 22nd 1996 to October 31st 1996



---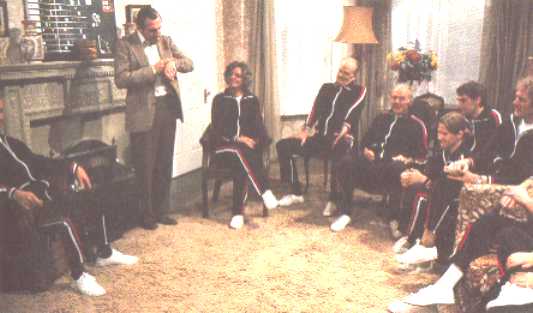 Main Cast:
Leonard Rossiter - Reginald Perrin
Pauline Yates - Elizabeth Perrin
John Barron - C.J.
Sue Nicholls - Joan Greengross
Geoffrey Palmer - James Anderson
Sally-Jane Spencer - Linda Patterson
Tim Preece - Tom Patterson
John Horsley - Doc Morrissey
Trevor Adams - Tony Webster
Bruce Bould - David Harris-Jones

---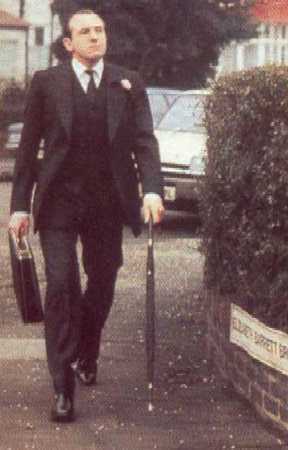 "He lived the life that a lot of commuter office-workers would have liked to have lived." - Leonard Rossiter.
"I didn't get where I am today without knowing there's no fun in getting where I am today!" - C.J.
Bored, middle-aged sales executive, under stress, sexually- frustrated, tired and weary of the rat-race, Reginald Perrin was a hero for millions of similar-suffering people in the late 1970s; people who, just like Reggie, lived in the commuter-belt suburbia around a major town, who travelled on the same train every morning, sat opposite the same faces, trudged down the same roads and around the same corners to their dreary office blocks or factories. Reggie lived in the town of Climthorpe, his employers were pudding and ice cream manufacturers Sunshine Desserts, and his self-important and tyrannical boss had the mysterious name of C.J. His colleagues and family almost matched Reggie for their eccentricity, but the whole combined to make one of the most fondly-remembered sitcoms of the 1970s and of all time. Watch video.
The original story of Reginald Perrin's departure from the sameness of the 9 to 5 came in a play written by David Nobbs. The name Reggie came from David's MP at the time, Reginald Maudlin. The play was rejected as 'unsuitable' - the main character ended up in a mental home, so David decided to change a few details and turn it instead into a novel. David explains: "Well it started as a novel, originally called The Death Of Reginald Perrin. I was working with Granada at the time, and they said they would like to do a two-part drama of this with Ronnie Barker, but my agent said 'No. I want it to be a sitcom'. I nearly fell out of the chair - the idea of this novel as a sitcom. I went to see Jimmy Gilbert at the BBC who said they wanted to do it and asked 'Have you got anyone in mind for the role?' and I said 'Yes, Ronnie Barker' and he said 'Good. Leonard Rossiter it is then'." Leonard Rossiter was attracting huge audiences on ITV at the time with Rising Damp, and Gilbert wanted him for the BBC. David was slightly disappointed, but as filming began, he swiftly changed his mind: "Leonard could express the anxieties Reggie was experiencing in every move, expression and word he uttered", remembers David Nobbs, "He could also combine pace with subtlety, which is very difficult. Most actors who try being subtle come across as slow, but not Leonard - he could rattle the lines out at a rate of knots while still retaining that degree of delicacy." A pilot episode was made, under the name The Fall and Rise of Reginald Perrin, and a full seven-episode series followed, starting on September 8th 1976. The presence of Leonard Rossiter, who had recently rocketed to household-name status as Rigsby in Rising Damp, would guarantee huge audience viewing figures, but credit must also go to David Nobbs' brilliant scripts, the wonderfully colourful characters and their importance to the progress of the series. Indeed, Perrin was unusual for a sitcom in that it was episodic - i.e.. the story continued and evolved from week to week - compared to most sitcoms which featured a unique storyline within each episode. This provided the added interest of a soap opera-style cliff-hanger, ensuring the viewer would 'tune in next week', to see Reggie's eccentricity and frustrations build. As David Nobbs says: "Reggie Perrin advanced the comedy genre because before, most sitcoms had no narrative - the TV company could transmit episodes in any order and it wouldn't have mattered. That's not the case now."
One of the series' most-remembered aspects were its characters' catchphrases. Reggie's boss C.J. would often talk down to his employees with the phrase "I didn't get where I am today by.." or "...without..." whatever the topic of the conversation was. The actor John Barron remembers being chastised in the street by angry parents: "'You've ruined my life' they'd say, 'because my child won't stop saying "I didn't get where I am today without..."'!" Reggie himself would always provide his secretary Joan with a different reason each day for his train's annoying arrival eleven minutes late. The firm's two 'yes' men Tony Webster and David Harris-Jones found everything to be 'great!' and 'super!' respectively, and Reggie's regimental but bungling brother-in-law Jimmy was always having "a bit of a cock-up..." on one "front" or another. But it was these very things, these little things, that made Reggie's crisis deepen by the minute until, after a drunken speech at a fruit seminar, he drove to the Dorset coast, left his clothes on the beach in an apparent suicide attempt, and walked away to a new life as... anybody he wished to be.
Such was the success of the first series that David was asked to write a second. After much deliberation, he agreed, and the novel The Return of Reginald Perrin was published in 1977, with the TV series filmed in tandem. This second novel - and series - saw all the characters from Series One return, this time to help Reggie "cock one last snook" at the greedy, capitalist society we all live in. After being temporarily unemployed and unemployable, Reggie decided to open a shop called Grot, selling useless objects at inflated prices. "So much rubbish is sold these days under false pretences", he told a customer, "that I decided to be honest about it." His vast range of goods included cruet sets with no holes, square footballs, round dice, silent records, and tins of melted snow. To his horror, the shop was a monster success, and Reggie desperately tried to destroy it, first from the outside, and then from within. The series ended once again with a fake suicide, but this time his endearing wife Elizabeth was by his side.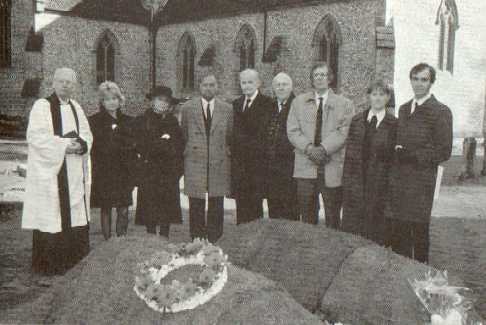 Series Three was broadcast in 1979, with the accompanying novel The Better World of Reginald Perrin appearing at the same time. The 'Better World' of the title referred to Reggie's idea for a suburban community where people could learn to be better human beings. Guests came from all walks of life and included, at various times, an unemployed careers officer, a shy vet, a comedy writer with a lost sense of humour and a fortune teller who was going to have a nervous breakdown next April. The scripts were still as funny as ever, and we at last got to see the regular characters outside of an office environment. The catchphrases continued to
come thick and fast, and the series ended with a wonderful 'full-circle' situation, as Reggie once more ended up working for C.J., this time at C.J.'s brother's company, Amalgamated Aerosols. A five-minute Christmas special was broadcast in 1982 as part of a programme of sitcom shorts entitled The Funny Side Of Christmas. In 1983, a poor American version called 'Reggie' was made, starring 'Soap's Richard Mulligan, but was promptly - and deservedly - forgotten. With the death of Leonard Rossiter in 1984, it was assumed that that would be the end of Reginald Perrin. Not so.
David Nobbs resurrected the characters, except Reggie, in The Legacy of Reginald Perrin, published in 1995, and told how Reggie had enjoyed a normal retirement in Leibnitz Drive and died, leaving all his close family and friends £1million each, provided they "do something totally and utterly absurd". After a number of false starts, they decide to march on London to protest against ageism. The series was broadcast in October 1996, but without Leonard the series was deemed unworkable and was savaged by the critics. The scripts, characters and catchphrases still made the series work, however, and as many people defended the series as criticised it. At the very least, it was good to see the old characters back together again.
The enduring popularity of the first three series are manifold. Although now slightly dated (costumes, cars, the mention of contemporary public figures, etc.), the storylines remain fresh today because the situation of middle age, the monotony of life and the boredom of the workplace still exists in society. People do want to break free, and people do, on occasions, still leave their clothes on deserted beaches and disappear. As long as there is industry, capitalism and a human longing for a life less ordinary, there will always be a Reggie Perrin sentiment present in the world. The second claim for Perrin immortality has to be the man who bought him to life - Leonard Rossiter. Of the two television performances for which he is remembered - Rigsby being the other one, of course - Reginald Perrin was definitely the most demanding of the two to play. A master at displaying emotion, Leonard had to learn to build his frustrations gradually as the series itself progressed, getting slightly more manic with each episode. Surround Leonard with an excellent group of actors, provide them with some of the greatest scripts ever written for comedy and the result is sheer magic - timeless and always funny.
---
The Series Remembered: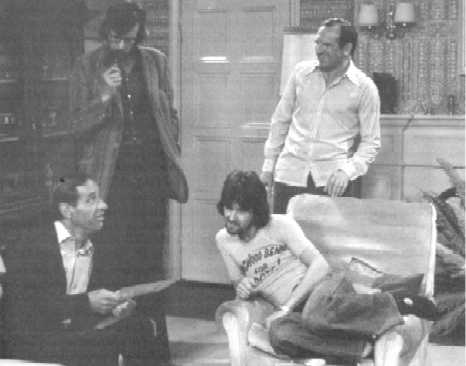 "Reggie Perrin seemed to hit a chord with so many people - particularly older men who, perhaps, saw Reggie's situation as very close to their own. I'm pleased to be associated with it and it's one of my career highlights." - Pauline Yates, actress and star (Elizabeth Perrin).
"It was a great cast and an excellent script...every character, however minor, had much to offer. Everyone had a purpose, even if it was only working as a foil for Leonard, sparking off a different reaction from him." - Trevor Adams, actor and star (Tony Webster).
"The first series was pretty terrible to do. It was full of technical things which the BBC wasn't terribly good at at that time. There was all that thing with the hippopotamus. Len had to think, and as he thought, the hippopotamus had to come into his head. Len knew what his timing was, but the vision mixer had no idea what was going on. Len would think, and then – eventually – the hippopotamus would appear, and Len would blow up. We'd rehearse and rehearse and rehearse until they got it right. And it was the same with the farting armchairs – a sort of delayed raspberry. All that was done live in the studio." - Bruce Bould, actor and star (David Harris-Jones).
"It was a great pleasure to be in Reggie Perrin. You had one enormous central character surrounded by a group of wonderful, diverse supporting characters and it worked very well...It was one of the happiest projects I've worked on...you always hoped that you'd get the added bonus of the programme being a quality product and enjoyable - and I got that with Reggie." - Geoffrey Palmer, actor and star (Jimmy).

Leonard's Role Remembered:
"My first impression was 'I don't want to work with this man', because he took me into a walk-through of Rising Damp, and he got angry when they asked him to move to the other side of a door and he said 'Oh I see, it's all about pretty pictures, isn't it? And I thought we were making a comedy!' And he went and sat in the back row of the audience and shouted down 'Carry on!' So I thought 'Oh God, I've got to work with this extremely temperamental man. But we did three series [of Perrin] in total agreement, without any qualms whatsoever." - David Nobbs.
"Leonard Rossiter was a very fine comic actor, and he took very great risks indeed. Throughout every minute of all twenty-one episodes of The Fall and Rise of Reginald Perrin I felt that Len teetered on the brink of over-acting. Yet he never once went too far. That is comic genius." - David Nobbs, author.
"Len brought to the role enormous energy...It was impossible to ignore the pace at which he decided to play a scene. He was the driver, and one of his greatest assets was that he was able to make the other actors run with him. He made things happen to everyone else." - Gareth Gwenlan, producer.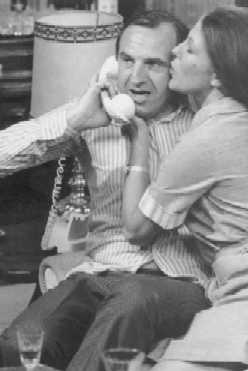 "He was a perfectionist in his work and must have done an enormous amount of work at home because he always knew all his words, all his cues, and in filming all his bits of clothing for continuity; he often caught lazy costume or props people out, and he was always right." - Pauline Yates, actress and co-star (Elizabeth).
"He loved the hippopotamus. He insisted there was no cheating the audience. So the videotape had to start running on the screen while he was getting that look into his eyes, so there was no cheating." - David Nobbs.
"He was a great perfectionist. He wouldn't tolerate inefficiency of any kind, either in technical matters, or in shortcomings of his fellow actors. He was a tough chap to work with. You had to be 'on the ball' all the time." - John Barron, actor and co-star (C.J.).
Leonard's great quality was a mixture of two things that don't often go well together: subtlety and speed. He was an astonishingly fast performer. He really rattled those things off. I remember once we discovered the script was only running at about 28' 40" and he said 'with laughs it'll be just right'. When we finished, it came in at only 27 minutes, because once he'd got the audience laughing, he was like an express train." - David Nobbs.
"His judgement and technique were extraordinary. I have never seen an actor control and play an audience in a TV sitcom (for my money, the most demanding area of an actor's work) the way he did...I had admired him as an actor before working with him, but as three series progressed my admiration grew and I came to like him tremendously. It was, I think, the happiest company I have ever worked with and a lot of the credit for that must be his." - Geoffrey Palmer, actor and co-star (Jimmy).
"He could express any thought or emotion at the drop of a hat and with great clarity. His energy was almost frightening. I can still see the beads of sweat dropping from the end of his nose!" - Bruce Bould, actor and co-star (David Harris-Jones).
"Leonard was very sure in his way of doing things, and I only once ventured him to suggest a different way. I said to him 'I think you're saying that line wrong', and he said 'What?!' And I said 'Well, I really do.' He said 'Well, how would you say it?', so I said the line and he said 'No, you're wrong. But I'm so impressed at your fervour, I'll do it your way.' And he did it my way, and there was a huge laugh. Later, I said to him in the bar 'I was right wasn't I?' And he said 'No, you were wrong, and so were the audience.' " - David Nobbs.
"He was always a wonderful leading man and when we came to Reginald Perrin the success of that story, apart from the writing, was that we were led by a genius." - John Barron, friend and co-star (C.J.).
"I've never worked in any organised structure, so I've never had bosses as such. So I think C J was very much an object of my own creation.I thought he was absolutely wonderfully played by John Barron. And the very best of Len in '...Perrin' was his scenes with C J." - David Nobbs.
Critical Reviews:
"...But the joy of watching Leonard Rossiter as Perrin is undimmed. With false nose that isn't, and mouth like the grin of a Halloween pumpkin, his face by itself is a piece of theatre." - Christopher Hudson, Evening Standard.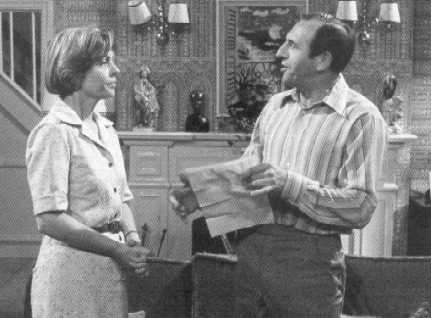 "As the central character, the bored ice-cream executive, Leonard Rossiter has the splendidly mobile features of a man suffering from a terminal case of social indigestion." - Peter Dunn, Sunday Times.
"He spits, pops his eyes, flares his nostrils, and generally comports himself like a crazy ugly. I still haven't worked out why he is funny, but he is." - Clive James, Observer.
"Leonard played Reggie's frustration, whims, rudeness and madcap ideas with bounce and wit. His energy was unflagging and the fun he was having was obvious and infectious." - Robert Tanitch.

Text (c) Paul Fisher
Pictures (c) BBC